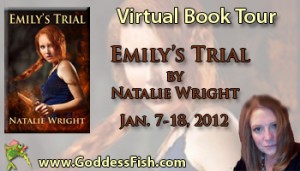 This post is part of a Virtual Book Tour organized by Goddess Fish Promotions. Natalie will award an autographed copy of "Emily's House", a handmade Celtic-inspired armlet, similar to one worn by Emily in the books and book swag to one randomly drawn commenter (US only — an eBook of "Emily's House" will be substituted as the prize for an international winner).
A Day in my Writing LifeOnce upon a time, I worked as a divorce litigator. I spent my days in a courtroom, witness to people who once swore undying love battle each other over money and children. I chugged Mylanta straight from the bottle while I drove to the battle arena, fantasizing about spending my days writing instead.
Ah, blissful days writing. I pictured myself grabbing a cup of coffee or tea, sitting down to the computer, and spinning out page-turning stories with ease. It would be blissful. Just me, my thoughts, and the pliant keys under my nimble fingers.
While any writing day is better than a day as a litigation warrior in the divorce court, my writing days are far from what I dreamt they would be. It turns out that being alone all day? Well, you're alone – with yourself! And it also turns out that that sly minx of a muse doesn't just appear on command like a pimp's bitch, eager to obey and please. At least not my muse. No, mine is more like an irritable, temperamental child that I have to coax and bribe.
Here, then, is a peek into my writing day:
8:30 a.m.: Each writing day starts with the blank page (to some extent or another). Ah, the promise of the page. Anything can happen. Everything can happen. The empty, white screen that contains the potential for genius.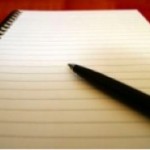 9:00 a.m.: The blank page still there. Better check Twitter and see what's going on in my Facebook world. Hey, that's a great article on writing. This is just the thing I need to get me going today. Wonder what's new on Wattpad?
10:30 a.m.: Laptop ready. Tunes going. Waiting for inspiration.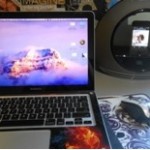 I know what I need – coffee. A strong cup of jo will get that blasted muse to work!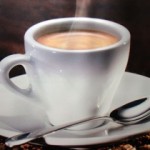 11:00 a.m.: You know what goes great with a cup of coffee? How about some of this –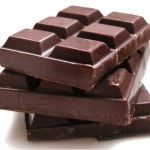 12:00 p.m.: All that net surfing, coffee slurping and chocolate nibbling sure did work up a hunger. Better go grab some lunch. That's what I need – food. That's sure to spark an idea.
1:00 p.m.: Wow, lunch sure was exhausting. I need a nap. Maybe I'll dream the next plot step. Okay characters, tell me what's next for you while I sleep.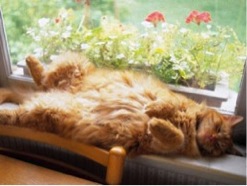 2:00 p.m.: Yawn! Great nap. Back to work. Okay, muse. I'm listening. Really. Come on. I'm waiting. Where's that *#%@ muse?!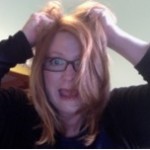 3:00 p.m.: Crap – it's time to pick up my offspring. I didn't get much writing done today. (Looks at blank computer screen.) Okay, I didn't get any writing done today. I'll get some words banged out later.
8:30 p.m.: Best time of the day – dinner and T.V. and laughing with the fam. Got the kiddo tucked in. Hubby's watching football (or insert game with a ball that's in season). Dog is napping. It's dark outside, quiet inside. Maybe I'll try this –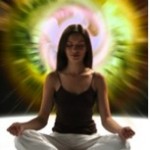 11:00 p.m.: Apparently that's what my cranky muse needed. Quiet. Relaxation. Who knew? I got two chapters written. I'm not sure I'll stick with where the plot's going, and I need to add more details about the setting – oh, and some inner dialogue. But words were written. That page is no longer blank. If I do this about fifty more times, I'll have the first draft of a novel written 😉
About the Author: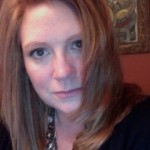 Natalie is the author of The Akasha Chronicles, a young adult fantasy trilogy. When not writing, blogging, Facebooking, Tweeting, Wattpadding or eating chocolate, Natalie nurtures her young daughter, feeds her dog too many treats, and can't resist watching Ancient Aliens, no matter how absurd the show becomes.
Natalie enjoys travel, good wine, and excellent food shared with family and friends. She was raised an Ohio farm girl, now lives in the desert Southwest, and dreams of living in a high rise in a big city.
"Books are my friends, ideas my passion."
Natalie enjoys chatting with readers, so stop by and say hi:
Blog: http://www.NatalieWrightsYA.blogspot.com
Twitter: @NatalieWright_
Facebook: NatalieWright.Author
Goodreads: http://www.goodreads.com/author/show/468945.Natalie_Wright
YouTube: http://www.youtube.com/user/WritesKidsBooks
Wattpad: http://www.wattpad.com/user/NatalieWright_
Pinterest: http://pinterest.com/natwrites/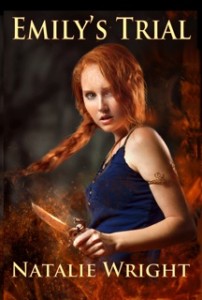 Two years ago, Emily's journey began. She learned the ancient magic of her Celtic ancestors,and became a modern Celtic Priestess. The golden torc, forged by faerie hands, is still wound around her arm, fused to her soul. She was entrusted with powerful magic – secret knowledge.

But even a Priestess can feel desire – temptation – and the quest for love. Will passion entice
Emily to use her sacred magic in a forbidden way? Can new love take root in a world of nightmares? And will her friendships survive Emily's Trial?

The Journey Continues . . .