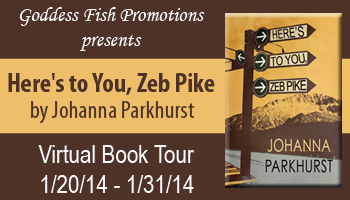 This post is part of a virtual book tour organized by
Goddess Fish Promotions
. Johanna will be awarding one ebook to one randomly drawn commenter and one print book (US only – international winners will receive an eBook substitution) to a second randomly drawn commenter during the tour.
Actually? The Book Here's to You, Zeb Pike Isn't About Zeb Pike. Not Really.
Let's talk, for a few minutes, about book titles.
When I tell people I wrote a book called Here's to You, Zeb Pike, I can practically hear them thinking one of three things:
1. Oh! That must be a historical fiction story about the famous American explorer Zebulon Pike, who has a mountain in Colorado Springs named after him. (To be fair, I estimate only about 5% of people actually know who Zeb Pike is.)
2. Who's Zeb Pike? (If I'm right about the first statistic, this is what about 95% of people are thinking.)
3. That's a really long title. (Let's be honest. 100% of people are probably thinking this.)
It's usually about this time that I start to wonder if I should have gone with a different name for the book.
The problem is that the book isn't really about Zebulon Pike, the slightly famous explorer. It's about a kid named Dusty Porter who just can't catch a break. His dad's off somewhere dealing drugs, nobody seems to know where his mom is, he's falling in love with a hockey player who's probably straight, and he's got a whole group of other hockey students out for his blood. Life's kind of rough.
Well then, you might be wondering, where did the title come from?
Here's what happened. At the beginning of the book, Dusty starts studying Zebulon Pike for a school project. He gets sort of obsessed with the guy—mostly because Zebulon Pike never even finished climbing the mountain (Pikes Peak) that was named after him. Dusty wonders how someone could fail so epically at something and still be considered successful. The more I wrote, the more important Zebulon Pike became in Dusty's life. Eventually, he grabbed the title.
So no, this book isn't really about Zebulon Pike. Zeb does show up in it from time to time, but if you were looking for a nice piece of historical fiction about a 19th century explorer, you probably want to look elsewhere. If you're looking for a story about a modern-day teenager trying to figure out who he is and how he should live his life, then Here's to You, Zeb Pike is probably an excellent choice. Assuming the super long title doesn't bother you.
About the Author:Johanna Parkhurst grew up on a small dairy farm in northern Vermont before relocating to the rocky mountains of Colorado. She spends her days helping teenagers learn to read and write and her evenings writing things she hopes they'll like to read. She strives to share stories of young adults who are as determined, passionate, and complex as the ones she shares classrooms with.
Johanna holds degrees from Albertus Magnus College and Teachers College, Columbia University. She loves traveling, hiking, skiing, watching football, and spending time with her incredibly supportive husband. You can contact her at https://www.facebook.com/johannaparkhurstwriteson or find her on Twitter at https://twitter.com/johannawriteson.
Fact: When Zebulon Pike attempted to climb what is now known as Pikes Peak, he got stuck in waist-deep snow and had to turn back.

That's the last thing Dusty Porter learns in his Colorado history class before appendicitis ruins his life. It isn't long before social services figures out that Dusty's parents are more myth than reality, and he and his siblings are shipped off to live in Vermont with an uncle and aunt they've never met.

Dusty's new life is a struggle. His brother and sister don't seem to need him anymore, and he can't stand his aunt and uncle. At school, one hockey player develops a personal vendetta against him, while Emmitt, another hockey player, is making it hard for Dusty to keep pretending he's straight. Problem is, he's pretty sure Emmitt's not gay. Then, just when Dusty thinks things can't get any worse, his mother reappears, looking for a second chance to be a part of his life.

Somehow Zebulon Pike still got the mountain named after him, so Dusty's determined to persevere—but at what point in life do you keep climbing, and when do you give up and turn back?
Buy the book at Barnes and Noble, Dreamspinner Press, or Amazon.