Long and Short Reviews welcomes Carter Roy whose debut novel The Blood Guard was recently released.
The Blood Guard is his first published book, but it's not the first book he wrote. That one–which he wrote and rewrote, and rewrote, and rewrote, is simply called at the moment "&". The final revision is due at the publishers the end of the year and should be published in 2015 or 2016. It, like The Blood Guard is a middle-grade novel, about a girl lost in a strange library.
"It's been a long time coming," he admitted. "I began the first draft of it back in 2000 or 2001."
Storytelling has always been in Carter's DNA. There are five kids in the family and to get attention, they told stories–and it didn't matter about what.
"Rough day in school? You were more likely to get dad's attention by telling it in some sort of dramatic fashion," he explained. "Feeling persecuted by the teacher? Mom would listen more intently if it were structured in a way so as to evoke sympathy. All kids do this sort of tale-telling, of course, but in my house, a few of us got very good at it."
His first published story was in second grade and was called "The Night My Pillow Talked to Me." He was hooked, even though the publication was just something the local school district put together.
"I could write a story, and it could appear somewhere out in the world," he remembered, "where people would read it and react to it."
Even with that, however, being a writer wasn't his first choice of career.
"When I was twelve, I made a Claymation movie that won first place in the California Student Film Festival," he told me. "That award, combined with a then-newly kindled love for Star Wars, made me want to make movies. I bought a Super-8 camera and ran my friends and family through lots of ridiculous scenarios and eventually ended up at USC in film-television production.
"Which was a lot of hard work, but fun and educational. Mostly, my takeaway from the program was that I was less interested in production than I was in just making up stories. I started writing in earnest while at USC, and pretty much never stopped."
Instead of writer's block, Carter finds himself lacking time, or he will let himself get distracted from the work when it gets boring.
"Early stages, when you just have to put the building blocks of the story into place, can be quite boring," he confided. "But the cure for that, I've found, is as I noted above: butt-in-chair. Just do it. Force yourself to work and eventually better stuff will flow. And bad draft? That can just be thrown out. In later stages of writing, it is a joy to cut. Once I am actually doing it, I have a great deal of fun. The work is complex and satisfying, and truly pleasurable. But I also work another job, and the demands of that job, as well as of personal life—the real world! It gets in the way!—often drag me away from doing the work when I should be doing it."
Carter normally starts his day about 4:30-5:00 in the morning, when the coffee maker goes off. He'll grab a mug, eat a quick breakfast, and go downstairs to work for several hours. One of the previous owners of his apartment was a club DJ who would come home after work at four in the morning and create sound mixes until sunrise. He had a small red, soundproof room built on the lower level of the apartment so he could play music as loud as he wanted and not wake his roommate. Carter has found that to be a perfect place to write. Late morning, he usually takes a break to do other things–job work or working out at the gym across the street or whatever else might need doing. Then he's back to writing in the afternoon.
He considers himself both a pantser and a plotter, writing out incredibly detailed outlines–often thirty or forty single-spaced pages—and those act as a roadmap for the bigger issues in the book.
"The storytelling beats that aren't dependent so much on prose as on story parts coming together. But on the line-by-line level, I write by the seat-of-my-pants, making up whatever comes to mind in the putting down of prose," he said. "And when a better avenue presents itself, deviating from the outline entirely. Because an outline is only a safety net, one that allows the writer to soar without fear that he or she will completely crash."
"What was the scariest moment of your life?" I wondered.
"Probably when I was held up at gunpoint on a nighttime Houston street. I didn't have any money, so the mugger made me drive him to an ATM. By that point, I'd been talking to him for a while, telling stories about my family and getting him laughing so that by the time I took my money out of the ATM—ten dollars, all I had—he no longer wanted to rob me. He gave me back the cash, asked me to give him a lift back to where we'd started, and then shook my hand and hugged me. It was a scary moment, but it was also a moment that proved the power of storytelling."
Finally, I asked, "What advice would you give a new writer just starting out?"
"The advice I'd give is the advice I myself heard: You have to do the work. 'Butt-in-chair' sounds horribly simplistic, but it is entirely accurate. You must write; you must finish what you write; you must workshop; you must revise; you must repeat the previous steps until you have something that is as good as you can make it.
"That process takes a while, so you also must have patience and fortitude. (Coincidentally the names of the lions in front of the New York Public Library main branch.)"
About the Author: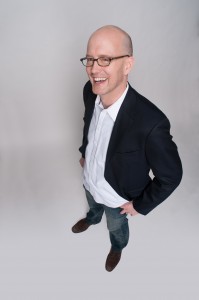 Carter Roy has painted houses and worked on construction sites; waited tables and driven delivery trucks; been a stage hand for rock bands and a videographer on a cruise ship; worked as a line cook in a kitchen, a projectionist in a movie theater, and a rhetoric teacher at a university. He has been a reference librarian and a bookseller, edited hundreds of books for major publishers, and written award-winning short-stories for adult readers that appeared in a half-dozen journals and anthologies. But this is the first time he has written a novel. He lives in New York City.
@carterroybooks | Tumblr | Facebook | The Blood Guard