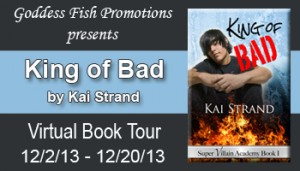 This post is part of a virtual book tour organized by
Goddess Fish Promotions
. Kai will be awarding a $25 Amazon GC plus a signed book mark to a randomly drawn commenter during the tour (International). Click on the tour banner to see the other stops on the tour.
Today we have an unusual visitor, a teenage super villain. Mystic, would you mind introducing yourself?
Hi. Nice of you to have me here today. They call me Mystic. I'm a new transfer student at Super Villain Academy, where you learn to be good at being bad. Like I need any help in the being bad department.
What are your super powers, Mystic?
Psychic suave. Basically men end up drooling all over themselves after I'm through with them. Talk about using your feminine wiles! I can implant mine inside your head.
Psychic powers sound scary, being able to mess with someone's mind. What would you use them for?
Oh they are scary all right, for the person on the receiving end. Basically any good super villain will use their powers for personal gain. That's why so many S.V's are rich. Psychs like me can make people do things they wouldn't normally do, by temporarily changing the way their mind thinks. We usually pick on humans. In general we all have defenses against each other, but there is this one kid at school, they call him Polar – but I know his name is really Jeff Mean – he's got no defenses. It's crazy. The first time I saw him I suaved him without even trying. That was fine with me. I've got plans for him.
Does Jeff know this?
Truly, the kid is clueless. He has no idea who he really is or what he's worth. It is my mission to keep the truth from him until it suits me best. By then, he'll be so into me he'll be willing and able to join my cause. Together, we could take over the world. What a beautiful power couple we'll make. We are both over six feet tall, gorgeous and bad to the bone. It's going to be epic!
What about Oceanus? I thought Jeff liked her?
Okay, we're done here!
Oh! Um, well it was nice of Mystic to stop in. Sorry she had to leave so quickly. Find out if her epic plan is successful by reading Jeff's story, King of Bad.
Jeff Mean would rather set fires than follow rules or observe curfew. He wears his bad boy image like a favorite old hoodie; that is until he learns he has superpowers and is recruited by Super Villain Academy – where you learn to be good at being bad. In a school where one kid can evaporate all the water from your body and the girl you hang around with can perform psychic sex in your head, bad takes on a whole new meaning. Jeff wonders if he's bad enough for SVA.

He may never find out. Classmates vilify him when he develops good manners. Then he's kidnapped by those closest to him and left to wonder who is good and who is bad. His rescue is the climactic episode that balances good and evil in the super world. The catalyst – the girl he's crushing on. A girlfriend and balancing the Supers is good, right? Or is it…bad?
About the Author: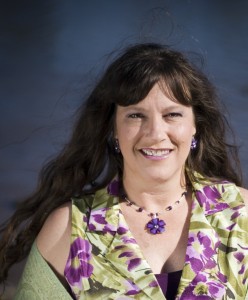 When the electricity winked out, Kai Strand gathered her family around the fireplace and they told stories, one sentence at a time. Her boys were rather fond of the ending, "And then everybody died, the end." Now an award winning children's author, Kai crafts fiction for kids and teens to provide an escape hatch from their reality. With a selection of novels for young adult and middle grade readers and short stories for younger children Kai entertains children of all ages, and their adults. Visit Kai's website, www.kaistrand.com, to browse her books, download companion materials or to find all her online haunts.