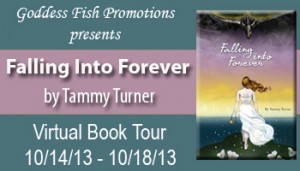 This post is part of a virtual book tour organized by Goddess Fish Promotions. Tammy will be awarding a $10 Amazon gift card to a randomly drawn commenter during the tour. You can see the other stops on the tour here: http://goddessfishpromotions.blogspot.com/2013/09/virtual-book-tour-falling-into-forever.html
The Measure of Success
Growing up every Saturday morning meant watching cartoons until my eyes bulged out of their sockets and fell into the bowl of soggy, neon colored cereal I sloshed around the living room while I pretended to be one of the caped super heroes on the television screen. That is until my father woke up from and crawled growling out of his cave to tell me to turn down the racket and get dressed. Sometimes he would let me wear the red silk cape my mother sewed for me from a ruined Christmas party dress. To this day she swears I spilled the milk on it on purpose because I hated to wear anything but cowboy boots and blue jeans until I was almost a teenager.
My father waited on the bench seat of his pick up truck tapping his thumbs on the steering wheel until I crawled in beside him. He was in a hurry to get to the library and then to the grocery store afterwards before heading home. My dad devoured books as quickly as he did donuts.
We did this for years until I went to college and then it was me by myself roaming the stacks. I even made a stop at the closest coffee shop for coffee and a donut like my dad taught me. After graduation the Saturday ritual stopped and real life intervened. As a full fledged adult on my own I did not make the time to go the library.
That changed one week when my dad came for a visit from out of town. He found a newly opened library near my house and made sure before he went home my son and I had library cards.
The first book I checked out was a popular young adult novel that has been made into a movie. I devoured it and when I was done I called my dad. "I can do this too," I promised him.
A scene was forming in my head: a couple of teenagers, a school bell ringing, whispers and secrets on the tips of their tongues. I had no idea then the adventure I was about to undertake.
My first novel Falling Into Forever began not as words but as a sort of day dream. Full disclosure: I was at work and my mind wandered from the paperwork on my desk to a vision that stuck in my head like a wad of bubble gum on the bottom of my favorite pair of boots. I could not shake it no matter how hard I stared at the documents cluttering my desk top. My main characters had appeared and were utterly determined for me to acknowledge them.
Shamelessly ignoring my "work" I rushed to capture the scene playing inside my head. My fingers flew across the keyboard as I translated the picture in my head into a page of words. When I hit print I stuffed the paper into my desk drawer with a sly grin on my face and as coworkers meandered in from their lunch breaks they noticed the glow on my face.
"Snagged a sweet pair of Gucci heels on Ebay," I confessed sheepishly when they asked how I had spent my lunch hour.
Only my dad knew the truth. I could not wait to tell him. When I called him that evening he said he would have to call me back. He was at the library.
Of course you are, I thought smiled as we said goodbye.
My book never had an outline. Notebooks and pens litter every table in my home. When an idea strikes I grab a pen, and I write. My first book grew steadily that way with some days more productive than others. A few months into my novel writing process I realized I felt guilty if I was not working on my story.
Responsibilities always try to get in my way of writing: Job, child, football practice, feed the cat, feed the child, fix the house, fix the car, science projects, cut the grass, wash clothes, buy clothes so don't have to wash as often. The list is as endless as my son's letters to Santa Claus.
Do. Not. Stop. I have told this to myself since writing that first rough page on my lunch hour. The seed will grow and sprout and with care and patience a creation will bloom.
Every day I think about my characters whether I'm listening to the radio in the car or reading a magazine in the doctor's office. I am observing, studying characters and their actions. Inspiration can strike anywhere at any time. You do not have to be at a desk.
Am I good at this? Will I be successful? The questions crept into my head as I typed the last period in my first novel. Even with a published copy on my bookshelf they still do.
I do not measure success by book sales but by the amount of pleasure I take with the crafting of each sentence, each paragraph, and each book. My dad is not here anymore, but he is still my compass guiding me towards my goals. I keep a letter from him on my bookshelf tucked into the first printed copy of my first novel. Whenever I let doubt or criticism creep into my head I remember his advice: To be successful you have to believe in yourself. You need just one other person to believe in you. And you must work relentlessly toward a goal.
An author is a peculiar type of person. Bravery and patience are needed to see a book through to completion. The willingness to undertake the act of writing is a measure of success in itself. Bookshelves everywhere are crammed because someone fought for his ideas, his dreams. The next time I am at the library I will make sure to silently thank them and my dad.
Immortality, thousands of years, and voodoo will make you fall in love . . .

High school senior Alexandra Peyton has a secret admirer with devilish good looks: shoulder-sweeping raven hair, brooding azure eyes, and a ten-foot wing span. But their thousand-year age difference may be a deal breaker for the shy seventeen-year-old. Kraven, the admirer (and immortal victim of an ancient curse), is certain that Alexandra is the reincarnation of his long-dead princess bride.

When Alexandra returns from a road trip to her grandmother's beachfront estate on the South Carolina coast to the hectic, big-city life in Atlanta, Georgia, she possesses two souvenirs. The first is a once-lost package, sent to her by her now-missing father, which contains a mysterious pendant necklace. The second is a journal filled with the ravings of her dead uncle, an army officer who wrote of meeting the devil during his service in Europe during the final days of World War II.

However, a voodoo priestess who stalks the grounds of Peyton Manor is convinced that the journal will help her conjure the devil and wants the book returned at all costs. As school starts, a vicious wolf man, working for his voodoo mistress, plots an attack on Alexandra. When her life is threatened, the immortal stranger who has vowed to protect her reveals himself and changes her life irrevocably.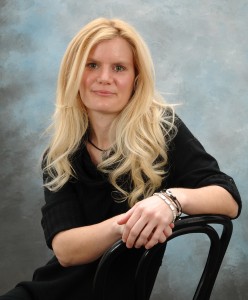 About the Author: Growing up in the coastal town of Charleston, South Carolina, instilled an infatuation with history, mystery, and legend in first-time author Tammy Turner. From the time she could shuffle along behind her father, they would hunt for sharks' teeth, explore crumbling cemeteries, and dig for pirate gold along the low country beaches. Attending school in the heart of the city, the palpable lore of history fed her imagination and inspired her to craft her own stories. An honors graduate of Georgia State University, Tammy has a degree in journalism and works in the field of international trade. Now a resident of Atlanta, Georgia, Tammy plans adventures with her son and capturing the essence of make believe with her writing.
website: http://thetammyturnerbookshelf.com/
Buy Links:
BQB Publishing: http://shop.boutiqueofqualitybooks.com/Falling-into-Forever-978-1-937084-46-2.htm?categoryId=-1
Amazon Kindle: http://www.amazon.com/Falling-Into-Forever-ebook/dp/B00864NZ7C
Amazon Print: http://www.amazon.com/Falling-into-Forever-Tammy-Turner/dp/1937084469
Barnes & Noble Print: http://www.barnesandnoble.com/w/falling-into-forever-tammy-turner/1110207402?ean=9781937084462