Life in a Haunted House
Several years ago, my daughters and I moved into my grandmother's house. My grandmother was no longer living there, and my father, who was responsible for the place, wanted someone in residence until he was able to persuade my grandmother that the house should be sold.
Before we moved in, a friend of mine went with me to energetically cleanse the building. Some bad memories were left there, and we figured a good round of sage and positive thoughts would make it more pleasant.
We were barely inside the front door when my friend said, "Who's that man in the old Army uniform? He's standing right behind you."
I had my suspicions, but I waited until we had gone further into the house. On the second floor, I found a framed photo of my grandfather in his World War II Army Air Corps uniform. My friend immediately said, "That's who I saw downstairs!"
My grandfather's father built that house in the 1910s, and my grandfather and his two brothers grew up there. When my grandfather and grandmother married, his mother gave them the house, and my father also grew up there.
I was the only grandchild, and my grandfather and I had a close relationship. In late 1994, he was hospitalized with cancer and told he had only a few weeks left. I visited to tell him I was expecting my first child, and he rallied. Within a month, he was sent home. And he lived until two days after he met my older daughter. In 1995, he passed away in the house where he had lived his entire life.
My daughters and I moved into the house just before Christmas 2006. The morning after we moved in, my older daughter said, "Mom, I felt like someone was standing in the corner of my room all night. I'm pretty sure it was Grandpa Too" (the nickname by which she and her little sister knew my grandfather).
In the two and a half years we lived there, my grandfather made his spirit's presence known in a number of ways. Missing items would show up in spots where we had already looked for them more than once. My children told me several times that they felt him watching them while they played. Neither was afraid; both told me that he "felt nice." And at times when I was upset or fearful about situations in my personal life, I swear I felt my grandfather's arm around me as I sat on the side of my bed and cried.
Not all ghosts are frightening. Some just want to keep taking care of the ones they love.
My friend who first spotted my grandfather standing behind me at the front door of the house claimed to have psychic powers. In real life, many people seem to have abilities that might be considered psychic, from knowing that something is about to happen, to spotting ghosts, to knowing who's on the phone without checking caller ID.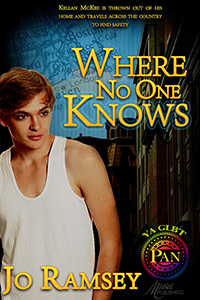 In fiction, psychic powers might not be so benign. In my recent young adult urban fantasy release Where No One Knows, from Musa Publishing, sixteen-year-old Kellan McKee is on the run. His mother and stepfather accepted that Kellan is female-to-male transgender, but they couldn't accept his psychic powers—especially after Kellan accidentally uses one of his powers to set a would-be attacker on fire. Knowing his stepfather and other members of their church are after him, and fearing for his life, Kellan makes his way across the country to safety among a group of others with psychic abilities. But is he truly safe?
To celebrate Halloween and the October 18 release of Where No One Knows, I'm giving away a PDF copy of Where No One Knows to one winner!
About the Author: Jo Ramsey is a former special education teacher with a love of books and of persuading young people to read. She has been writing since the age of five, and particularly enjoys reading and writing stories where a character learns they're stronger than they realize. She truly believes her tagline, "Anyone can be a hero". Jo lives in Massachusetts with her two daughters, her partner, and assorted pets.
Readers can learn more about Jo and her books, including publisher and purchase information, on her website, http://www.joramsey.com. You can also friend Jo on Facebook, https://www.facebook.com/JoRamseyYA, and join her Facebook group at https://www.facebook.com/groups/148370091840937/. And you can follow Jo on Twitter, https://twitter.com/JoRamseyYA; Tumblr, http://joramseyya.tumblr.com/; and (as soon as she figures out all the pretty pictures) Pinterest, http://www.pinterest.com/joramseyya/boards/.