Halloween Kitty: The Black Cat
The poster kitty for Halloween is the black cat. For all you cat owners out there, as I'm sure you already know, it's always a good idea to keep your kitty indoors over Halloween, regardless of its color.
But back to the black cat, how did they come to get such a bad rap?
It all came about from magic….BLACK magic. The belief of witches and their familiars (black cats) arose to hysterical proportions in the middle-ages. Many a poor innocent woman and her black cat were put to death in England. And in France, thousands of the poor innocent black kitties were burned to death monthly. During the Salem witch hunts, it was believed witches would turn into black cats to prowl the streets unobserved. The Irish also believed that if a black cat crossed your path during an epidemic you were sure to die.
Interestingly enough today, both black cats and black dogs are the hardest to move in a shelter or rescue.
In other areas, the black cat is considered good luck. For instance, in Scotland if a black cat arrives at your door, it's believed that prosperity follows. In England's midlands, you may even receive one as a wedding gift, for good luck to the bride. On the Yorkshire coasts, many wives of fishermen believe that keeping a black cat in the house will keep their spouses safe while at sea. And pirates believed if a black cat walked away from you it was good luck.
In more recent times, to protect his mistress, one little five pound, blind, black kitty ran off an intruder that had broken into the house. To my way of thinking…if you're lucky enough to have a Halloween kitty in your family, you're very lucky indeed.
Giveaway: one randomly drawn commenter will win a hardcopy of Shardai (a cat lover's fantasy) or if something more spooky is preferred…a hardcopy of Vampire Bay. Winner's choice.
About the Author: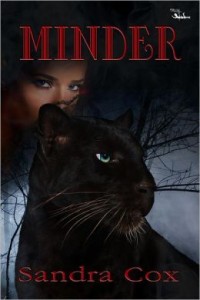 Multi-published author Sandra Cox writes Crossover YA, YA Fantasy, Paranormal Romance, Time-Travel Romance and Metaphysical Nonfiction. She lives in sunny North Carolina with her husband, a brood of critters and an occasional foster cat. Although shopping is high on the list, her greatest pleasure is sitting on her screened in porch, listening to the birds, sipping coffee and enjoying a good book. She's a vegetarian and is a Muay Thai enthusiast.
Keep up with Sandra at Sandracox.blogspot.com, Twitter, and Facebook. Buy her books at Barnes and Noble or Amazon.