I'm Shira Glassman, the author of The Second Mango (available from Prizm) and its sequel, Climbing the Date Palm (due out in July 2014.) My books are fantasy novels about a young lesbian who becomes queen of her country far too young because her father died in an accident, and the hetero warrior woman who becomes her bodyguard, best friend, and surrogate older sister. In my author bio, it says that my favorite holidays are Halloween and Passover because I love freedom and make-believe.
Halloween has always felt really special to me because I love to step into the shoes of all the different fascinating characters I love. Some years while growing up I can remember changing my costume in the middle of the day, so that I'd worn three by the time I finally went inside for good. I remember spray-painting a box so that I could be one of those old Mac computers from the early '90's. I've also been a parrot, "Extinction" (throttling a plushie dinosaur), a sunflower, and this year I'm going to a friend's party dressed as Magneto. I made the helmet myself out of four metal take-out trays from a local pizzeria.
In a way, writing is just like Halloween, only with an invisible or internal costume. When I sit down and write a scene from a character's point of view, what is that if not pretending to be them, for the morning?
When I'm writing from Queen Shulamit's point of view, my stereotypically feminine gender presentation gets to revel in her finery, her pinks and lilacs, her jewelry, and her always impeccably braided hair. I allow myself to dream of leading her nation, inspired by my native South Florida and made rich by prosperous agriculture, and of sinking into the soft embrace of her buxom and nurturing partner. She is also my mourning costume; through her filial grief I can remember my own deceased father–not a king as hers was, but a locally respected leader in his field.
When I'm writing as Rivka, her bodyguard, my costume is quite different. I pick up a sword, throw a mask over the lower half of my face, and stomp around the kingdom protecting the vulnerable and proving my worth. I get to try on her biceps for the night–biceps that I will never have–and the rest of her fear-inspiring, five-foot-eleven warrior's body. Rivka is also the costume of my intimate fantasies, because she's the one in love with the character inspired by my preferences in men, the wizard Isaac.
When I'm writing as Aviva, Shulamit's sweetheart and personal chef, I can pretend to be someone far more competent in the kitchen and patient with people than I am. In my Aviva costume, I can always protect my spouse from stray gluten or from people who don't believe her about her food problems, and I have the poise and charm to laugh off insults more easily. I often feel like I'm wearing an Aviva costume when I cook, not just when I'm writing her point of view.
When I'm writing as Isaac, my costume is the fantastical and mysterious trappings of a wizard who's equally skilled in magic and keeping secrets. Who wouldn't want to dress up as a wizard? Especially a wizard who's earned the love of a fierce warrior.
I wish I could dress up as them 'for real', but as I'm just starting out, such a costume wouldn't be recognized by most people. But, in a way, writing is better–I'm too small to look like Rivka, for example. When I write as her, I can come closer to what she really is.
I don't know if other writers write to play dress-up and pretend like I do. I bet some do and some don't. But it's been a major motivating factor for my own writing.
As for Magneto, it's really true that I like to play pretend when I'm in costume. My best friend has told me that someone's boyfriend is coming to the party as Wolverine, and I'm looking forward to whatever hijinks ensue!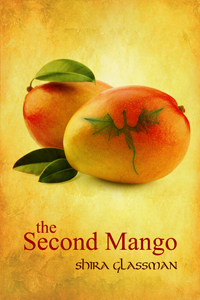 Comment with your own story about how reading or writing is like getting to dress up as your favorite characters, or tell me about the most fun you ever had in costume, to be entered in a drawing for a free eBook of The Second Mango.
Shira Glassman is a bisexual Jewish violinist living in Florida with a labor activist and a badly behaved calico.
http://shiraglassman.wordpress.com
http://shiraglassman.tumblr.com
http://www.facebook.com/ShiraGlassman
The Second Mango on eBook:
http://www.prizmbooks.com/zencart/index.php?main_page=product_info&cPath=1&products_id=72
(four formats: pdf, mobi, ePub, html)
in print:
http://shop.wildirisbooks.com/product/second-mango-autographed-copy
Also available on Amazon in both formats