Real Life Ghost Story
By Sofia Diana Gabel
I'm not really the superstitious type. I tend to believe in cold, hard facts, not things that go bump in the night, but my whole belief system was shaken a few years ago when I realized that there might really be ghosts living among us.
It happened after my children, our three cats, and I moved into an old rental house that was built back in 1921. The house was small, cozy and had all of the charm and character that comes with being built so long ago. We settled in and went about our lives until one night my eldest daughter got up in the middle of the night and woke me up.
"Mom, there's a cat in my room and it won't stop meowing," she said.
Being a little bleary-eyed from getting woken up at three in the morning, I tried to comprehend what she was saying. It sunk in, finally. "Sweetie, it's a cat outside of your window. All of our cats are right here with me." I pointed to our three felines, sleeping quietly at the bottom of my bed.
"Oh. But it sounded like it was right near my bed." My daughter shrugged and went back to her room.
The following night, one of my other daughters came out of her room while I was doing the dishes before heading off to bed myself. She said there was a black cat sleeping on her bed. I stared at her for a minute. We didn't have any black cats.
When I looked, there was nothing on her bed except her pillows and comforter. Okay, I reasoned, maybe she thought a pillow was a cat. That was a pretty weak explanation, but it was the only one I had.
This sort of thing went on for weeks. I even started catching a glimpse of a black cat here and there, yet when I searched the house, I found nothing. We didn't have a doggy door and all of our cats were indoor cats, so it wasn't like any kitties were sneaking in at night. Our cats even seemed to see the phantom now and then. They would sit and stare at a spot on the floor, then follow this invisible thing as it apparently moved around the room, up on the table and onto the couch. At first I thought it was a spider or fly or something that would explain the behavior, but trust me, there wasn't a single thing on the floor, the table or the couch!
My eldest daughter nicknamed our phantom Ghost Cat and we sort of laughed it off. The visions continued and after our lease was up a year later, I found a new job and we moved into another rental. Everything seemed fine until after about two weeks in the new place, Ghost Cat made an appearance in one of my daughters' bedrooms. Our cats began watching the phantom again as well. They weren't upset or scared. In fact, they seemed to like Ghost Cat. We all started to like Ghost Cat and would talk to our phantom feline like he was one of the family.
The more we talked to Ghost Cat, the fewer visions we saw. When I had to relocate for another job, we found a lovely condo and made yet another move. This time, however, it seemed like Ghost Cat didn't follow. Two weeks went by without a vision, then a month and then a year. We all missed Ghost Cat and figured that he must have been lonely and had been hanging around looking for a family. Could it be that once we accepted him and talked to him, he found the happiness he was looking for and decided to go to wherever Ghost Cats go? Things are a little lonely without him around, but we're sure he's in a better place, hopefully a place with a catnip mouse and a full bowl of kibble. Sleep well little Ghost Cat, we miss you.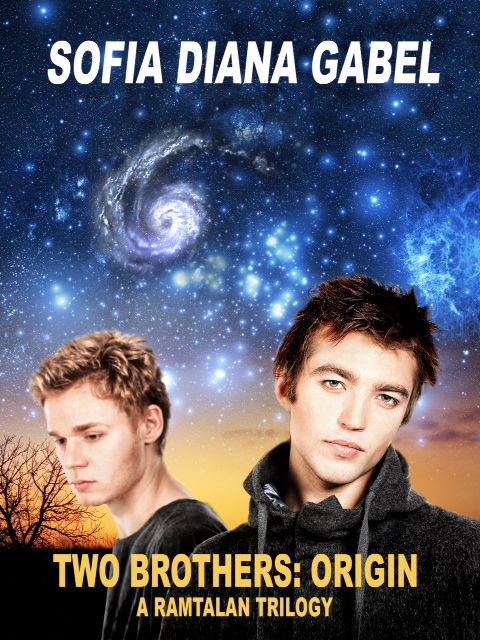 Leave a comment for a chance to win an e-book of Two Brothers: Origin, my young adult science fiction novel, in PDF, MOBI or Epub format.
About the Author: Originally from Sydney, Australia, I now live in beautiful Southern California with my three daughters and my three hairless Sphynx cats. I have lived through so much teenage angst that I decided to write a young adult book about two teenagers who aren't exactly human and have to deal with that, in addition to the usual teenage issues.
I'm a multi-genre author and writing is a way for me to have fun, to escape, to work through tough times and enjoy life even more. It's a part of me and I don't think I'll ever stop writing. I have two bachelor degrees (archaeology and environmental resource management, with additional classes in creative and technical writing). I took classes in criminal justice for fun as well as for additional knowledge into the criminal mind (helps with the thriller genre!). Now I know more about serial killers than I ever wanted to!
Social Media Sites:
http://sofiadianagabel.com/ (Website)
www.facebook.com/sofiadianagabel.author
www.facebook.com/argusdachel (protagonist's Facebook page)
http://approachablefiction.blogspot.com/
Twitter: @sofiadianagabel
Buy the book at Amazon or Escargot Books