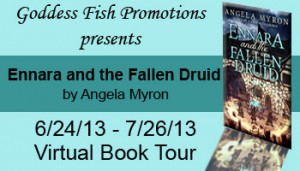 This post is part of a virtual book tour organized by Goddess Fish Promotions. Angela will be awarding a wall calendar print from CafePress to a randomly drawn commenter during each week on the tour (Items can be exchanged for other equal or lesser value items from Ennara Swag on Cafepress.), and she will award a t-shirt from CafePress to one randomly drawn commenter during the tour (US ONLY). Please use the Rafflecopter at the bottom of the post to enter.
*****
While writing Ennara and the Fallen Druid, I was taking a lot of fiction classes. I mean, a ton. I signed up for anything that might remotely have to do with the story I was writing. Mythic Structure, Relaying Emotion in Scene, Character Development, Writing Horror, Writing Synopses, Science Fiction & Fantasy workshops, Revising, and many more. Then one day while at my local writing club, one of my critique partners relayed a famous quote that she attributed to Charles Dickens:
Make 'em laugh, make 'em cry, make 'em wait.
The quote stuck firmly in my head. I drove home wondering how I could do all three in the story I was writing. I needed to insert comedy, tragedy, and suspense. Of these three, comedy was the most worrisome.
You see, I'm not a funny person. I remember countless times as a child being chided by my mother. "You're so serious!" she'd say. So I tried to lighten up by telling jokes.
Only my jokes aren't funny. They have a ninety-eight percent failure rate. The other two percent of the time, I get a laugh not because of what I said, but how I look after my comedy bombs. The whole "make 'em laugh" bit was notably lacking in my stories.
So, when I came across a short comedy class that was being offered, I signed up immediately. I desperately needed this class. But what I didn't realize was that by putting my characters through a comedy class, I was allowing them to become full, real, quirky, air-breathing, living people. It was amazing. And it was all due to one exercise. What I called the exercise of opposites.
The idea was this: there is a gap in comedy, a break between the audience's expectations and the story's reality. When it surprises us, we react with laughter. That's the comic premise. You create a character and situation that have opposite natures, and comedy naturally flows from that. Take, for example, the character of a highway patrol officer. He pulls over a vehicle, and it's full of space aliens. There's a gap, and a lot possible comedy.
So working through this exercise, I took a new look at my characters. How could I give them traits that would open the door to funny scenes?
I started with Ennara. What could I possibly give her that would allow for comedy? I looked at her traits: sweet, young, brave, independent, powerful. And good. Above all else, she strives to be good. So, what if I gave her a talent for dark magic? Hence, Ennara's natural abilities as a necromancer were born. From that decision, two of the funniest scenes from the story were possible: the zombie meat market and the mummified hand that came to life aboard the Cissonius.
Suddenly, Ennara's opposite trait gave her some authentic inner struggles. She wanted to protect her friends and family and save the world, but it was easy for her to do dark magic. The struggle gave her depth. It also became a significant part of her development arc: Ennara's inner battle between light and dark became one that would follow her for many years.
Giving Ennara this comic trait also helped me to identify with her. She just seemed more real. We all have the same potential for good and evil, both light and dark quarrel within us. Even on the most mundane days, what's easy isn't necessarily what's right. Ennara's struggle with light and darkness is ours.
Side note: For some great instruction on writing comedy, read The Comic Toolbox: How to Be Funny Even If You're Not by John Vorhaus.
About the Author: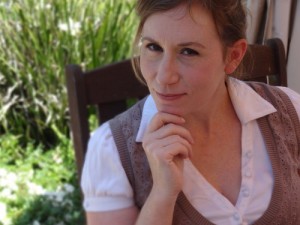 Like many writers, I have a full life in which I juggle many duties and joys. I love to cook, garden, and play with my twins. As a mother to toddlers, I write whenever I am not helping them navigate their day–which typically means in the early mornings and early afternoons when they sleep, and sometimes when Grandma comes to visit.
I was twenty-two when writing became a passion of mine. I've been doing it in one form or another ever since. But it took me a very long time to follow my heart's desire to tell stories.
For years, I simply journaled. I delved into writing articles for newsletters and grant proposals. I settled into technical writing, often finding myself a one-person writing, editing, design, app development, and publication team. I learned the basics of journalism, and finally, when on maternity leave with my twins, I turned to writing fiction.
I am grateful for every reader I have. Writing can be a solitary pursuit, but it can also be a dialog, a meeting of the minds. I invite you to connect with me:
Join my street team! Email me at myronangela@gmail.com to subscribe to my newsletters.
Eleven year-old Ennara Gaern has a serious grudge against the dragon on her right hand.

Born with a caul—a mask that foretold magical powers—she was immediately inked with the fiendish, fire-breathing tattoo that forces her to study boring texts, cover her hand continuously, and worst of all, keeps her from visiting the beautiful capital city, Dordonne. But her quiet life changes when one night she is attacked by a shadowy demon.

Tork, an old friend and wizard, is enlisted to help. But when he arrives, he informs Ennara's parents that she is her world's only hope of finding the legendary Sword of Gisilfrid, which is needed to destroy the curse that is creating the demons. Ennara doesn't want to leave on the dangerous quest, but when she learns the curse threatens her world, she reluctantly agrees.

Ennara and the wizard begin a perilous journey to the Sunken City, pitting them against dangerous oceans and pirates intent on claiming Ennara's magic as their own. With only her friends at her side, including the intelligent, aquatic cat Smoos, Ennara must defeat monsters guarding the sword and servants of the Fallen Druid. When her world is covered in darkness, will she know how to dispel the curse?
Buy the book at Amazon, Barnes and Noble, Smashwords, or iTunes.
a Rafflecopter giveaway
a Rafflecopter giveaway