Enter the Rafflecopter below for your chance to win a $100 Amazon/BN GC and more!
Leave a comment on THIS POST for a chance to win an additional prize – An eBook version of any one of the author's books: Princess of Las Pulgas, Sliding on the Edge, Double Negative (when available.)
Being a California native, I've always had to take trips to experience "weather" in the sense of really hot and humid (Southeast Asia) or really cold (Alaska). Most of the weather we get in our state is of the medium variety (50-70 degrees) with a rare freeze and sometimes a few days in the hundreds during August. And boy do we complain when those days happen. I think we're weather sissies.
When the chance came to write a summer themed blog post I immediately thought I'd like to write about how summer weather affects my writing, I had to scratch my brain a bit to come up with something. Then I went to my journal and thumbed through a few entries. What I found is I become more prolific on either really steamy days (usually about day three of a heat wave when I could use a cool breeze) or on gently toasted, but sparkly days. And I know this because I have pages that remark on exactly these weather conditions.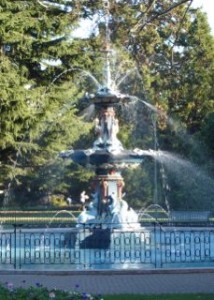 I discovered that what I write about during those summery times has a lot of description about glistening foreheads, scenes with overhead fans whirring and characters seeking out large cool bodies of water to submerge themselves in. There are several summer notes that involve warm park benches with fountains playing in the background.
Since I like to write in different locations, I often roam with a clipboard. I do this roaming after I put in a morning (between 4 and 8 is my usual stint) at my desk. Then that sun shines in the window and I head to the garden or on a hike with my journal tucked into my backpack. I can always spot entries I've made outside in the summer; they're smudged with dirt and sometimes, when I flip a page, a leaf falls out–a small token of a day I've lived and written about.
One other thing I discovered, thanks to this great idea for a post, is that I've made so many notes about the sounds, the textures and smells of what I'm surrounded by on these outdoor days, that I have tons of summer weather to include in almost any book I write that takes place above ground level between June and September.
Carlie Edmund has everything: a loving family, good friends, a perfect home and wealth and status; then in her junior year of high school the worst happens. Her dad dies and her life is turned upside down as she becomes The Princess of Las Pulgas.
About the Author:A native Californian, I've always loved to write. But I've also been a university lecturer and administrator. I used to publish articles on linguistics and intercultural communication, but then I started writing fiction and nonfiction for young readers. I was fortunate to have several of my short stories and non-fiction pieces for young readers in Stories for Children and Crow Toes Quarterly. My young adult novels are Sliding on the Edge and The Princess of Las Pulgas. Evernight Teen will soon publish Double Negative, my third piece of fiction for young adult readers. When I'm not writing, I hike in the mountains where I live.
Website ~ Blog ~ Facebook
Buy the book at Amazon