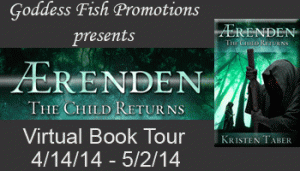 This post is part of a virtual book tour organized by
Goddess Fish Promotions
. Kristen will be awarding a $25 Amazon GC to a randomly drawn commenter during the tour as Grand Prize and an audiobook will be issued to 10 runnerup commenters. Click on the banner to see the other stops on the tour.
Life Experiences and Writing
Over the years, many of my experiences have been used in one form or another in my stories. At times, it can be difficult to figure out where and when the book ideas came about, but there are several moments in my life that I remember fondly and that directly impact the Ærenden series.
I lived in Maine until mid-way through my junior year of High School. Part of my childhood, I had a house in Bangor, but from 8th grade on, I resided in a small community 30 minutes outside of the city. Our town was so small that we didn't have street addresses; we had what's known as RFDs (rural route postal designations). We also had 32 acres of farmland and forest to explore unimpeded. Without a doubt, the years I spent on that farm were the best of my childhood and teenage years. Because of that, many of the forest scenes in the series are loosely based on the woods I explored as a teenager. The barn where Nick and Meaghan take solace on Earth after her parents are killed is also a near replica (less a second story) of the barn that sat on our farm's property.
At that time, my step-father (who I consider my father, since he raised me from a young child) was an avid hunter and would often bring home large game. Some of his hunting experiences have become my characters' experiences in The Gildonae Alliance and The Zeiihbu Master. Since he was also a fan of using a bow and arrow, and taught me a little about shooting, several of my characters prefer this weapon. Their bows aren't nearly as advanced or as technical as the one my father used, but they don't have L. L. Bean two hours from their backyard.
Other small experiences have led to scenes in the books. At night, while delivering the dinner scraps to my farm's compost pile, I'd often see coyotes skulking in the shadows of the backyard. Their memory has morphed into the razor beasts that stalk Meaghan's rescue party in my third book. Meaghan attended college early, as did I, and she's studying psychology as I once planned to do (and might still do some day). And even though I never mention Meaghan's hometown on Earth, I often think of it as a suburb of Bangor.
I guess some experiences and homes stick with you, and even if I no longer live in Maine, a part of me will always reside there. As long as it does, part of my books will, too.
Book One: The Child Returns

Seventeen-year-old Meaghan has no idea her perfect life has been a lie — until she witnesses her parents' brutal murders at the hands of red-eyed creatures.

After nearly sharing their fate, she escapes with her best friend, Nick, who tells her the creatures are called Mardróch. They come from another world, and so does she. Now that the Mardróch have found her, she must return to her homeland of Ærenden or face death.

Left with little choice, she follows Nick into a strange world both similar to Earth and drastically different. Vines have the ability to attack. Monkeys freeze their victims with a glare. Men create bombs from thin air. Even Meaghan's newly discovered empath power turns into a danger she cannot control.

But control becomes the least of her worries once the Mardróch begin targeting her. When Nick confesses he knows the reason they want her, she learns the truth behind the kingdom's fifteen-year civil war — a long-buried secret that could cost Meaghan her life.

Book Two: The Gildonae Alliance

Several months after Meaghan's return to Ærenden, the kingdom's war has taken a turn for the worse. The Mardróch army hunts the new King and Queen, destroying villages in its wake. And Meaghan and Nick, training for battle in their remote section of wilderness, are far from safe. Danger hides in shadows and behind innocent faces. Allies become foes. Each day is a fight to survive. But in the end, only one threat matters. And it's a threat they never see coming.

Book Three: The Zeiihbu Master

Separated and on opposite sides of the kingdom, Nick and Meaghan face different pursuits which could change the balance of power in Ærenden forever.

While Nick trains the villagers to be soldiers, Meaghan and a small rescue party venture into Zeiihbu to find Faillen's young son, before Garon can use the boy's power to destroy those still fighting against his rule.

Everyone knows Meaghan could be on a suicide mission, but when Nick stumbles upon a secret concealed in one of the southern villages, he realizes that Garon might not be Meaghan's greatest foe. The enemy most likely to kill her is someone who has also promised to keep her safe.
About the Author: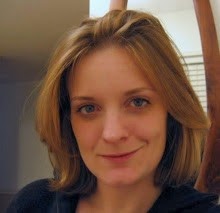 Kristen spent her childhood at the feet of an Irish storytelling grandfather, learning to blend fact with fiction and imagination with reality. She lived within the realm of the tales that captivated her, breathing life into characters and crafting stories even before she could read. Those stories have since turned into over a hundred poems, several short tales, and five manuscripts in both the Young Adult and Adult genres. Currently, Kristen is completing the five-part Ærenden series from her home office in the suburbs of Washington D.C.
Website ~ Blog ~ Facebook ~ Twitter ~ Google + ~ Pinterest
Buy the Books:
Book One: The Child Returns: Amazon Barnes and Noble
Book Two: The Gildonae Alliance Amazon Barnes and Noble