Enjoy these answers from a host of authors — then enter the Rafflecopter below for a chance to win a $100 Amazon or BN GC and more!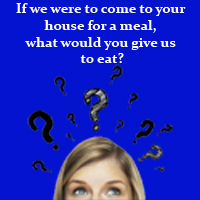 Tasarla Romaney
Since I consider myself a bit of a foodie… hopefully you would consider it a treat. I LOVE to focus on 'pre-meal' dishes. You can nibble nibble nibble and chat. So I'd have a variety of these dishes we could spend the time getting caught up or getting to know each other. I'm sure I would have cheese stuffed peppers (a favorite), taco dip parfaits, and some sort of mini sandwiches to name just a few. AND of course dessert 🙂
Ash Krafton: Your choice: PA Dutch style chicken pot pie (with homemade noodles, of course) or Indian cuisine.
Linda Palmer: Fried chicken and mashed potatoes. Maybe some homemade rolls.
Judith B. Glad: Tagliarini, which is one of those mystery dishes that keeps everyone guessing. It's an old tradition in my family, and a favorite one. The first time I made it was for a party when I was fifteen. My friends took one look at it and went 'Euwww!" but when they tasted it (after much persuasion) they changed their tunes.
Kaylie Newell: Burned grilled cheese (and then we'd order take out).
Judy Alter: Palmetto cheese appetizer, Doris' Casserole (called American Lasagne by some), tossed salad with blue cheese dressing, and Blue Bell ice cream cups for dessert.
J.A. Garland:Something 'ala crock pot.' Who has time to cook?!
Linda Rettstatt: Summer garden pasta–angel hair pasta with a variety of veggies in light lemon/olive oil. I include broccoli, yellow bell peppers, carrots, asparagus, tomatoes and black olives. I use the juice form the olives along with a squeezed lemon and olive oil to make a light 'sauce'. Top this off with grated romano and parmesan cheeses. Mmm-mmm.
Maeve Greyson:If you happened to drop in while Jasper and I were the only ones home, I'm afraid you'd only end up with whatever I could nuke in the microwave. BUT…if you were savvy enough to stop by when Hubby was here, he would offer you a plate full of mouth-watering, smoked brisket slathered with his homemade barbecue sauce, tongue-teasing tater salad and a big pan of cornbread to sop up all that scrumptious bean juice from a kettle full of cowboy beans. Excuse me while I wipe the drool off my laptop. *sigh*
Laura Strickland: A flagon of ale and the best venison pie you've ever eaten — the venison poached from Sherwood Forest, of course!
Niecey Roy: Something served with rice as I am half Filipino and have a love of Asian foods 🙂
Tess Morrison: Lumberjack cookies, of course! And a glass of my homemade wine. I'll have a bucket of apple going soon. Come on over!
Anne Van: I love Japanese food so I'd probably whip up a big heaping bowl of Shabu Shabu. I won't subject you to the wonderful world of Japanese raw food. The live shrimp dance off your plate! ‬
Jana Richards: Depends on the time of year. If it's summer, we'll barbecue some steaks and have some potato salad (I make great potato salad!) and fresh corn on the cob on the side. If it's winter, we'll have comfort food, like hot chili, beef stew or a pot of homemade lentil soup.
Tina Pollick: How much notice would I have? *laughs* I'm a throw things together and see what happens kind of cook. When my kids ask for dinner and I say 'food' I'm not being snippy, I just don't know what to call it.
So call ahead so I can make something that actually has a name!
Debra Doggett: Leftovers. That's the way things go, especially during the week. If you come on the weekend you will likely get breakfast, a full one. Except for bacon. That stuff goes like lightning in my house so we are always out.
Nia Simone: A vegetarian medley from the garden, either a lasagne with squash and tomatoes and ricotta or if you can handle spicy, a Thai green curry with squash, eggplant, carrots and peppers. For dessert, homemade, homegrown lemon/orange sorbet. Accompaniment would be a dry rose for the lasagne or a hearty beer for the curry.
Zoe Forward: Lasagna…probably because it's one of the few dishes I can actually cook. I'm pretty good at bread and I can make a good cup of coffee, but regular meal food? Not so much.
Virginia Crane: We would start with drinks and noshes on the lanai. On of my favorite dishes to serve at this time is turkey sausage cut in bite size pieces and cooked in salsa along with toasted French bread slices.. For dinner my 'miracle meatloaf' (so called because a dear friend said it brought back her appetite after chemo), baked potatoes and a large salad. Dessert, melon boat.
Graeme Brown: Chicken pesto
Shereen Vedam: I make some awesome curries. Not that I'm a great cook, but I have a great cookbook that has the tastiest recipes in it and some wonderful cooking tips. I've starred the recipes I like the most and will pick the top 3 for this occasion.
If I had to choose one of those recipes right now, I'd pick:
Khara Masala Beef. The book's COOK'S TIP says: "The action of stirring the meat and spices together using a semi-circular motion, as described in step 4, is called bhoono-ing. It ensures that the meat become well-coated and combined with the spice mixture before the cooking liquid is added."
I've tried this dish numerous times and it is absolutely mouth watering.
Nancy Fraser:We'd start with a Ceasar salad, followed by a main course of Parmesan crusted chicken or salmon (your choice of course), cream cheese herbed potatoes (so rich you're arteries will threaten shutdown), and steamed brocolli with garlic butter. Just when you thought you couldn't eat anymore, I'd treat you to the world's best dessert, cooked-from-scratch banana pudding (not that sissy instant stuff!), accompanied by a cup of rich, aromatic coffee.
Robyn Bachar: My roommate does the cooking around here, I just do the dishes. We're known for our annual "Soupfest" party, where she makes two enormous pots of soup–one vegetarian option, and one meat option. She makes a great minestrone.
Jeanette Baker: Cranberry jalapeno salsa and chips,
roast pork loin with marsala sauce, Kale mashed potatoes, fresh greens beans with mushrooms and brown butter, banoffee pie, wine, Blue Mountain coffee
I love to cook and entertain.
Kim Hornsby: Designer Pizzas! I love to make my own strange and wonderful pizza. For the gourmet, how about a goat cheese, arugula and prosciutto with black olives and cherry tomatoes? And for the less adventurous, I'd make a barbeque sauce base with chicken, purple onion, and 3 cheeses – mozzarella, parmesan and Colby
Of course I'd have a plain cheese pizza on hand for anyone who is more traditional.
For drinks we'd have chilled pinot grigio, Corona, and Izze juices.
Dessert at my parties is often a big Fruit Triffle with layers of berries, pound cake slices and fresh whipped cream with a lemon custard hiding in the layers.
Juliet Waldron: Sorrel soup, syllabub, steak and kidney pie, fresh cherries and a large green salad of bitter greens, beet leaves and oak leaf lettuce, things you might find on an upscale 18th Century dinner table.
Mary Jo Burke: You would be in luck if my husband was cooking. He's a master griller. Pulled pork and jambalaya are also specialties. If you had to rely on my culinary skills, we better make reservations.
Willa Blair: That depends on the season, which here in Texas means hot, hotter, hottest, and 3 days of wondering where I packed my sweaters and whether the moths have left any wool behind. But in almost any weather, I'd throw something on the grill, make some oven-fried sweet potato fries and if it's summertime, a watermelon salad. And chocolate dipped strawberries or pavlova for dessert. Wine with dinner. Or margaritas. Frozen, with salt. Great, now I'm hungry.
Lynda J Cox: Well, that all depends on what I've pulled out of the freezer. I can tell you, I am NOT a gourmet cook. It's usually simple but filling.
Elaine Violette:Italian Cusine! Mom's famous lasagna, Italian style salad, yummy garlic bread and bottles of wine
Lynda Coker: My embellished Cheesy Chicken Spaghetti, skillet-fried green beans with lots of bacon and almonds. You'd also find a spinach and Mandarin orange salad on the side with double baked garlic bread and, of course, super-sweet southern iced tea. For desert, I'll freeze up a gallon of homemade vanilla ice cream topped with delicious fresh peaches.
Susan Fox: My best approximation of a chicken casserole that I ate on Crete once upon a time, sitting on a patio in Iraklion on a lovely warm evening. I asked the waiter what herbs were in it, he went to ask the chef, and rather than getting a list, I got an aluminum foil packet of dried herbs. And no, I couldn't figure them all out but the basic seasonings are oregano and cinnamon. Here's the recipe. Brown chicken pieces in olive oil, put in a casserole, and add tomatoes, feta cheese, black olives, white wine, oregano, thyme, and cinnamon. Sprinkle feta on top and bake for 45 minutes at 350 degrees. I'm not a great cook (though I do love to eat!) and this dish is easy and most people like it. It can be prepared ahead of time and put in the oven, and you can serve it with rice, potatoes, pasta, or just a crispy Greek salad and a loaf of warm, crusty bread. It also goes well with either white or red wine.
Lesley-Anne McLeod: I would endeavour to serve you with the following over two courses: Soupe a la Reine, Soupe Brunoise, Turbot boiled with Lobster Sauce, Soles Fried with Fish Sauce, Turkey roasted with Truffles, Stewed Mushrooms, Haunch of Venison, Sweetbreads. Of course, the households of my heroines and heroes would do a much better job of providing you with this dinner. My offerings might not be up to their standard!
Maryann Miller: That depends on what day or time you come, and if you come uninvited. Invited guests get spaghetti or lasagna, made with my husband's awesome red sauce. Other times they can enjoy some of my Gringo Chile, or some yummy stuffed cabbage. Desserts vary from sugar-free cherry cheesecake – trust me, it is really awesome – ice-cream sundaes or watermelon if it is in season. In fact, I have a melon ready to cut if anyone wants to get an invite for dessert. Note, I said "invite".
Surprise guests will get a bit of whatever we are eating that day. Since I spend so much of my time writing, or playing outside, who wants to cook? Often we have sandwiches or omelets for supper – so I could easily make a few more. I may be able to scrounge a cookie or two for dessert but they might be a little stale, so obviously it is much better to get an invite.
Don't call me. I'll call you.
Lynn Kellan: If you came to my house for a meal, I'm afraid you'd never want to return. I'm gluten-free and dairy-free, which means a lot of veggies (yuck), overcooked chicken (double yuck), and maybe a little tofu cheesecake if you're lucky (triple yuck).
Hopefully, my husband would take pity on us. If we can convince him to fire up the grill, we'll feast on perfectly cooked cheeseburgers served with crisp cole slaw on the side. For dessert, ice cream…because the simple things in life are often the most delicious.
Meg Benjamin: Lots of protein and a large salad made with a vinaigrette using first-rate olive oil and a nice balsamic. Also good wine. I'm talking this up because (sigh) I'm on a low-carb diet. So yes, you do get good food. But no, there won't be any chocolate.
Mary Hughes: Salad from our garden, with baby leaf lettuce, spinach and high-flavor greens. Dressed up with fresh, ripe avocado slices, sunflower seeds and dressing of choice from raspberry vinaigrette to creamy poppy seed.
Spaghetti (we mix whole wheat with regular) with build-your-own topping. Tomato basil, chunky vegetable, or alfredo sauce; add choice of sliced black olives, sausage, diced sweet onion; shredded mozzarella or sharp cheddar; fresh grated Parmesan. Crusty garlic bread hot from the oven on the side.
Dessert would depend on season. Cold citrus sherbet in summer, apple pie in fall, warm chocolate cake with vanilla ice cream in winter, and berry pie or fruit cobbler with fresh cream in spring.
Shannyn Schroeder: I would love to say that I'd cook up a fancy five-course meal for you, but in reality, it would probably be pizza. I have three kids, which means a lot of running around, and I have deadlines. We eat a lot of pizza, but everyone likes it.
On a good night, it might even be good pizza instead of frozen. If I knew you were coming, I'd definitely order because I live in Chicago, and we have the best pizza.
I could probably guarantee homemade cookies for dessert though. I should get bonus points for that.
Denise Golinowski: With enough warning, I'd fix you Oven-Fried Chicken, Mac & Cheese, and Green Bean Casserole. I can't do fried chicken on the stovetop. It's not pretty – made a lot of burnt, raw chicken in my day. However, my Oven-Fried Chicken is a guaranteed success and gets rave reviews. My Mac & Cheese is a show-stopper and my darling husband makes a killer Green Bean Casserole. Y'all eat up! You don't get this everywhere you go!
Lynn Crandall: I'm a pretty private person but I enjoy good times with friends and family. I also love my backyard. It's shady, quiet, and serene. I also love my husband's grilling! So a meal at my house might be grilled chicken, Parmesan potatoes, and fresh corn on the cob. Oh, and fresh fruit salad. Can't forget dessert! I'd probably serve strawberry shortcake or fresh blueberry pie. Both are family favorites.
Sheila Claydon: I could tell you I was going to cook you an elaborate meal and I could do it too, but I won't because if you come to my house I want us to relax and enjoy ourselves, so the food would be simple.
Cheeses, freshly cooked bread, cold meats, hummus, dates, a selection of salads, a bowl of fruit, berries and yoghurt. There would be icecream too, if you wanted it, and wine of course, and the whole meal would be seasoned with conversation and laughter as we helped ourselves as often as we wished while we talked late into the night.
Carol Henry: Sweet and sour grilled salmon on a bed of lettuce greens, almonds, Craisens, and fresh strawberries. Garlic bread, wine, and a fresh homemade raspberry pie with fresh whipped cream.
Robin Renee Ray: Best question ever…that is our favorite thing to do, is feed people! It would be beans, fried tators, corn on the cob and a fresh garden salad. with homemade bread, of course!
Joya Fields: I would give you appetizers like artichoke dip, taco dip, crab dip and clam dip with chips. We could sit around eating these delicious starters while we waited for the pizza delivery guy. LOL. I am really good at appetizers, but I suck at entrees! 🙂
Annette Bower: I would serve Baby Clams Steamed in a Cataplana with White Wine and Tomato Sauce. I discovered Cataplana on my first trip to the Algarve in Portugal. It is a staple for special occasions ever since.
I walk out of the front door of my condo building past Atlantis Coffee Shop, East across the street passing a century old building which used to house The Assiniboia Club, a men's club for most of those years. Now home to Crave Kitchen and Wine Bar, which supports The Vertigo Writers Series, where I have read on many occasions. Finally I arrive at the Italian Star Deli for my prosciutto and chorizo. Another walk south to the Pacific Fresh Fish food store for my small little neck clams, scallops and shrimp. Back home for an afternoon of chopping and simmering with the aroma of tomatoes, bell pepper, onions paprika filling my kitchen ready to serve to you, when you arrive.
Patty Campbell:Is that the only reason you came to my house? To eat?
Genie Gabriel: Same thing the dogs are having–chicken breast with vegetables. Or we could just order take-out pizza.
Pamela S Thibodeaux: Some old fashioned Cajun food! Maybe seafood (crawfish, shrimp, crab, alligator) etoufe' courtbullion or gumbo! Whatever dish I serve will most definitely be rice and gravy!
Elysa Hendricks: Lately I've been on a salad kick, so the menu would be a crispy Caesar chicken salad, fresh Italian bread with cinnamon butter, and sweet raspberry ice tea. For dessert there'd be cupcakes with chocolate butter cream frosting.
Allie Boniface: Tomato Company Cups! They are my "go to" for every occasion. Basically, you take those refrigerator biscuits that come in a tube and peel them into layers, then press the layers into a muffin tin to make the cups' crusts. Mix tomato, bacon, Swiss cheese, and a little mayo for your filling, and 10 minutes in the oven has them ready to go! (I have a vegetarian version too). If you'd like the specific recipe, contact me!
Kate Robbins: I'd make you my famous chicken tetrazzini from scratch. It's all about the garlic and parm here people. Mushrooms seared to perfection and diced firm tomatoes. Oh yeah. Garlic toast too, but of course.
And because we're all eating it, we won't care about our breath. I'll couple the tetrazzini with a nice proseco, perhaps La Marca.
Tetrazzini is a heavy meal, we want something light for dessert so I'm guessing you all like creme brulee. We'll crack to top just like in the movie Amelie. Mmmmmmmm. Pick a date and let's do this!
Jennifer Shirk: Ooh, I LOVE this question!!!! I'm a big ""foodie"" so loosen your belt. LOL!
One of my favorite entertaining meals is grilled marinated flank steak, black bean and rice salad ( the recipe is on my website) and fresh jersey tomatoes with homemade mozzarella and fresh basil on top, drizzled with a balsamic anchovy dressing.
My mouth is watering already!!
Then for dessert, I would make a strawberry shortcake trifle that has fresh strawberries, pound cake, and a cream cheese-whipped cream center.
Anybody coming?!
Liana Laverentz: Soup. I love to make soup and almost always have a pot in the fridge, available for anyone who stops by.
Troy Lambert: Well, I'm a writer for a living. I can cook cheap, though. So carne asada burritos with cream cheese stuffed, bacon wrapped jalepenos on the side.
Jane Toombs: Depends on what I was making that day. Since our main meal is at noon, you'd have to arrive then. If you came today it'd be stew,with blueberry muffins, plus coleslaw and rhubarb as side dishes, and for dessert banana choclate chip bread, but it might be anything from pasties to leftovers.
Jaleta Clegg: I'd feed you a Temple of Doom Dinner – Sautéed Beetles for appetizers, Snake Surprise for the main course, and Chilled Monkey Brains for dessert. Of course that isn't what they really are. We're talking assorted seafood, manicotti, and berry mousse. But names can be changed and played with, so why not?
Beth Trissel: Hot tea, always come for tea time, and homemade bread. You are expected to share tidbits with soulful eyed dogs.
Heather Haven: Baked wild salmon seasoned with lemon, butter, dill, salt and pepper. Completing the dish would be yellow saffron rice, asparagus, and Caesar salad. Some lemony thing for dessert. A sure fire winner, not too fattening, and it's pretty to look at, too!
Gail Pallotta: I come from a long line of gourmet Southern cooks. I learned how to cook from them at any early age. I'm actually getting a bit tired of it after all these years, but for special people like you, I'd have some authentic Southern cooking — fried chicken, for starters. And mine's not bad for you. I discovered after many years of using a small amount of oil and a thin batter, I'm actually sautéing it, and coating it with only a little flour. I'd make sweet tea and have green beans I cooked the day before and heated up because they're better that way. For dessert, I'd serve pecan pie. Just let me know a little ahead!
Helena Fairfax: I live in the north of England, and one of my favourite dinners is a Sunday roast. It's a traditional English meal. My favourite is roast lamb, with mint sauce, crispy roast potatoes, spring vegetables, and Yorkshire puddings (a sort of baked batter). Delicious!
Kelly Whitley: Grilled chicken, salad, watermelon. Avocados on the side.
Drinks include coffee, water, beer, wine, and "other," which you'll need to bring along. 😀
I'm a huge believer in healthy eating–no negatives related to it!
After dinner we'd "rest our stomachs" and move on to Angel food cake with sliced strawberries and peaches.
Healthy eating tends to end up in my books as well. Monkey see, monkey do.
Laurel O'Donnell: I would make my famous Homemade Lasagna. What else would a good Italian girl make for her guests?
Paty Jager: I grew up on a farm with meat, potatoes, vegetable, bread, salad and dessert for dinner every night. When I have company, I cook! This time of year it would be barbecued meat, roasted potatoes cooked on the BBQ, slow cooked western beans, homemade spelt rolls, tossed salad and melon. Dessert might be my sherbet roll. I bake an angel food cake in a jelly roll pan, while still warm place on powered sugar sprinkled parchment and rolled up. When it is cool, I spread three different flavors of sherbet on the cake, then roll it back up and freeze until ready to serve. It is the best summer dessert!
Linda McMaken: Meals here are eclectic, usually from the garden, and not found in any cookbook anywhere in the world. No self-respecting cookbook would include them.
Martha Stewart would run screaming for her life after visiting my kitchen. Hell's Kitchen has nothing on me, so I'd probably opt to order pizza, it would be safer.
Penny Estelle: BBQ steak, potatoes of some sort, watermelon, banana cream pudding
Keena Kincaid: I've just moved house and everything is still in disarray. Chances are, I'd order a pizza.
Isabo Kelly: I have a seven month old, a 5 year old, and absolutely no interest in cooking right now, so at the moment, I'd feed you delivery pizza and garlic bread. To be fair, it is super yummy New York pizza. You'd be happy with the meal.
Lynne Marshall: I'm big on chicken and veggies. One of my favorite meals would be pan-cooked lemon chicken, rice pilaf, and whatever looks good and is fresh in the produce section or farmer's market that day. I don't serve bread with meals as I'm always fighting off midlife weight gain, but would gladly make sweet potato rolls or herbed popovers for your visit!
Melissa McClone: I normally eat a Paleo-type menu, but if you came to eat at our house, I'd be sure to make the meal a splurge, especially dessert! The menu would be: smoked brisket made by my hubby, baked beans, corn on the cob, watermelon and cucumbers with lime marinade, tossed green salad with a poppy seed dressing, homemade cornbread baked in a skillet and Texas sheet cake (chocolate!)
Aaron Speca: Oh definitely some kind of huge Italian meal, maybe with different kinds of pasta, or even a huge lasagna. Italian is by far my favorite!
Pamela Turner: Hope you like turkey sausage. Anyone up for jambalaya? Nothing fancy. I'm competent in the kitchen, but I'm no gourmand. Extra points if you bring the wine.
Shirley Martin: First of all, it would depend on the time of day. If you came around midday, I'd probably make sandwiches and/or serve fruit and yogurt, cookies or cake for dessert.
If you came around dinnertime, I'd serve a frozen diiner with rolls and dessert. I'm too lazy to do any special cooking. I cooked for a husband and three sons for over thirty years, enough cooking for me.
Ryshia Kennie: If you were to come to my house to eat you might never leave. My husband is a talented cook, so he would make the meal. And it could be any number of things and because you'd be a guest it would be something special and probably a surprise to both of us. But a few of my faves are – rainbow trout lightly smoked and barbequed and marinated in some secret sauce, spring rolls made from scratch (a lot of work and the right wraps are hard to come by but delicious), mussels in wine sauce, or maybe barbequed ribs and homemade baked beans. Because he has such a talent for cooking, even simple meals at our house are delightful. It's hard to explain how tasty even a lettuce wrap can be.
Amy Corwin:  Teriyaki Venison Tenderloin
Rice and Beans (we would also make some soy burgers for vegetarians)
Homemade French Bread
German Butterleaf Lettuce Salad with homemade dressing
Seasonal fruit pie
THIS IS MONDAY'S RAFFLECOPTER. A BRAND NEW RAFFLECOPTER WITH NEW PRIZES WILL BE UP TOMORROW.