Enjoy these answers from a host of authors in multiple genres, from YA to mystery to romance — then enter the Rafflecopter below for a chance to win a $100 Amazon or BN GC and more!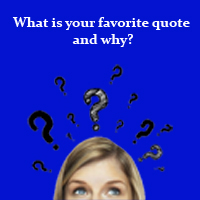 Tasarla Romaney
 "To accomplish great things we must not only act, but also dream; not only plan, but also believe" ~ unknown. I love this quote because it is truly the road map to life. You must do all four to succeed.
Ash Krafton "Be the change you want to see in the world." I advocate practicing, not preaching, to inspire progress.
Linda Palmer My favorite quote at the moment is from Total Recall (the Colin Farrell one):
"Dream of me…but not in these pants."
I love it because it's sweet and funny. It's also a crazy thing for someone as gorgeous as Kate Beckinsale to say since she'd look good in or out of anything.
Debra St. John I can do all things through Christ who strengthens me. Philippians 4:13. It reminds me when things get tough, I'm not alone and I don't need to carry the burden myself.
Judith B. Glad "Yield to temptation. It may never pass your way again." I have no idea who said it, but it really expressed my outlook on life. After all, if we don't do things on impulse, we never try anything new. And if we only do those things that are socially acceptable or good for us, we'll never have any fun.
Kaylie Newell "I am the literary equivalent to a Big Mac and Fries."
-Stephen King
I heart Stephen King.
Judy Alter Mark Twain: I love having written
J.A. Garland "If I knew the world was ending, I would have brought better books." – Dale from The Walking Dead.
I am a die hard Zombie fan, can you tell?
Linda Rettstatt "Life's an adventure–wear comfortable shoes." I like this because I want to be able to step into life and follow a path without the hindrance of high heels and sore feet. Metaphorically speaking, I don't want to walk through life in shoes that don't fit.
Maeve Greyson No one has the power to shatter your dreams unless YOU give it to them –by Maeve Greyson.
I survived a rather traumatic childhood. I still struggle with low self-esteem and insecurity. One of the most difficult things I have had to do is learn to "allow" myself to dream. When those words came to me, I latched on to them. They are my shield.
Niecey Roy Ooohhh, that is a tough one. I really don't have a favorite quote. I actually don't quote at all!
Tess Morrison "Tall girls are queenly." That's from my Grammy. She told me that when I was a gangly teenager and feeling self-concious about being taller than most of the boys in my class. I remind myself of it often. Yes, I am queenly!!
Jana Richards "No! Try not. Do, or do not. There is no try." – Yoda from Star Wars, The Empire Strikes Back. I like this quote because it reminds me that I can't get away with making half-hearted efforts. In every aspect of my life, I must give it my all, and expect to succeed. I also like the Nike slogan "Just do it". It tells me to get off my butt and do what I need to do.
Tina Pollick Bide the Wiccan Law ye must,
In perfect love, in perfect trust.
Eight words the Wiccan Rede fulfill:
An ye harm none, do as ye will.
And ever mind the Rule of Three:
What ye send out, comes back to thee.
Follow this with mind and heart,
And merry ye meet, and merry ye part.
It's the Wiccan Rede. It's how I live my life.
Debra Doggett It's a quote from J.M. Barrie, who wrote Peter Pan:
"It is all very well to write books, but can you waggle your ears?"
Zoe Forward "Believe you can and you're halfway there."
― Theodore Roosevelt
You must believe in yourself, if you have a dream. This is the most important aspect of being a writer where rejection is common.
Virginia Crane Though my mind aspire to higher things and grow rich in that which never gathers rust.
It was across the top of the stage in my high school and inspired me to challenge myself.
Graeme Brown "He who knows much knows little."
I like this because it reminds me to keep learning and to stay humble.
Nancy Fraser "Thoughts to words, words to paper. A gift we give ourselves, both now and later."
I wrote this quote myself for an assignment during a creative writing class years and years ago. It reminds me why I love to read and write. Books (whether paper or e-book) are enduring. They enterain and teach us and never ask anything in return. Written words are truly the ultimate gift.
Robyn Bachar "No one can live at that speed!"
It's something that crept into my speech after watching Eddie Izzard's "Dress to Kill" special many, many times. Other phrases I picked up from it include "Cake or death?" "Monster! Very small monster!" and "Do you have a flag?"
Jeanette Baker "No one ever learns anything listening to himself talk."
My late father used to say this and he was the smartest man I've ever met so I believed him.
Kim Hornsby Fall seven times and stand up eight
We all fall, life can throw curve balls and it might seem unfair but recovering is key to leading a happy life. Everyone else isn't having an easier time than you necessarily. They just recover faster. My hubby has had cancer three times and we just faced bankruptcy last year but we're up. Standing. With great hope for the future.
This Japanese proverb is in my book The Dream Jumper's Promise and the protag uses it to keep going in the face of a horrendous situation.
Juliet Waldron "The Holy Land is Everywhere" ~~ Black Elk. I like this quote because so many problems would be solved if we thought like this. Many wars would end, and we would treat the whole earth, which has mothered us, so well that this astonishingly perfect system would continue to function for the benefit of our descendants.
Mary Jo Burke  "I am the master of my fate. I am the captain of my soul."
Invictus by William Henley
The entire poem is a stirring pep talk. You possess the skills to succeed, the world is yours to explore, seize the moment and never let go.
Willa Blair "Do or do not. There is no try." (Yoda) It's that striving thing again.
This runs a close second: "A human should be able to change a diaper, plan an invasion, butcher a hog, conn a ship, design a building, write a sonnet, balance accounts, build a wall, set a bone, comfort the dying, take orders, give orders, cooperate, act alone, solve equations, analyze a new problem, pitch manure, program a computer, cook a tasty meal, fight efficiently, die gallantly. Specialization is for insects." Lazarus Long (Robert A. Heinlein)
Lynda J Cox I actually have three:
"Dogs aren't my whole life but they make my life whole." –Roger Carras, the man who used to be the voice at Westminister Kennel Club and I love this quote because it reminds me of how important those happy "furkids" are to my life.
"The first draft is always shit." Earnest Hemingway and this quote reminds me to shut off the internal editor for the first draft and just get it onto the page.
"Acta non verba." Actions, not words. Seems like a strange quote for an author, but too often people get hung on talking about problems and doing nothing to solve them.
Elaine Violette  Winston Churchill, "Never, never, never give up." So many times life has been too difficult but for the sake of those I love, I push myself forward. When you do, you become stronger and that sets an example for others.
Lynda Coker "If it is to be, it's up to me."
When I first started writing, I had no formal education in creative writing, nor a clue about how the publishing world operated. I didn't know any writers and was not a member of any writing groups. So I posted this quote on the wall behind my computer and proceeded forward on the premise of faith. Faith that if I put forth the effort, the results would follow.
Brenda Gayle "The two most engaging powers of an author are to make new things familiar and familiar things new"– Samuel Johnson. This is an idea that I try to keep foremost in my mind as I'm writing.
Lesley-Anne McLeod "Let other pens dwell on guilt and misery." Jane Austen
This quote encapsulates my theory of writing, and of reading. There is so much distress in the world, so much anguish, unhappiness and wretchedness. The only way we can deal with it, is to escape from it now and then. I write my stories to give people that escape. Not so that they can deny that the pain exists, but so that they can refresh themselves, and face life with renewed energy and courage.
Maryann Miller I love the quote from Cicero – " A room without a book is like a body without a soul."
Books and stories have brought me so much joy throughout my life, and I could not imagine a day without reading. People who treasure books as much as I do know how empty their lives would be without the stories that take them to new places and introduce them to new people. What a thrill it is to be able to do that and not leave the comfort of home.
And that is really the reason I write. I want to be able to bring that joy to someone else through my stories.
Lynn Kellan My favorite quote is: "Everything you want is on the other side of fear." – George Addair
How often have you opted not to pursue something because you're afraid you'll fail? (Please tell me I'm not the only one.) I used to be afraid of everything. For all the times I feared something bad would happen, the things I feared only happened twice. When they did, I expected them – they weren't a surprise. Over the years, I learned the worst part about fear is…fear.
Everything changed for me when I started thinking "What if I CAN do this?" Rather than thinking about all the horrible things that could happen, I started thinking about possibilities. Sure, I was still scared, but I gave myself permission to feel scared while I tried. Every single time I acted in spite of my fear, some degree of success occurred.
If everything we want is on the other side of fear, let's put on our boots and wade through the anxiety, sweaty palms, and panic attacks. The moment we are willing to stumble through those muddy waters, anything is possible.
Meg Benjamin "Don't look back–something may be gaining on you." Satchel Paige said it first, but Bob Dylan said it too. I like it because it's true–regretting the past doesn't help. Just change what you can.
Mary Hughes David Tennant (Shakespearean actor famous for Doctor Who, Barty Crouch Jr in Harry Potter and more): "It's very easy to get seduced into believing your opinion is informed just because people ask you for it." (http://www.team-tennant.com/article/id232.html) Fame doesn't equal wisdom.
Shannyn Schroeder My favorite quote is one that is thrown around me house all the time. "Do or do not. There is no try." Yoda says this to Luke and although I don't take the quote literally, I love the spirit of it. I think by saying you'll try, you're immediately leaving the door open for failure. I know people make mistakes, and I don't expect perfection, but I do expect real effort. Sometimes, adding in that "I'll try" makes it too easy to not really try at all.
Denise Golinowski "The difference between the almost right word & the right word is really a large matter–it's the difference between the lightning bug and the lightning." – Mark Twain I'm a big believer in the need to find the right word to convey the emotion or present the object. I work hard to choose the correct words and phrases to help build my worlds and my characters so that my readers don't have to struggle.
Lynn Crandall Oh my gosh! I am a quote collector. I have so many favorites! Here's one: Let your life lightly dance on the edges of time, like dew on a tip of a leaf. Rabindranath Tagore
And another: "The only true voyage of discovery lies not in seeking new landscapes, but in having new eyes" Marcel Prous
And this: Sometimes I've believed as many as six impossible things before breakfast. Lewis Carroll
I could go on but this is a good one to finish with: Life is not a journey to the grave with the intention of arriving safely in a pretty and well-preserved body, but rather to skid in broadside, totally worn out and proclaiming, "Wow, what a ride!" Unknown
Sheila Claydon 'First find out what your hero wants. Then just follow him…'
This is part of a quote by Ray Bradbury and it is the one I keep at the front of my mind when I write my books. There are many, many other quotes I like…those that make us feel good, that inspire, that make us think more deeply…but this one is the quote that keeps me writing and, more importantly, keeps my writing focused.
Carol Henry My favorite quote is: Success is the Best Revenge. Why, becuse it's a great way to get even without having to say a word or confront anyone. And it make you the better person.
Robin Renee Ray Live and Let Love! Kind of says it all….
Joya Fields Henry Ford's quote is my favorite: "Whether you think you can, or you think you can't–you're right." It's so true! 🙂
Annette Bower My favorite quote is:
"Late Fragment
By
Raymond Carver
And did you get what
You wanted from this life, even so?
I did
And what did you want?
To call myself beloved, to feel myself
Beloved on the earth"
As a writer of stories about relationships which are about love and belonging, I believe that all persons would like to be called beloved and be beloved. This too is my goal and because love is not something we feel it is something that we do, it is continual until we are no longer on this earth.
Patty Campbell Liu Xiaobo, 2010 Nobel Peace Prize recipient, said it best. "Freedom of expression is the foundation of human rights, the source of humanity and the mother of truth."
Isn't that what writing is all about?
Genie Gabriel Anatole France – "Until one has loved an animal, a part of one's soul remains unawakened."
Why–My first pillow was a Collie, dogs have been my companions all my life, I currently have six dogs, I have worked at the local humane society, I help my friends with their pet sitting business…do I need to say more?
Pamela S Thibodeaux Actually I have 2: Jeremiah 29:11 "For I have known the thoughts that I am thinking towards you — an affirmation of Jehovah; thoughts of peace, and not of evil, to give to you posterity and hope." kept me going after my husband passed away in 2009
"Write the vision, make it plain upon the tablets that he who sees it may run with it." Habakkuk 2:2 – it keeps me writing when I'm ready to throw in the towel and quit.
Elysa Hendricks "There are three rules to writing, unfortunately no one knows what they are." Somerset Maugham
This quote helps me get over bad reviews and discouraging critiques of my work.
Allie Boniface So many of Eleanor Roosevelt's quotes come to mind, but this is one of my all-time favorites: "You gain strength, courage, and confidence by every experience in which you really stop to look fear in the face. You must do the thing which you think you cannot do."
There is so much in life that can scare us, from the little to the huge. Facing fears helps us grow. I try to live by this quote every single day.
Kate Robbins "It is a truth universally accepted, that a young man of good fortune must be in want of a wife."
Jane Austen rocks! Her dialogue is the best I've read in any book. And Pride and Prejudice is my all time favourite romance novel hands down. I have the 10th anniversary DVD of the A&E 1995 version. Oh Colin Firth in that one…mrrrrowwwwrrrrr!
Liana Laverentz The work of art which I do not make, none other will ever make it.
Simone Weil (1909 – 1943)
It means if I don't express what is inside of me through my writing, nobody else will. So I'd better get on with it or it won't get done!
Ryshia Kennie My favourite quote is actually more a saying than a quote but I'll share anyway. It's special because there was a point in my life when I realized that I needed to put up or shut up. It was the end days of 1999 and I'd been a "wanna be" writer all my life. Writing in the margins rather than getting down and putting in the time and getting serious. So on a trip to Singapore I finally decided that I was going to put in the time necessary to make this dream a reality – that it was now or never. I'd only recently made that resolution when we checked into the hotel where there was a little jar of fortunes and I pulled this one out.
"You never know what you can do until you try."
That fortune confirmed my resolution and helped me stick through the ups and downs of forging a writing career. And in 2007 I published my first book, "From the Dust". I kept that little green slip of paper and it still sits on my desk today.
Jane Toombs "You can't take I with you." I think this is an excellent reminder to not get too big for your boots. We need to remember that whatever you become in this world all goes away when you die.
Jaleta Clegg "Do they have any missing limbs? I hate it when they have missing limbs."
Does it need an explanation? It's a great quote. Touches me right here every time. *headdesk* It's from the greatest bad sci-fi movie of all time – Spacehunter in the Forbidden Zone.
Beth Trissel "Onward and upward." ~ C S Lewis, because it means the quest continues no matter what.
Heather Haven "There are more things in heaven and earth, Horatio, than are dreamt of in your philosophy." This reminds me to pen up my mind and let the world in. It's amazing.
Gail Pallotta Matthew 22: 37 – 39, "Love the Lord your God with all your heart and with all your soul and with all your mind. This is the first and greatest commandment. And the second is like it: 'Love your neighbor as yourself.'"
Good words to live by.
Helena Fairfax "Everything was beautiful, and nothing hurt." It's by Kurt Vonnegut. Slaughterhouse 5 is one of my favourite books, and I find this quote really moving.
Kelly Whitley Nothing profound.
I do tell myself "Rome wasn't built in a day" when I'm frustrated with my slow writing pace. Some days it's like "Get 'er done!"
From time to time I see quotes I like, but mostly I'm not a big quote person.
Laurel O'Donnell "Life is not measured by the number of breaths that you take but by the moments that take your breath away." I love this quote because you can just feel those breathless moments when you read a good romance novel!
Paty Jager Piglet: "How do you spell love?"
Pooh: "You don't spell it, you feel it."
I believe when you say the words, "I love you" too much they become just that; words. But when you show the person you love them by the things you do, then they know you love them.
Linda McMaken "Those who cannot remember the past are condemned to repeat it." – George Santayana
History does repeat itself, both on a worldwide level and on a personal level. If we do not learn from our mistakes as individuals, as a country and as part of humanity, we will continue to do the same stupid things over again.
Penny Estelle Never make someone a priority, that considers you an option! It's the greatest quote I've ever heard…..
Keena Kincaid "I like a man who grins when he fights." — Winston Churchill. Because a man–or woman–who grins when he fights isn't going to be one who carries grudges.
Isabo Kelly I'm not sure who said this so my apologies for not properly referencing the quote. "The point of Life's journey is not to arrive at the grave safely in a well preserved body, but rather to skid in sideways, totally worn out, shouting, '…holy shit…what a ride!'" It's my favorite quote because I couldn't agree more and it's how I want to reach the grave–exhausted, happy, and knowing I did as much of the stuff I wanted to do as was possible.
Lynne Marshall  "Press on. Nothing in the world can take the place of persistence. Talent will not; nothing is more common than unsuccessful men with talent. Genius will not; unrewarded genius is almost a proverb. Education alone will not' the world is full of educated derelicts. Persistence and determination alone are omnipotent." Calvin Coolidge
Aaron Speca  "Men occasionally stumble over the truth, but most of them pick themselves up and hurry off as if nothing had happened." – Winston Churchill … I love this quote because it always reminds me to dig for the real truth in everything, because there is so much untruth being thrown around these days.
Pamela Turner "In the depth of winter I finally learned that there was in me an invincible summer." (Albert Camus). Hopefully, I got that right. For me, Camus's quote says something about the human spirit. He was a major inspiration to me as a writer, and remains one of my favorite authors.
Shirley Martin "The only thing necessary for the triumph of evil is for good men to do nothing." Edmund Burke.
This applies so well to the times we are living in. So much evil in the world. Iran will soon have a workable A-bomb and has even threatened to destroy Israel, but no one is stopping them.
Amy Corwin: Rules? There ain't no rules around here, we're trying to accomplish something. –Thomas Edison

THIS IS THE RAFFLECOPTER FOR THURSDAY. DON'T FORGET TO CHECK BACK TOMORROW FOR A NEW RAFFLECOPTER WITH BRAND-NEW PRIZES.  THERE'S ALSO A DIFFERENT RAFFLECOPTER ON MONDAY, TUESDAY, AND WEDNESDAY'S ANNIVERSARY POSTS. 
a Rafflecopter giveaway