Enjoy these answers from a host of authors in multiple genres, from YA to mystery to romance — then enter the Rafflecopter below for a chance to win a $100 Amazon or BN GC and more!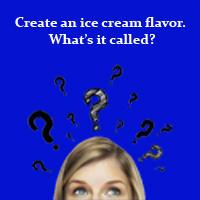 Tasarla Romaney 
Cherry S'more – I put cherry pie filling on my s'mores. So I think an ice cream that would have cherries, marshmallow, chocolate, and crushed graham crackers would rock! And of course it would be calorie free – heck it would burn calories 🙂
Linda Palmer Chocolate Strawberry Swirl. (I love chocolate dipped strawberries.)
Kaylie Newell Orgasmic chocolate truffle.
Judy Alter raspberry with dark chocolate
Linda Rettstatt ChocoMochaCrackoLotta.
Maeve Greyson No calorie double fudge brownie better than sex sorbet
Niecey Roy Yumolicious. It's chocolate…with chocolate…and fudge swirls…with chocolate chunks.
Tess Morrison Lick Me. It would be pink with strawberries and dotted with chunks of chocolate. Honestly, I can't get beyond the fact that Almond Joy is my absolute favorite. Just mention ice cream and it's all I can think of.
Anne Van There are so many crazy favors out there mine has probably been invented. I'd love a giant scoop of brownie, raspberry, Godiva chocolate swirl ice cream. I'd call it Heaven.
Jana Richards Vanilla Bean Supreme. It's vanilla ice cream mixed with bits of chocolate covered coffee beans. Three of my favorite things, all together in one bowl.
Tina Pollick Chocolate chip mint moose tracks, with chunks of cookies and crème. Mmmmm 🙂
Debra Doggett It's called the Kitchen Sink. It has chocolate, vanilla and a thin ribbon of strawberry with three different kinds of nuts, caramel, fudge and marshmallows. One bite and you throw up.
Nia Simone Really? It's been done. It's called Ben and Jerry's. They really get it. GIANT chunks of whatever. No skimping. My favorite ice cream besides the heavenly creations out there by B&J, is mint chocolate chip. My husband hates it, which is perfect. More for me. I'll eat any brand. When I was growing up, my dad and I used to share the mint chocolate chip ice cream. He bought Lucerne, the Safeway brand, in a half-gallon size, and he would scoop out a bowl for me and a bowl for him while I eagerly waited. I was always a "good eater" as my mom would say, approvingly. I was always proud of being a good eater and still am.
Virginia Crane Vanilla almond caramel crunch. It has all the flavors I love combined into one.
Graeme Brown Everyberry, with a bit of all my favourite berries: blueberry, strawberry, blackberry, saskatoon, and raspberry.
Mmmmmm!
Nancy Fraser I'd take the ultimately rich dark chocolate ice cream, mix it with ribbons of solid white and milk chocolate and lightly salted pecans. I'd call it, Triple Super Choco-Pecan Heaven!
Jeanette Baker Rhombauer Zinfandel with fudge swirls.
Kim Hornsby Chocolate Sea Salt Caramel Surprise. I know every yummy flavor in the world is already invented but the surprise part would be free tickets inside for a round the world vacation for 4! I'd take my 17 year old son, my 11 year old daughter and of course my hub and off we'd go on the adventure of a lifetime. Love to travel!!
Willa Blair I don't think I can top Ben & Jerry's Karmel Sutra. It's perfect on so many levels. It's also my favorite B&J combo flavor. Half caramel icecream on one side, half chocolate icecream with chocolate chunks, and a ribbon of caramel running down the middle. Yep, hungry again.
Lynda J Cox Wyoming Peaks–vanilla with just the tiniest bite of spearmint.
Lynda Coker Graham Crackers and Cream
Susan Fox Candied ginger ice wine. Ice wine is a dessert wine made from frozen grapes and the flavor is intense and fruity, in a kind of sophisticated way. It's like the essence of summery sunshine in a glass. I think it would make a great ice cream flavor, enhanced with tiny bits of candied ginger scattered throughout.
Mary Hughes Death by Chocolate. Cocoa ice cream with dark and milk chocolate chunks, swirls of chocolate caramel and chocolate sprinkles.
Shannyn Schroeder Nutella ice cream. Doesn't that say it all? Nutella is chocolatey smooth goodness and a bit addictive. Oooo…And I'd add chunks of brownie because I love fudge brownie ice cream. Adding brownies to Nutella–yum!
Sheila Claydon I don't think this is possible. All the flavours have been created unless you're into things like cabbage or meat flavours. yuk! But if you push me then how about sweet chilli? Of course somebody might have already created it but if not, then I think sweet chilli and the cold of the ice-cream just might be a good combination. Personally I'm still going to buy mint-choc-chip or coconut though.
Carol Henry That's easy, I love Kahlu, Mocha and almonds, so I'd have it swirled together, put dark fudge on top and sigh with pleasure. I'd call it Dream weaver's Delight.
Robin Renee Ray Double fudge swirl, chocolate cover peanuts, dark chocolate ice cream mix….called: Touch and Die
Joya Fields Wow, it seems like every ice cream flavor is already out there. I love nuts, chocolate and cheesecake, so maybe Chocnutcheesecake flavor? LOL.
Patty Campbell Peanut butter, dark chocolate and chili peppers. I call it Hot Nuts.
Genie Gabriel Paw Prints. It's creamy vanilla and contains peanut butter and honey, plus a side of bones for the furbabies and another side order of chocolate for the humans.
Elysa Hendricks Dark chocolate with chunks of semi-sweet chocolate.
Chocolate Heaven
I know it's not very original, but what can I say I like chocolate.
Allie Boniface Mocha Grey Goose Divine (in case you couldn't tell, it combines 2 of my favorite things, chocolate and martinis!)
Ryshia Kennie I love, love ice cream. And I've never thought of creating an ice cream flavor. How can you improve on plain old soft ice cream drizzled over with hot fudge or cheese cake ice cream with blueberries or strawberry shortcake or a rainbow of flavours all on one cone? As I say that I'm imagining my favourite ice cream shop. The Milky Way – a little shack on a busy street that has a menu that is an ice cream lovers' delight. There's a lineup spring through fall – and as it's done for years, it closes through the long cold prairie winter and we're all forced to go elsewhere for our ice cream fix.
Jane Toombs Mine would be choclate raspberry, with little peppermint crunchies in it. I'd call it Decadent.
Jaleta Clegg Horribly Depressed – Use just enough vanilla ice cream to cover the following – raspberry truffles, peanut butter cups, chocolate chips, marshmallows, chocolate covered macadamia nut caramels from Costco, stripes of butterscotch sauce, hot fudge, almond roca, dark chocolate orange sticks, dark chocolate raspberry sticks, fudge, Twix bars, Butterfinger crumbles, mini Charleston Chew bars, and Junior Caramels.
Darn it! Now I'm hungry.
Beth Trissel mocha dark chocolate peanut butter mint
Heather Haven Wild Hopes and Dreams. Made out of a rainbow of colors and flavors, sprinkled with chocolate, non-fattening, sugar free, 0 calories, and absolutely delicious. Baskin Robbins, are you listening?
Helena Fairfax Shamrock. I'd create an Irish icecream, flavoured with Guinness, and coloured bright green. It would go down a treat on St Patrick's Day!
Kelly Whitley Name: Dream Machine:
Vanilla frozen yogurt with chunks of spun caramel and dark chocolate-covered cinnamon imperials.
Ben and Jerry, if you could just whip that up for me I'd be much obliged.
Laurel O'Donnell Cinnamon Coffee. Sounds kind of Christmas-y, doesn't it? I love cinnamon! And I love coffee! So, the two together would be delicious.
Paty Jager Peppermint pieces, chocolate wafer cookie pieces, and vanilla ice cream. Peppermint Paty Crunch.
Linda McMaken I'd call it – Paperback Writer – Creamy vanilla ice cream, swirled together with a lovely black cherry with bits of cherry in it. Served in an edible chocolate cup, covered with chopped nuts, and topped with a generous dollop of chocolate whipped creme – served with a good book.
Isabo Kelly Vanilla ice cream with chocolate chip cookie dough, oreos, and peanut butter cups. Destructo's Delight. (My oldest's nickname is Destructo and those are all his and my favorite sweets.)
Shirley Martin Strawberry, mint, marshmallow, and chocolate. It's pink and called "Pink Delight."
Amy Corwin: The mango-ginger Thriller. Vanilla ice cream base mixed with chunks of sugared mango and ginger. Yum. And a real taste thrill!
THIS IS THE RAFFLECOPTER FOR THURSDAY. DON'T FORGET TO CHECK BACK TOMORROW FOR A NEW RAFFLECOPTER WITH BRAND-NEW PRIZES.  THERE'S ALSO A DIFFERENT RAFFLECOPTER ON MONDAY, TUESDAY, AND WEDNESDAY'S ANNIVERSARY POSTS. 
a Rafflecopter giveaway