Enjoy these answers from a host of authors in multiple genres, from YA to mystery to romance — then enter the Rafflecopter below for a chance to win a $100 Amazon or BN GC and more!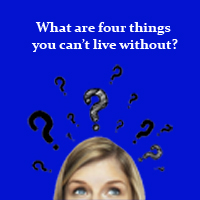 Tasarla Romaney
  Diet Coke, Peanut M&M's, my husband, and my kiddos.
Linda Palmer  Potatoes, movies, music, and books.
Judith B. Glad  Books (of course!), Chocolate (a basic necessity of life), Diet Coke (caffeine free, because I really enjoy my chemicals), music (radio goes on first thing in morning, off last thing at night; jazz and classical are my favorites)
Kaylie Newell My iPhone (I'm a well known iPhone junkie). My lipgloss, my flip flops, and my wedding ring.
Judy Alter cottage cheese, chardonnay, chocolate, tuna
J.A. Garland  Lula's chocolates, Wicked Wolf coffee…oh, and my family and friends, lol.
Linda Rettstatt Computer, Binky the cat, pizza on occasion, and walks in the woods on a fall day.
Maeve Greyson Family, Jasper, Coffee, Quiet
Laura Strickland Music, my dog, Shannon, time to write and chocolate.
Niecey Roy  My laptop, Internet, a book (so maybe my iPad so that I can have books all the time, though I prefer a paperback over eBook any day!), my kids, and heels.
Tess Morrison Chocolate, wine, music, and a push-up bra. Okay, forget the bra. These girls of mine are beyond help. A great book would round it out. And if I could have a fifth – flowers.
Anne Van I'm a chocoholic so chocolate is at the top of the list. Next is avocados. I eat them everyday. Surprised I haven't turned green. My house. It's a Victorian and I just love everything about it. And of course my husband. He's my everything. Should be at the top of the list. : )
Jana Richards 1. Coffee
2. My computer
3. Sleep
4. My glasses
Tina Pollick  1. My family
2. My faith
3. Internet- I'm including the power and computer, LOL
4. Underwear- Yeah commando doesn't work for me.
Debra Doggett I started to put chocolate, bacon, Coke and bread but I will give the serious ones as well: water (in some form or other); flowers; music and laughter.
Nia Simone A dishwasher. Greatest invention of mankind.
My laptop. Greatest invention of mankind.
It gets pretty hard after that. I guess I'd say the Internet. For a "Connector" like me, it is heaven.
My car. I didn't have one for a long time as an adult. My first car changed my life, literally. It enabled me to go back to school, change careers, and meet my husband.
Zoe Forward Laptop. Internet. Family. Dog.
Those are the necessities of life for me, although food would probably be the most realistic answer…and water.
Virginia Crane Family, books, computer and car.
Graeme Brown Writing, reading, running and math.
Nancy Fraser 1. My grandchildren – they keep my heart beating!
2. The rest of my family and good friends – they keep me grounded!
3. My writing – it keeps me solvent (for the most part)!
4. Coffee – it keeps me awake (and sometimes manic)!
Robyn Bachar  In no particular order: caffeine, the internet, my best friend, and my mini van. I definitely couldn't live without my best friend, because she is also my roommate.
Jeanette Baker  ice cream
books
sun block
hair color
Kim Hornsby The survivor in me wants to say air, water, my heart etc but let's have a bit more fun with this, shall we?
1. I love to swim and be in water whether it's a lake or ocean, or even our backyard swim spa. I feel best when wet and submerged and that's why I was a scuba instructor for 10 years on Maui
2. I absolutely adore cheese. Feta, camembert, blue, cheese with little bits of peach (had that at a party last night on a rosemary cracker), almost any type of cheese. Oh yes CURD!
3. Dogs. I have two and they are my kiss and hug recipients when the kids won't let me near them. I like all animals but dogs satisfy more needs for me.
4. Sunny days–I live in the Seattle area and sunshine isn't a given. Having gone from living on Maui to Seattle was tough at first and this is why I write about women who live in the sunshine.
Juliet Waldron Music, computers, cats, vision. Computers have moved to the "books" spot these days, because it's not only a tool I use every day, but because books can be accessed through them. A love of music has been with me forever. My Mom told me I could pick out exactly the gramophone record I wanted from the stack and then wind the old machine up to play long before I could read the labels. My husband was originally the cat person, but I'm a passionate convert. They are endlessly fascinating companions, and each as unique as children.
Mary Jo Burke Mint gum, books, music, and my reading glasses.
Willa Blair Chocolate, red wine, the internet, and hmmm, only four? Friends. Air, water, kittens, a good steak
A nap, a perfect fall day, berries, books
True love, art, color, music
There, that's four sets of four. I could go on.
Lynda J Cox My DH–he truly is my soul mate.
My dogs–they make me smile and bring me so much happiness.
My imaginary friends–they know me there, so it's okay.
My teaching career–I learn something from my students every single class I teach.
Lynda Coker My God, my family, my friends, my love of writing and reading
Brenda Gayle Coffee. Coffee. Coffee. And did I say coffee? If you ever have the unfortunate experience of meeting me on the way to the kitchen for my first cup of joe, you'd understand completely.
Meg Benjamin  My MacBook, my hubs (well he should probably come first), my sons, and string cheese
Mary Hughes  Food. Shelter. Clothing. Cat hair. Actually I probably could live a while without the first three but I think I'm doomed to the cat hair.
Shannyn Schroeder Avoiding the obvious things like my kids, the 4 things I couldn't live without are:
1. Diet Coke – I've tried, I really have. Even knowing that too much aspartame will give me a migraine hasn't convinced me to completely give it up. I have switched to the Splenda version at home, but there's nothing like a fountain Diet Coke.
2. Popcorn – this is my all-time favorite snack. I eat it probably 4-5 times a week. I do air-pop it, so it's a little more healthy than other versions, but I still use butter and salt.
3. My DVR – I love to watch TV. I watch way more than any person probably should, which is why I love my DVR. Lots of TV, no commercials. I can record any show and give it a try. If I don't like it, I delete the timer. And I only have to set a timer once and it's good forever (or until I get a new DVR). I no longer have to remember to set the timer (remember the days of the VCR when you had to do that?) And the DVR timer is smart – it will record only new episodes.
4. Music – I listen to music while I write, while I clean or cook, while driving in the car (which is a huge chunk of my time with 3 kids). I don't buy tons of music, except for my playlists, so it's usually the radio for me. But I like music as background sound while I do other things. I really hate silence. When I was younger, I did my homework in front of the TV. Whenever I had to work at the library in college, I always had my headphones on. I made quick photocopies of whatever I needed and went home to work with my usual background noise.
Denise Golinowski Air, water, warmth, & shelter. Once you get beyond those, I'd say books – I actually get cranky if I don't have a good book on the go, sometimes two. Next, writing materials (can I make that "one" item?) – the nervous ticks are very unpleasant to witness. Love and family to keep me grounded and balanced.
Lynn Crandall I hate it when people answer this question with "air." Not so fun but true. The "things" distinction rules out people, but of course I love my family and friends and don't want them to disappear. There are so many pleasures that I could live without but would rather not. So I'm going to pick books, my computer, favorite foods, and favorite shows. I also wouldn't want to be without my bike.
Sheila Claydon Radio, books, cosmetics and fruit.
Radio is my constant companion. It helps make housework interesting, it educates, it keeps me aware of what is happening in the world and it plays music too.
Books. I just can't imagine living without them. I read when I first wake up, often at meal times, always before I go to sleep and at many other times during the day.
Cosmetics. Why not? I don't look as if I use make-up because I favour the natural look but oh my goodness the difference if I don't use it. It makes me look younger, fitter, healthier and who wouldn't want to look like that?
Fruit because if I don't eat fruit and vegetables during the day I start to feel sick, and I like fruit best.It's a simple as that.
Barbara Meyers My cell phone. A good book. Coffee. My laptop.
Carol Henry I can't imagine living without my husband of 48 years. We complete each other and although we both belong to separate clubs and organizations (as well as belonging to the same ones), we help and support each other at special events. I would be lost without his love.
I can't imagine living without any one of my wonderful family—they are very special and precious to me.
I can't imagine living without any one of my '5 senses'—having had a scare with a retinal vein occlusion that left me partially blind in my left eye, I'm more aware than ever of the loss what it is like to lose what everyone takes for granted.
It would be hard to live without that ice-cold glass of milk with a cookie.
And, of course, that first cup of coffee in the morning to get me going. Without it, I'd trudge through the day and get nothing done.
Robin Renee Ray My grands, my critters, my Dr Pepper and my laptop.
Joya Fields My family would be the first thing. They are there for the best and worst times for me. Secondly, since I need coffee to wake up (I am NOT a morning person), that's next on the list. I'm addicted to my cell phone with its social networking and email, so that's third. And lastly…chocolate.
Annette Bower 1. My bathtub, in the morning I plan my day as I soak.
2. My one cup coffee maker. I set it up at night and in the morning in two minutes I have piping hot coffee. It is a rudimentary maker, it doesn't keep the coffee hot, and if I get distracted, I just have to make a fresh cup.
3. My runners. I live in downtown Regina and I walk to obtain my essentials for living as well as for recreation. I walk around a portion of Wascana Lake. When I leave my home and around the lake and back is approximately six kilometers.
4. My passport. I love to travel and experience life in other communities, whether they are in Canada, the United States or Europe. When I am in other cities, I join walking tours and experience communities on foot. I also go into the thrift stores, I get a sense of a community by what they donate to the less fortunate.
Patty Campbell Physically – food, water, air and shelter.
Emotionally – love, books, friends and family.
Genie Gabriel My dogs, my kids and my grandkids–which add up to more than four…
Pamela S Thibodeaux God, Books, Music, Love
Elysa Hendricks My family, dark chocolate, my writing, and laughter.
Allie Boniface Let's see…besides food and water? OK, books, Zumba class, CHOCOLATE, and my friends and family (uh oh – does that last one count as two?? I suppose I could cut out the chocolate if I really had to)
Kate Robbins I cannot live without:
1) Coffee (it's a sickness really. It smells and tastes like crap but I'm totally addicted to it)
2) My family (don't tell them I put coffee first ok?)
3) Books (I have to have something to read always. Could be the back of a shampoo bottle, but I'd prefer a book)
4) My cat (he's a fluffy savage called Freddie. Laziest cat on the planet who loves to nibble on my fingers)
Liana Laverentz My husband, son, hot tea, and chocolate….oh, and sleep. Don't do well without sleep at all. I'm an essential needs person…as long as those needs are met, I am fine. Food, drink, sleep, safety, and warmth. As long as I have those, I can deal with anything.
Ryshia Kennie Well other than the obvious, air and food. Here goes:
I can't live without books. Take away the television but don't touch the books.
I can't live without love and laughter in no particular order. There's nothing better than having friends and family around and laughing and sharing stories.
I can't live without adventure. That doesn't mean I need to be on a voyage around the world but there should be something new and intriguing in every day. Sometimes it's just someone new you meet around the corner from home and sometimes it's something more dramatic.
I can't live without my computer but only because my entire writing life resides there. So I suppose it's not so much the computer I can't live without but the ability to access my stories and the community of people that I have met and linked to in one way or another.
Troy Lambert Oxygen, water, food, and whiskey. Is that four? There are probably others too.
Jane Toombs My SO. Chocolate. A car. Friends.
Jaleta Clegg Toilet paper, chocolate, my computer, and a good book to read. Without those, who would want to live?
Beth Trissel Dark Chocolate
the internet
chapstick
green tea (seriously healthful)
Heather Haven My husband, my cats, my writing, and chocolate. Not necessarily in that order.
Gail Pallotta Wow! I have lots of needs. It wasn't easy narrowing this down, but here they are– God, family, outside interests and fun. God gives my life purpose, direction, comfort and hope. My husband and daughter give me love, support, comfort and encouragement. Outside interests give my life balance–writing, lunch out with friends, meetings, charitable endeavors and church groups. I'm going to include good health via taking care of myself by eating well, swimming and exercising in outside interests. Fun includes peaceful moments relaxing with family and friends, laughter, and activities I enjoy. It all works together to make a happy person.
Helena Fairfax Cups of tea. My dog. Reading. My family.
Kelly Whitley 1) Adequate sleep. Gone are the days of staying up all night and functioning well the next day.
2) Dark chocolate. It's full of antioxidants, and people who like milk chocolate won't steal it from your desk.
3) Coffee. Starbucks Blond Roast, brewed at home–black.
4) Companionship. Some day when I am old and gray, I want a person by my side, not a cellphone. You can't argue over checkers with a phone.
I could live forever without seeing my phone ever again.
Laurel O'Donnell Coffee with lots of sugar.
My cat, Charming. He calms me and loves me so much! I just adore him.
Chocolate. I just want a little bit of dark chocolate every day. Just a little!
A good night's sleep. I can't function without getting a good solid night's sleep!
Paty Jager  my family,
Chocolate
computer
books
Linda McMaken  My hubby, my dog, my cowboy boots, and my blue jeans. Everything else pales in comparison to those. Although a large box of Dove chocolate with a carafe of chilled wine wouldn't hurt.
Penny Estelle  my hubby, my kids, my grandkids, french fries
Keena Kincaid 1. Coffee
2. My laptop
3. My Westie, Melrose Abbey
4. My passport
Isabo Kelly My boys, coffee, pizza, and books.
Lynne Marshall My family, my faith, my friends, books!
Aaron Speca Easy – my wife and my three kids. I know it sounds like a canned answer but it's true.
Pamela Turner Coffee, coffee, coffee, coffee… Oh, wait, it has to be four different things? Okay, well, did I mention coffee? Let's see. My computer, amulet… Hey, don't laugh. One more thing. My cat. Yes, that's it. Of course, if you ask me five years from now, my list might change.
Shirley Martin  Assuming we are taking for granted a place in which to live, with food and utilities, there are some things I really would have trouble doing without. There is tea and chocolate, but more important, books to read, friends and loved ones to talk to. The last thing listed is the most important for me. And just one more–church.
Amy Corwin: My husband.
My pets (we have 3 dogs and a cat)
My kitchen (I love to cook)
My garden