Enjoy these answers from a host of authors in multiple genres, from YA to mystery to romance — then enter the Rafflecopter below for a chance to win a $100 Amazon or BN GC and more!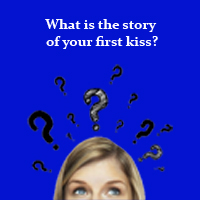 Linda Palmer
 I was in sixth grade and at a dance at the American Legion. The room was dark. My boyfriend of the moment sneaked in a quick kiss.
Judith B. Glad  I was five,so was he. His big brother told him he'd pay us each a nickle if we'd kiss each other. I close my eyes. He pecked at my cheek. I opened my eyes and looked into his. Swiftly i touched my lips to his (just like in the movies!), and we both jerked away almost as quickly. His face was bright pink, and mine was hot.
Popsicles cost a nickel in those days.I can't remember what flavor he bought, but I got a Fudgesicle.
Kaylie Newell It was at my first boy/girl party in sixth grade. His name was Kenneth and he was a foot shorter than me. He also had really slippery lips.
Judy Alter Awkward with a geeky boy. I was shy, figured he was the only boy who would be attracted to me. Thanks heaven, I turned out to be wrong about that and went on to better things.
Linda Rettstatt  I played guitar in a band with two high school friends and, cliche as it sounds, the boy next door who had since moved to the next town. The four of us piled into my friend, Liz's, big old Chevy Impala (it was a long time ago), and Frankie and I ended up sitting together in the back seat at a drive-in movie. To this day, I don't remember what movie we saw. I know I only saw the first half.
Maeve Greyson Since I'm too old to remember my very first kiss ever, I'll share the one with Hubby.
Hubby and I have been married nearly thirty-four years. Our friends all said it would never last because we only knew each other three months before we got married. But Hubby and I both knew it was meant to be as soon as our eyes met. Here he was a military man home on leave and I was a just graduated eighteen year old. When he brought me back home after our first date, he cupped my chin in his hand and while his lips were barely touching mine, he said, "You need to marry me." The kiss sealed the deal.
Niecey Roy It was terrible. I was only in the third grade, I think. Good thing it was only a peck or I might have decked him.
Tess Morrison Behind the Donut Hole. Yes, you read it right – the Donut Hole. It was the most popular hang out when I was in Junior High. He was the most handsome guy in my class, but dropped me as soon as the new girl showed up with boobs three times the size of mine.
Tina Pollick It was my neighbor and he wasn't cute, I think it was a dare. And this girl never has been nor never will be a chicken. *laughs*
Debra Doggett I was at a party when I was about sixteen and there was a guy I thought was the coolest guy ever. It was near Christmas and we sat down by the fireplace and talked then he leaned over and kissed me. Even after all these years I'd love to hunt him down and tell him how much that kiss stayed in my memory.
Nia Simone Like I said. I never confess. 😉
Virginia Crane  Wow! You sure do want to take me back a lot of years. Well, back in the day we used to play spin the bottle at parties. That is where a lot of us, both sexes, got our 'first' kiss.
Graeme Brown It was to a girl when I was 17, and she and I both agreed: it was wet!
Nancy Fraser I was 15, I had braces. The boy had braces. Old-fashioned metal braces. (Yes, I'm that old!) It was not a good kiss. Neither of us knew what we were doing. It's a miracle we didn't get our mouths locked together. How embarrassing would that have been!
Jeanette Baker A friend's older brother, 14, and I were walking on top of block wall fences. I fell into someone's yard and a dog chased me. The brother reached down, gripped my hand and hauled me back to the top of the fence. Then he kissed me. I was 12 and I fantasized about that kiss until I had real ones much later.
Kim Hornsby  I don't even remember. Isn't that terrible? It was probably in 7th grade when we played spin the bottle at Christine Scott's house. I wasn't an early kisser and lost my virginity at a very late age (19). I was chubby from age 15 to 19 and that successfully kept the boys away from my lips, I guess. I was also very shy around boys. Now I'm a little too friendly with everyone and have to remind myself to use some control and not overwhelm people when we first meet.
Juliet Waldron All my friends were going out on dates and having romantic feelings about boyfriends. I didn't really have those feelings about anybody of my own age–or even about anybody who was alive because my first crushes were on historical personalities–but I felt that I would be left behind by my peer group and so had to do something about it. A young man liked me, and asked me out to his sixteenth birthday party. This was in Barbados, and I didn't realize that the custom there was for him to cut his birthday cake and then kiss his date. I was embarrassed when I realized, but, always polite and always in the "when in Rome" mode because I was a foreigner, I gave him the expected kiss. This was instant photographed and duly passed around among our classmates. I resigned myself to the teasing, because I had established myself as a girl who boys liked and one who went out on dates.
Willa Blair Sadly, I don't remember it. It must not have been too earth-shaking.
Lynda J Cox This could get me in trouble…
I was sixteen and visiting my grandmother in Florida. I went to the city pool and was being hit up on by a guy who was in actuality a total jerk. I ended up shoving him into the pool and telling him to go do something anatomically impossible. When this guy said that he'd sooner do that than try to talk to me again, I said, "Thank God."
The life-guard on the stand right above my head leaned over and told me, "You're welcome."
We started talking and when the pool closed that night, he walked me back to my grandmother's house. He asked if he could see me again. I thought about it (for a millisecond) and said that would be nice.
Two nights later, after he walked me home again, he asked my grandmother if he could take me out on a date. I didn't know if I should be angry because he didn't ask me first or happy because he was so respectful. Gramma told him a date was up to me, not her.
After our dinner date, when he dropped me off at Gramma's again, he kissed me on her porch. I still remember the butterflies in my stomach, the sound of the crickets and frogs chirping in the darkness, and then Gramma flashing the porch light. We jumped apart like two scalded cats.
He was my first kiss, my first love, and my first heart-break.
Lynda Coker It was awful!
It was stolen!
It led to marriage…
On my first blind date, which I wasn't suppose to be on since my father forbade them, I was paired with a man four years older than my seventeen years. Later I found out that his boldness was due to the reputation of the girl I was with. You know the old adage, you're judged by the people you hang with; that happened to be the case with me. He thought I had the same moral standards as my friend and saw no problem proceeding accordingly. Of course, I set him straight after that stolen kiss, which to my surprise, led to him taking a serious interest in me. We'll be married 49 years in September of 2013. He really is a sweetheart and the love of my life.
Maryann Miller Actually, this is the story of the first kiss I missed. When I was in 7th grade I had a huge crush on a neighbor boy who lived on the corner of our street. He was Italian – and gorgeous – and a charmer. My best friend, Jan, and I decided to have a party in my basement and invite some of the neighbor kids, including gorgeous Joe and his friend Marvin.
During the party someone said, "Let's turn out the lights." So we did and we all danced in the dark. Then when I turned the lights on, I saw Joe kissing Jan. I was devastated. She knew how much I was hoping to dance with Joe and maybe get a kiss, so I blamed her, even though he probably instigated the kiss.
It took me a year to forgive her, and several more years to get over Joe. Kissing Marvin was not nearly the same thrill.
Shannyn Schroeder I'm going to ignore the junior high, fake kisses and talk about what I consider my first real kiss. His name was Jesse. We were both freshman, but we went to different schools. I was at an all-girl school and he went to the nearby all-boy school. We lived only a couple of blocks from each other, so we rode the bus together in the mornings and afternoons. A girl I knew from elementary school introduced us and he asked me out. I don't think we even made it to a first date, but we walked the neighborhood a lot. One night he walked me home and we sat on my front steps and he kissed me. It was a sweet kiss and I remember all the churning nervousness and excitement.
Too bad Jesse didn't turn out to be such a sweet guy. Within the next week or two, I discovered that he was cheating on me with the girl who had introduced us.
Lynn Crandall LOL! My most memorable early kiss was not my first. My husband and I were on our first date, but we were 30 years old, so not like we'd never kissed people before. We went out to dinner and saw a really amazing movie we both enjoyed. When he took me home we stood outside for a bit — and it was freezing! He kept looking at me and not making a move to kiss or leave. We were standing very close to each other and (maybe my impatience kicked in) finally I asked, "Are you going to kiss me?" He laughed, but then did. More than once.
Sheila Claydon It can't have been a good one…not close to the quality of those in my romances…because I can't remember it. I can remember the first kiss that turned me on though. I was on holiday and he was staying at the same hotel. It was sunny, the beaches were beautiful, I thought he was too. We were fifteen, and we went out together for another 3 years , travelling a 140 mile round trip every time we wanted to see one another, much to our parents' consternation.
Carol Henry You really want to know about my 'first' kiss? Well, it wasn't anything to write home about, that's for sure. In fact I wondered what all the fuss was about. It took me a couple times to figure out that the right boy hadn't come along yet. When he did, wow. We were all over each other—I learned what a kiss was and how to kiss back—my tummy is turning over just thinking about it now. Of course, I'm talking about my hubby—his kiss still makes my body tingle. And that's all I'm saying about that!
Robin Renee Ray I was really 12 and it was my gay best friend…we just wanted to know what a french kiss was all about..LOL Never told that before! ; )
Joya Fields Teen Night at the local pool. It was very nice, and very sweet and I can't tell you any more because my husband or the "first kiss" guy might be reading this. 🙂
Patty Campbell I was 13. Scholarly Donnie Dutton gave me a sweet gift for Valentine's Day, then clumsily kissed me. He had to stand on tiptoe. I was taller.
Our family moved, but years later I saw him again. He was about 6'4″, a football player, and a total jock.
Genie Gabriel It was so mundane, I've forgotten. Which may explain why I write romances. I can make up hot boyfriends whose kisses make the heroine's toes curl.
Elysa Hendricks Sad to say I don't really remember my first real kiss. It's been too long and frankly it must have been totally unremarkable. I much prefer the kisses I get from my hubby now.
Allie Boniface Ah…..it was with the guy I'd been crushing on for 2 years in high school. I went to a party with another guy – who ended up leaving that party with his ex-girlfriend – and my Crush offered to drive me home. Sigh. I missed curfew that night, but it was totally worth it. I still remember the kiss in perfect detail.
Ryshia Kennie My first kiss – wow I had to think really hard to remember that. I was six years old and he was the boy that would pick me up and double me on his bike to school despite my mother's strict warnings. I remember walking to the end of the block out of her sight before getting on that bike. And the kiss – well it was a light peck and I believe it was on the cheek. I hate to admit it but my first kiss was kind of forgettable.
Troy Lambert I took a girl named Angela Peck behind the modular trailer that served as my mom's first grade classroom, and I tasted the sweetness of her lip gloss. I was six, I think.
Jane Toombs I still remember it well. We were playing Spin The Bottle in someone's basement. and I got chosen as the one to go into the furnace room with a guy I sort of knew from school . He kissed me and the world went a bit off kilter. It was the the first time I'd been kissed by a guy who knew what he was doing.
Beth Trissel My high school sweetheart, my first date, the man I married and have been with ever since. the love of my life.
Helena Fairfax My first kiss was with a really handsome young boy at school. Bright blue eyes, dark hair – he was gorgeous. Sadly, his name was Rex, and I couldn't handle going out with someone who had the same name as a dog. (I was young then. Sorry Rex.)
Kelly Whitley The kid across the street–first grade.
It didn't last.
The kiss was because his family was moving away. As I recall, it was BLECH! Didn't try it again for a long time.
Paty Jager It was the summer between my junior and senior year of high school. I'd lost weight going from the chubbiest girl in my class to a regular size and was just enjoying the attention of boys. I was attending a Jazz Band camp at the nearest college and there was a boy with light blue eyes and dark brown hair who took my breath away. Especially because he seemed to only have eyes for me. Chubby(still how I thought of myself) me. He sat by me between workshops and the night we had a movie, he sat by me and held my hand. Afterward's he walked me to the parking lot to meet the family I was staying with and he kissed me on the lips one soft kiss and walked away. I never saw him after that camp and we didn't exchange addresses to write.
Linda McMaken It was ugly and shall never be repeated, ever, again. Twelve year old kids should never under any circumstances kiss — blech! It's a wonder either of us ever dared to try and kiss someone again.
Penny Estelle Let me tell you about my first french kiss. I went out with this boy and I was probably 15. He gave me this big french kiss and I hated it. He asked me out again and I sobbed to my mom, "I don't want to go out with him again. His tongue choked me, and it was huge." It took me a while to get over that!
Isabo Kelly I was on a school ski trip (where I fell down a lot) and on the bus home we played truth or dare. I got dared to kiss one of the cutest boys in school. I never shirked from a dare. It was a sweet, lovely kiss. Years later when I told my best friend this story, she still squealed over the fact that I got to kiss that particular boy.
Lynne Marshall Ack – it's pitiful! I was in a school play – sweet sixteen, never been kissed (we'll almost was at fourteen but that didn't pan out) I had the second female lead, and there was a scene where I had to be kissed. The guy who played oposite me was anything but cute and I don't think he'd ever kissed anyone before either! We had to kiss on stage for four performances. Sorriest kiss I've ever had!
Shirley Martin If I recall correctly, it was at an amusement park, when I was 14 or so. We were riding something I think called "The Tunnel of Love." Whenever we went through the tunnel, he kissed me. I still remember his name, but I'll never tell.
Aaron Speca Working retail in high school – got grabbed from underneath a clothes rack by a girl who worked there. We went on a couple of dates. At least, that's the first kiss I remember LOL …
Amy Corwin: I was in Scotland for a year abroad (school) and met this cute guy at a school dance. We went out on a date, which actually was getting together with other friends of his and playing a board game. It sounds weird but it was loads of fun. THen he walked me back to my room and well–you get the idea. 🙂

THIS IS THE RAFFLECOPTER FOR FRIDAY.  THERE'S A DIFFERENT RAFFLECOPTER ON MONDAY, TUESDAY, WEDNESDAY, AND THURSDAY'S ANNIVERSARY POSTS. 
a Rafflecopter giveaway