Enjoy these answers from a host of authors in multiple genres, from YA to mystery to romance — then enter the Rafflecopter below for a chance to win a $100 Amazon or BN GC and more!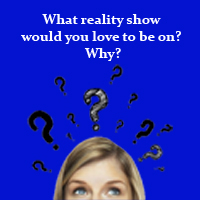 Tasarla Romaney
  Duck Dynasty. I love Jace and Si. To sit and drink coffee with them would totally rock
Linda Palmer Reality shows are way too revealing. Though I'm a big fan of Survivor and Big Brother, no amount of money would make me be on either.
Debra St. John  I wouldn't want to be a contestant, but I'd love to get a reservation for a meal at "Hell's Kitchen". We watch it with friends every week and always talk about going there. However, since many times the food doesn't get served in a timely manner or the kitchen gets shut down entirely, we'd be sure to nibble beforehand and have a back up dining plan for afterwards!
Kaylie Newell The Deadliest Catch. Of course, I'd just make them give me a ride in the harbor and then take me back to the dock.
Judy Alter One of the cooking reality shows–unless someone starts on about mystery authors
Linda Rettstatt They'd have to create a new show for me. One where whoever could sit in a recliner and work on the laptop the longest without getting up would win. I'd suck at Survivor (see earlier note about spiders and snakes). I can't play games well enough for Big Brother–I'd insult everyone. And Dancing With the Stars is really out of the question given my two left feet. Recliner sitting and typing is my forte.
Maeve Greyson Duck Dynasty. They remind me a lot of my own family. 😉
Niecey Roy UFO Hunters!!! Because…we are not alone 😉
Tess Morrison The Apprentice. I'm sure I'd kick butt, but I'm afraid I wouldn't take it so well if I was fired. Actually, I just want to get a gander at Donald's hair. I think I could help him with that.
Tina Pollick Definitely not any survivor show. Nope. No singing shows, because that would be just mean. No cooking shows because people wouldn't want to come over anymore to eat. No dating shows because I'm happily married. Are there any more shows left?
Debra Doggett That one where they put you back in time and made you go live on a farm without electricity or running water. I don't think I'd last long but it'd be a great weekend and with the money they pay me I can buy a real house and pay the electric bill.
Nia Simone Anna Nicole Smith, but she's gone. My heart just breaks for her. It always did. I get teary-eyed just thinking of her. I just always felt she was so vulnerable. And no one really saw it. She was so easy to ridicule. I would like to go back in time and make things turn out better for her. For her not to lose her son and then her own life to despair.
Virginia Crane  None. I really don't like reality shows because they are fake. Think about it. There has to be a camera person and tons of film that will be edited. Everyday life is reality enough for me.
Graeme Brown I think anyone ho brought a camera into my house would be able to start their own reality TV show.
Nancy Fraser The Biggest Loser. I find most reality shows useless, but this one is life-changing. It would be nice to get a firm handle on good eating habits, a constant exercise routine and improve my overall health.
Robyn Bachar Ghost Hunters! It's one of my very favorite TV shows. I'd love to go on an investigation with the TAPS team. I have a life-long interest in the paranormal, which is what first inspired me to write paranormal romance. I even have an homage to the TAPS team in my novella FIRE IN THE BLOOD.
Jeanette Baker I have no idea. I've never watched a reality show. Sorry.
Kim Hornsby I'd like to be on The Bachelor if I were young, single and gorgeous. If I was on the show with the wisdom I now have at the ripe age of 56, I'd be the most intelligent and appealing contestant in the history of The Bachelor. When I watch the show (and I'm a huge fan!) I play along and groan when the girls say and do something stupid, then remember how stupid I was when I was twenty-two. If you read my novella The Husband Hunt, you'll see that I created a character who comes to her senses mid way through the first month on The Bachelor and tries to pull out of the competition.
Juliet Waldron Perhaps Dancing With the Stars. But only if I could have my 25 year old body back again.
Willa Blair One of those cooking shows where you get to sample all the great food they're making. Maybe Dancing with the Stars. It looks like fun, despite all the injuries. On second thought, being in their studio audience would probably be sufficient.
Lynda J Cox Ice Road Truckers–but I'd be in the office lining up loads. As much as I love to drive (and as often as I drive over the road going to and from dog shows), there isn't a snowball's chance in hell of EVER getting me to drive a big rig across a frozen lake. NO THANK YOU!
Lynda Coker I hate reality shows. What an oxymoron, there is nothing remotely real about reality shows.
Brenda Gayle I am a big reality show fan, but think I would be a disaster on most of them. I'd never survive on the Island without my morning coffee, I have a terrible fear of heights so Amazing Race is out, and I'm not tactful enough to survive the Big Brother house. However, one reality show I think I'm perfectly suited to is Take Home Chef (I'm not sure if it's still on TLC). I fantasize about being picked up by Chef Curtis Stone while I'm shopping for rutabaga in the vegetable aisle of my local grocery store. "Hello, beautiful. Can I take you home and show you how to mash that veg?"
Mary Hughes It's not a reality show but I have a fantasy of driving the Reasonably Priced Car on Top Gear. Meeting Jeremy, James and Richard, being coached around the race track by the Stig? It would be the coolest thing ever.
Shannyn Schroeder I'm not a huge fan of reality shows, but I think it would be fun to be on The Apprentice. The Apprentice rewards not just business acumen and intelligence, but also creativity. Some of the best players on the show have been people I wouldn't have pegged to be great. They're not loud and outgoing; they stay in the back and observe, plan, and learn before attacking. I'm good at leading a group and taking charge, but I have little patience for the BS that gets tossed around, so I might not make it far in the game.
Lynn Crandall I can't imagine any type of reality show I would try to get on. I watch one or two and they are entertaining, but I don't know why people subject themselves to such situations. However, if I were going to pick one it would maybe be Ice Road Truckers. There's a lot of drama on the ice roads and some interesting, though frequently volatile, drivers. I imagine enjoying a sense of accomplishment in surviving and getting the jobs done.
Weird that I picked driving. I don't like to drive in bad weather. Maybe I have an inner truck driver waiting to be let out.
Barbara Meyers Survivor…except I'd probably get kicked off early on. Not because I couldn't get along with everyone, but I might not be able to handle the physical distress of sleeping (or not being able to sleep) outside, not having enough food, getting eaten up by bugs, etc.
Carol Henry Actually, I don't watch reality shows—well I did watch Survivor at first in order to see something of the romantic locations where they were filmed. I soon became embarrassed at how badly the people acted. I can't imagine me taking part in any such show—I'd more than likely act just as stupid and embarrassing, and can't stand the thought of my family seeing me as conniving, arguing, and acting so badly on live TV– world-wide. It's just wrong.
Robin Renee Ray Swamp People….Why? Because I am part Hillbilly and helping catch then eating a gator would ROCK…then I could write a short horror read about some killer gator getting payback..LOL
Joya Fields "Survivor." I'd love to see if I had what it took to survive in the wilderness with no modern conveniences.
Patty Campbell  The dog whisperer, to find out if Caesar is really as sexy as they say he is.
Genie Gabriel No thanks. Life is enough reality for me.
Pamela S Thibodeaux None, I hate reality shows because they (for the most part) are scripted…how is that real?
Elysa Hendricks Renovation Raiders, Kitchen Crashers or any HGTV show. My house desperately needs a kitchen remodel.
Allie Boniface The only reality show I watch (religiously, every episode since the first season) is Survivor. While I don't know how well I'd do (I'm not great at manipulating and backstabbing people), the idea of putting all those different personalities together and watching how they interact is fascinating. So yeah, I might give that a try. Plus I hear it's a great way to lose weight fast!
Ryshia Kennie I wouldn't love to be on any reality TV show. Okay, was that not the right answer? But really, there are some reality TV shows I watch but none I'd want to get closer than the other side of my television set. I suppose if I wanted to break into show business I'd say American Idol – but I don't. Besides, some of the reality TV I watch is a little bizarre and more than likely, that's exactly why I watch it. It's just a nice break and not something I want to participate in.
Troy Lambert I've already been on COPS, so I wouldn't mind going back, I suppose. I just want to get away this time.
Jane Toombs Sorry, none. I don't like reality shows.
Jaleta Clegg I want to invent my own called Chocolate Coma. The whole point is to see who can concoct the most chocolate dishes each episode. They have to taste good so no chocolate meatballs or chocolate lima beans. If I had to be on a real reality show, I'd love a shot at the next superhero one hosted by Stan Lee. I'm nowhere near buff or young or athletic, and I look terrible in spandex, but I liked the values they were promoting with that show.
Beth Trissel Not Survivor, that's for sure. I'm not certain they've come up with the right reality show for me. Maybe life in a castle, and I would be the duchess, of course.
Helena Fairfax I'd love to be on a reality dance show. That would be awesome. Of course, I'd have to be able to dance.
Kelly Whitley Not a big fan of reality TV.
I suppose Bear Grylls Get Out Alive (not sure I've got the name exactly right). At least these people are facing real challenges and acquiring survival skills they could actually use some day!
Some of the stuff they have to do is gross, but compared to the angst of The Kardashians…no contest.
Paty Jager I think it would be fun to be on Dancing with the Stars. As I said before I love to dance, but I'm not sure I could stand up to the pressure of all those people watching and having to talk to people. And my klutziness would be a huge problem. But I find dancing fun and would love to learn how to be better.
Linda McMaken Oh, please, my life is reality enough! I want fantasy baby, that's why I write romance. Give me a good, juicy fantasy anytime over reality. Get me lost in a book with great characters and a solid plot, and…..who needs reality?
Penny Estelle Wipeout! I'm sure it would kill me, but it looks like such a fun time!
Isabo Kelly Top Chef as a judge! Because while I may not do a lot of cooking, I do love to eat (which is why I have to lie about my weight).
Lynne Marshall Property Brothers – I'd love for those two strapping twin brothers to come to my house and fix it for me!
Melissa McClone I would love to be on The Amazing Race. I think the show itself is great and the things they put contestants through challenging. Traveling around the globe like that would be so much fun. I'd love to see how I would do against the other teams.
Aaron Speca Extreme Makeover: Home Edition – because to be deemed worthy of being on that show, it means I would had to have done something that really helped someone.
Pamela Turner Masterchef, although I suspect I wouldn't even make it through the auditions. But I like Gordon Ramsay and how he inspires people to do their best.
Shirley Martin Sorry, I don't watch reality shows. And even if I did, I wouldn't want to be on them. Would not want the publicity.
Amy Corwin: None of them. Are you kidding? I'm not that masochistic. LOL Although I wouldn't mind accompanying Survivor-man on a trip because I love camping and think it's great to have good survival skills.
THIS IS THE RAFFLECOPTER FOR FRIDAY.  THERE'S A DIFFERENT RAFFLECOPTER ON MONDAY, TUESDAY, WEDNESDAY, AND THURSDAY'S ANNIVERSARY POSTS. 
a Rafflecopter giveaway