Enjoy these answers from a host of authors in multiple genres, from YA to mystery to romance — then enter the Rafflecopter below for a chance to win a $100 Amazon or BN GC and more!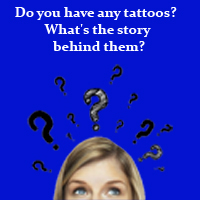 Tasarla Romaney
 Nope… I've thought about it but decided I'm too 'old' My kiddos do…
Ash Krafton I have a dot on my ankle from a homemade tattoo gun. It's as far as my sister got before I ran off. I tell people it's punctuation. I am a writer, after all…
Linda Palmer No tattoos. My husband would divorce me.
Debra St. John A couple of years ago I decided I wanted a tattoo, but I wanted to make sure it was meaningful. After a lot of thought and ideas, inspiration struck last year. So now I have a tattoo of a bouquet of pink and blue tulips tied with a purple ribbon with a cross on it on my left ankle. We went through several rounds of invitro and had several miscarriages, but were never able to have children. Although I'll never actually forget, this is my tangible way of remembering my babies and always having them with me.
Kaylie Newell Yes! I have a heart on my back that says "I love Lucy" (my daughter's name is Lucy). Then I have three clovers on my ankle (we're Irish, among other things). And I have a small pink moon and stars on my forearm (that's my writing tattoo. I always used to dream about writing books when I was little and wished on at least a gagillion stars).
Judy Alter No tattoos. My daughter has a rose on her ankle, and one of her boyfriends assured his grandmother it would wash over. My oldest son had his fraternity sign but covered it with a dolphin when he lived in the Caribbean and taught scuba diving.
Linda Rettstatt Not yet. But there's still time. I'd probably choose a butterfly because they symbolize new life. And every day is new. I'd want to put it somewhere visible, maybe the inside of my wrist or on my neck.
Maeve Greyson As a matter of fact, I have a purple lily surrounded with tribal glyphs on my upper right thigh. It was a birthday present from my youngest daughter when I turned forty. The best part was the tattoo artist kept hitting on me while he was doing the tattoo. That part kind of grossed my daughter out but it made me feel YEARS younger than 40. *happy sigh*
Niecey Roy Yes. I have a cross over my belly button. I was 21 and it seemed like a fun thing to do at the time. Everything sounds like a great idea with too many martinis! Of course, after I got pregnant and it blew up to the size of a church, it didn't seem like such a great idea. To anyone. Hhhhhaaaaa!!! Luckily, it has shrunk back to normal size and still looks good.
Tess Morrison No, but I faked one once. My Dad yelled at me so I took it off. I was 35 years old. Is that sad or what?
Anne Van No. Besides being a writer I'm also an artist and designer. I never could commit to one piece of art work I'd wear the rest of my life.
Tina Pollick I have two tattoos. The first I got at a tattoo party I threw for my husband. Yup, the tattoo guy came over with all his stuff and tattooed anyone who wanted one. Mine is dolphin bracelet on my ankle, because I was young and stupid. LOL
The second: Is a Pentacle surrounded with the zodiac symbol. It's so cool and it's on my calf. I got it because I'm proud to be Wiccan.
Debra Doggett No, I am too wimpy. It was tough enough to get my ears pierced.
Nia Simone Are you kidding me?! Needles?! Voluntarily?! Never. But I think they are beautiful and really cool. I'm more of a nerd. I didn't get my ears pierced until I was 30 and my boyfriend bought me earrings. He couldn't believe I didn't have pierced ears. (We hadn't been dating long.) He thought I was an absolute marvel when he gave me the earrings and discovered I had virgin ears and he was very touched that I went to a jeweler and had them done so I could wear the earrings. Which were not expensive.
Virginia Crane No tattoos. Except for occasional 'age spots' my skin is the same as the day I entered this world.
However, I do have a mole off center between my eyebrows that women have tried to spit wash since I was a little girl thinking it was dirt or ink.
Graeme Brown No tattoos. I am terrified of the things!
Shereen Vedam No, I do not have a tattoo, but I've got three that I'd love to get one day.
One is a picture of a book fluttering open and I've seen this one on an ankle and I think that's where I would like mine.
The second is words that say: "I'm the hero of this story, I don't need to be saved." This one I'd like tattooed on my back. I have a picture of this on one of my Pinterest boards titled Hoydens and Heroines.
The third would have to be a little black cat like the one I had for 23 years (since the time she was 8 weeks old), before she passed away. I'd like that one done on my shoulder, where she used to love to sleep when she grew older.
Nancy Fraser One. The Superman emblem on my right shoulder blade. What can I say, I'm a Super-geek. I love the idea of someone being so strong they could do anything they wanted, yet so vulnerable when it comes to loving another human being.
Robyn Bachar I have four tattoos. On my left upper arm I have a Dark-Hunter double bow from Sherilyn Kenyon's Dark-Hunter series (and I have a photo of me showing off the tattoo to her at a signing). On my back I have a watercolor pin-up witch riding a broom, reading a book and drinking a cup of coffee.
Jeanette Baker Not a one, too chicken to endure pain unless it's completely necessary. But if I did have one, it would be a small Celtic cross on the inside of my ankle to reflect my Irish roots.
Kim Hornsby No but I once had my belly button pierced. My girlfriend and I were walking Venice Beach on vaca and the sky opened up and dumped rain all over the boardwalk. We ran to the closest shelter which happened to be a tattoo and piercing place and while waiting out the storm I decided to be totally spontaneous and get the belly button pierced. It hurt like hell! I was 46 years old and only showed off that thing for another 3 years before my tummy got too dimpled to show.
Juliet Waldron I have no tattoos, because of my skin's penchant for violent allergic reactions, although I'd love to have a large one on a fore-arm of the Lion-headed Egyptian Goddess Sekhmet, who signifies feminine power.
Willa Blair No, none. I don't much like them, but I will make an exception for those barbed-wire or Maori-design ones that go around a well-developed male bicep.
Lynda J Cox One, and it took me until I was over 40 to decide I really wanted such permanent art on my body. It's a triskelion–three interlocking spirals, symbolizing the Maiden, Mother, and Crone.
Lynda Coker No! Not now, not ever.
Susan Fox I don't. Every time I think it would be a cool idea, I try to imagine what tattoo I'd be happy with when I'm ninety, and on what portion of my anatomy I'd like to see it. And so far I haven't come up with an answer. Don't we all go through an age when we think it would be fun to have a butterfly on our hip or a rose on our ankle? Is that so cute and sweet when you're forty? A favorite person's name, a saying, or a symbol may well lose meaning – or even have negative meaning – over time. Not to mention, the body parts we might want to decorate at age 20 may not look so appealing over the decades.
Shannyn Schroeder I don't have any tattoos, but I have thought about getting one. Part of me wants to get one to celebrate becoming a published author. I'd have to find just the right image, and I haven't come across it yet. Plus, it seems like it would be really painful. I'm totally open to suggestions, though.
Denise Golinowski I have two tattoos. The first one is two stylized hands holding a flame. This tattoo design is to represent my creativity. The second tattoo is a hand with water pouring over it to represent my intuition. One day I'll complete the set with clouds for air and greenery for earth.
Carol Henry Sorry, no tattoos. Just thinking about what they are going to look like when I'm in my '80s or '90s, all saggy and distorted, keeps me from even considering them. I'm going to have enough image woes at that point, I won't need any additional ones to worry about.
Robin Renee Ray I have a really messed up rose on my lower leg that I put on myself 30 years ago when my daughter, Tanda Shantell passed away. I've had many throughout the years offer to make it amazing…but, to me…it already is!
Joya Fields No tattoos, but if I did, I think I'd get something that depicts strength and happiness. Not sure what that would look like, but I guess I'd do a little research first.
Annette Bower I don't have a tattoo but our son does. I am proud to say that he is in the Canadian Navy. I believe that it is a right of passage to receive your first ink when you are in the armed forces. He acquired a bobbed wire tribal tattoo on his left bicep approximately seven years ago.I am pleased in his choice for his first tattoo.
He acquired another tattoo three years ago. A tribal scorpion on his left shoulder to reflect his Scorpio zodiac sign. His wife said that it is painful to watch him go through the process.
As a past nurse, I will wait for the opportunity to experience pain when it is due to natural causes.
Patty Campbell No, and I never will. I cringe thinking what my worn out old body would look like when I got put in the Laughing Academy.
Genie Gabriel Omigosh, no! I don't like needles or pain.
Elysa Hendricks No tattoos. I think body art is, or can be, beautiful. I'm just not brave enough to decorate my body in such a permanent way. What if after a few years I decide I don't like it? If they ever come out with a tattoo process where it'll completely fade away in let's say six months or so, I'd be tempted to get one of a dragon or maybe a hummingbird. In the meantime I'll use the press on tattoos the kids get.
Kate Robbins Yeah I have a froggie on my lower back. I love frog art, always have. Perhaps it's to make up for all the frogs my brothers took out of their natural habitat growing up. I don't know, but I like frog art.
Ryshia Kennie The story behind my tattoo is that it's make believe and some day. Other than the wash-off tattoos of childhood, the only tattoo I've wanted to get is one that is rumoured to be tribal tradition with a tribe in Micronesia. It's a tattoo on the top of their foot. I've always thought that if my travels ever take me to that place, I'd get a tattoo on the top of my foot to remind me of visiting an incredible and out of the way place. So me and tattoos – still pending.
Troy Lambert I have two. The one on my left bicep is my wife and my names in sanscrit. The right is a tribute to Indian Larry, a bike builder from New York. It says: In God We Trust: No Fear. On my tricep it says: Vengeance is mine saith the Lord.
Jane Toombs I once did. An anchor at the tip of my left shoulder as result of a dare when I was a student Cadet Nurse in Los Angeles during WWII. But when I came back to Upper Michigan and was working for a doctor while his regular nurse took a vacation, his partner said to me,"I can take that tattoo off if you want." My folks were not happy with it , so I decided to let him. Well, he cut it out it after hours, sewed up the skin, and then propositioned me. I hadn't seen that coming. Shocked, (he was married) I told him I could never respect him again if I did such such a thing, thanked him for removing the tattoo and hurried from the office. I finished my stint of work there a week later. Not until I was through working there did I hear the guy was a notorious womanizer. But I still was glad the tattoo was gone. I'm just not a tattoo person.
Beth Trissel Nada.
Helena Fairfax I haven't ever had a tattoo, but if I did have one, I'd love to have a shamrock. My ancestors are Irish, and I think it might bring me luck.
Kelly Whitley Zip. Tattoo-less here. I've never been tempted, never considered it, so no stories.
Occasionally I like them on other people, and some characters. Ink with a story behind it is more interesting than "I chose it out of a book."
Currently, I like the story of a soldier injured in Iraq who had tattoos done over his upper body shrapnel wounds. The scars still show, and the tattoo means he made it out alive.
Paty Jager No. But if I had the nerve to get one, it would be a tiger either behind my left shoulder or up above my right butt cheek. Can't decide where I'd want it along with the nerve factor is part of why I don't have one. That and my husband doesn't care for them.
Linda McMaken Um, I think I'll just pass this question over…….some things are better left unsaid.
Penny Estelle I am too chicken….I don't like needles.
Isabo Kelly No tattoos yet. I keep debating and changing my mind. Maybe I'll get one for my 80th birthday. Or better yet my 100th birthday!
Aaron Speca No, but my wife has a cool tattoo on her shoulder, a plant with three flowers, one for each child.
Shirley Martin No tattoos. They weren't in style when I was young, and I'm too old for them now. No, maybe I'm not too old. If I got a tattoo, it would be in some discreet place, like on my ankle. Maybe be a heart.
Amy Corwin: Nope. No tattoos. Just scars on my hands from pulling things in and out of the oven. I think they are cooler than tattoos. LOL
THIS IS THE RAFFLECOPTER FOR TUESDAY. DON'T FORGET TO CHECK BACK TOMORROW FOR A NEW RAFFLECOPTER WITH BRAND-NEW PRIZES.  THERE'S ALSO A DIFFERENT RAFFLECOPTER ON MONDAY'S ANNIVERSARY POSTS. 
a Rafflecopter giveaway