Enjoy these answers from a host of authors in multiple genres, from YA to mystery to romance — then enter the Rafflecopter below for a chance to win a $100 Amazon or BN GC and more!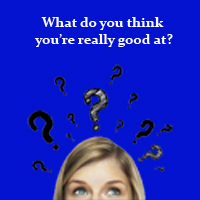 Tasarla Romaney
 I like to think writing and cooking. Being a mother and a wife. I wish I could say dancing. I've always wanted to be a dancer but with short legs and feet the size of flippers it's not a pretty sight.
Ash Krafton Smiling when I'm very angry.
Linda Palmer   Figuring out people and then adding their quirks to miscellaneous characters to bring them alive.
Judith B. Glad Growing vegetables. I have five raised beds on the south side of my house. this year I'm growing tomatoes, beets, green beans, snow peas, zucchini, cucumbers and nasturtiums. The cucumbers are particularly prolific this year, and I've been making pickles almost daily. the nasturtiums are a colorful and tasty addition to salads (leaves and flowers) and I even made nasturtium-leaf pesto. Delicious!
Kaylie Newell Crossing only one eyeball and having the other look straight ahead. I'm also fairly good at burning grilled cheeses.
Judy Alter writing and cooking, being a grandmother
J.A. Garland Running from zombies. Stay on my six, I'm gonna make it when the apocalypse happens.
Linda Rettstatt Aside from writing? (No ego here 🙂 I'm pretty good at problem-solving. Probably because of my background as a therapist, which also makes me a good listener.
Maeve Greyson Talking when I should be listening. I am an expert at inserting my foot into my mouth –clear up to my hip.
Laura Strickland Listening to other people and making them feel better than they did before they talked to me.
Niecey RoyProcrastination.
Tess Morrison Being a smartass! It gets me into trouble from time to time, but if you're good at something…oh well, it comes in handy when writing dialogue.
Anne Van I love to decorate. Nothing makes me happier than taking a drab room and bringing it alive. I never though about if I was any good or not just as long as my clients were happy. Then a national magazine wanted to feature my work. I thought this must mean I know what I'm doing.
Jana Richards  Making chocolate chip cookies. Eating them, too.
Tina Pollick I think I'm good at being a mom, a wife (on most days), a nurse, and a writer.
Debra Doggett I am really good at crisis situations. I work well on adrenaline and I work well under stress. I fall apart after but I wait till the end before losing it.
Nia Simone Skiing. I grew up on skis, living literally on a ski slope with an un-plowed road, so it's not really something I can brag about. Anybody would be good at it after spending so much time doing it. I skied every single day growing up, once my parents let me start. They made me wait until I was five and I still remember my fourth year looking out the window longingly at all the skiers and the glorious sprays of snow they kicked up when they turned or the fabulous clouds of snow they created when they fell down.
Virginia Crane Observing people. That most likely stems from years spent in the nursing profession. People never cease to amaze me and the more I observe the more I realize that you can't make it up fast enough.
Graeme Brown Hmm. Computer programming or anything that involves design.
Shereen Vedam I'm getting better at writing but what I excel at are graphs and charts and data tracking. It's my day job and I am good at that. Probably because I have an analytical mind. I can look at information and see how to show it in a way that will help us best understand patterns and trends.
I use that same mind-set for planning out my stories as well, from doing character charts to plot outlines to scheduling my time portion by portion to get what I need done in the time I have to get it done.
I also love how-to books. I'm currently applying tips from a book written to help Hollywood scriptwriters have strong emotional impacts on their audience, on a Christmas Regency novella that I'm writing. I love this how-to book because the author's mind seems to work like mine, with an analytical bent that can show me patterns and trends in writing.
Nancy Fraser Being a loving grandmother. For those of you who haven't yet had the experience … there is no greater love in the world. It may sound corny, but I would gladly give up my life for any one of my grandchildren.
Robyn Bachar Singing in the car. I love to sing on long car trips. On the way home from this year's Lori Foster Reader and Author Get Together, my best friend and I had an epic sing-along to girl bands of the 90s. It's a little scary and awesome how many Lisa Loeb songs we remembered all of the words to.
Jeanette Baker Cooking, reading out loud, writing, Sudoku, swimming
Kim Hornsby I used to be a really good singer and paid the rent that way for decades-opening for Jay Leno convention shows, Bill Cosby, even Jamie Foxx. My band once opened for Maya Angelou who was the keynote speaker for a group of 1,000 conventioneers. She was one cool lady!
Juliet Waldron I'm excellent at telling stories, which is not necessarily a blessing if you don't hit the best seller list. However, I recently reconnected with an old friend, one I hadn't seen since we parted company in the 9th grade, which makes it 50 odd years ago, who could still remember the specifics of long-running games of dramatic pretend we once played together.
Mary Jo Burke   I have an excellent poker face. I keep my thoughts and opinions to myself. Easiest way to keep the peace at Thanksgiving and children's soccer games.
Willa Blair Writing, climbing the career ladder, cooking, home decorating, taking care of pets, and just about anything else that I really want to do. My parents always expected a lot, so I learned to strive.
Lynda J Cox I'm a darn good teacher. My students keep telling me this and for three years in a row, I've been awarded honors for my dedication to first year student academic success by the First Year Initiative at the university where I teach. I'd like to think I'm a good writer and I'm a very good dog handler (but don't tell my mother that I show dogs–she still thinks I play piano in a house of ill repute.)
Lynda Coker I'm good with people. I think people are interesting, creative, talented, and funny. Because I like people so much, I've always been a good organizer, supervisor, and team leader, able to inspire those around me to reach higher and go further. Not because I'm special or brilliant, but because they know I believe in them, and because they know I'll work shoulder-to-shoulder with them to achieve our goal.
Brenda Gayle I'm really good at planning things and telling people what to do. Unfortunately, I'm not so good at taking direction myself. As a result, I often change my plans at the last minute–drives my family insane!
Lesley-Anne McLeod Needlework! Just like Regency heroines, I sew, I embroider, I knit and I quilt. The fashionables did needlework as an accomplishment, the lower classes sewed out of necessity. I do it for enjoyment and relaxation, with perhaps less pressure on my products than any of my Regency counterparts.
Lynn Kellan I'm really good at – drumroll, please – golf. Yes, I said golf. Why are you yawning? Golf is an exciting sport! Okay, stop snickering. I can hear you.
Like most golfers, I grew up in a family who played golf. When my brother picked up the game, I did too. He cracks me up, and I wanted to be on the golf course to witness his shenanigans.
Fortunately, I married a man willing to pick up the game. I love spending afternoons with him on the course. In fact, golf is a great game because it gives you the chance to spend time with the people you care about.
My claim to golfing fame occurred two summers ago. I agreed to play in a charity golf tournament with some of my buddies. The tournament fell on my birthday, so what better way to celebrate? I was busy goofing around with my buddies on the 14th hole and wasn't paying attention when I hit my tee shot. We watched the ball fly through the air, land on the green, and disappear into the cup. A hole-in-one! That day, every par three hole on the course offered a car if you shot a hole-in-one…except for the 14th hole. Rather than win a Porsche, I won a box of balls. No matter, I have a beautiful plaque and three witnesses to the event. I'm content…but bringing home a convertible sports car sure would've been nice.
Mary Hughes Stacking dishes in the dishwasher. Honestly, it's like Tetris, right?
Shannyn Schroeder I'm really good at baking. I'm not a gourmet chef or anything, but I love to bake. For me, it's always been a form of relaxation. I never considered myself anything special as far as baking goes until other people commented about how much they love my cookies. Until then, I just assumed anyone could bake. All you have to do is follow the recipe. I guess that's not so. Now that I'm older, I'm more comfortable playing and experimenting with recipes. I don't make up my own completely, but I will start with someone else's and try to improve on it.
Lynn Crandall I'm good at a number of things (did I just say that??!!). One of the things I enjoy being good at is being in the moment. It feels so refueling and enlivening to notice little things, like the sound of the wind, the feel of my feet in the grass, the scent of just-mowed grass. Simple things like that keep me going and marveling at the world.
Sheila Claydon Talking. Oh dear! I talk a lot, and I talk fast. I do have a lot of friends and people don't turn and walk away while I'm talking, so I like to think my words are engaging. I have Irish blood on both sides so the chances are one of my ancestors 'kissed the blarney stone' because my whole family are talkers. My husband gets worried when I'm silent…he thinks I'm ill…so because I want him to be happy, I keep talking:-)
Barbara Meyers I'm good with words. I write Dr.-Seuss like poetry for mature audiences on a variety of subjects. I also write song lyrics. I also like to think I can get along with just about anybody. If, for some reason, I don't like you upon meeting you, there's a reason for that and you won't stay in my life. I'm also good at looking at the big picture in most situations AND I'm good at finding shortcuts and efficient ways to do things.
Carol Henry That's an easy question—cooking. Ask anyone. Whether it's baking, cooking, or tasting, I'm the family's number one cook. In fact, my husband tells everyone he married me because I am such a good cook. Which proves the way to a man's heart is through his stomach.
Robin Renee Ray First, I was a great momma…but now, I am a rockin' grandma! Best thing I have ever done in life was raise my one surviving child the best that I possible could….
Joya Fields I can't make dinner worth a darn (I'm sort of famous for burning things), but I can make really good desserts. Especially cheesecake.
Patty Campbell People – friends and strangers, tend to share their most intimate secrets with me. I'm good at listening.
Genie Gabriel Being a doggie servant, except when I'm late fixing their dinner.
Pamela S Thibodeaux uplifting others.
Elysa Hendricks I think I'm a bit more than competent at stringing words together. I can tell a good story.
Kate Robbins Hopefully making people smile. I see a frown and I want to fix it. Not sure why that is. Perhaps because we have so little time in this life I want everyone to make the most of every single second of every single day they've been blessed with.
Either way, I'm the goof in the office or at the party, trying to make people laugh.
Liana Laverentz  Writing, making soup, being a mom.
Ryshia Kennie I suppose I'm good at making things up because that's what I do all day as I write my stories. I'm good at research and instinctively finding even obscure answers. I love whipping up dog biscuits and have come up with some pretty creative, and so my doggy friends tell me, tasty recipes. I'm also good at taking notes. I think that's a throwback to my school days. In the days when notebook and pen were the tools of choice, fast writers were in demand. I had a few friends craning over my shoulder trying to catch up with lectures using my notes.
Troy Lambert Making things up, especially when answering silly questions.
Jane Toombs Writing. Since I'm an RN, I'm also the caretaker for my SO with Parkinson's and I feel I'm doing a pretty good job so far.
Jaleta Clegg  Obfuscation. And cooking. And making up stories. I love telling stories. I can also get my son to snort milk out of his nose on a regular basis.
Beth Trissel Gardening, when my allergies don't do me in, and I hope writing.
Heather Haven Seeing the positive in almost any situation.
Gail Pallotta I spend so much time writing, I must think I'm good at it. But more importantly, I hope I'm good at loving God and people. It's wonderful and rewarding to feel one's accomplished something worthwhile, to see it on a piece of paper. (Maybe that's why I surround myself with paper). But when putting things in perspective, I'd like to make my little corner of the world a better place because I'm in it. I hope I'm good at that.
Helena Fairfax I'd really like to think I'm good at writing stories – but I'd have to let my readers judge! Apart from that, I'm quite a good cook, and can do a great tradition Englsih breakfast.
Kelly Whitley Yikes.
Math. I've tutored it.
Personal interaction. I don't like to talk on the phone, and (horrors) I don't text. I like to see people face-to-face, see their reactions/expressions and hear their voice. You lose sooo much in the electronic age. How can you have a relationship if you don't socialize in person?
Empathy. In the medical field, it's crucial.
Laurel O'Donnell Making cookies. On the day after Thanksgiving, my sister and I get together and make all kinds of cookies for Christmas. They don't usually make it that far, but it's fun to do. My favorite cookie is a maple frosted cookie. Delicious!
Paty Jager Being a listener. I don't care much for talking on the phone or lots of conversation. But if someone needs to talk, I can sit there all day and listen and hopefully give them a place to vent or talk things out. Same goes for emails. I have several friends who send me long vents, I grew up on a party line phone and hated that my grandmother would listen in and then gossip. Because of that anything someone tells me stays with me. I don't even tell my husband. I believe a confidence is just that and doesn't go beyond me.
Linda McMaken Talking. Yup, this is one thing I'm really good at, and I have a lot of practice doing. I can talk to anyone, anywhere, about anything. My hubby will tell you that I've never met a stranger. When we go to the grocery, I usually will end up knowing at least two people's life story before I make it through the produce aisle.
I once met two relatives from England in the middle of Wyoming because I struck up a conversation.
I have truly been blessed with the Irish "gift of gab" and storytelling!
Penny Estelle  Pumping my friends up when they are down. I am a great listener!
Keena Kincaid Flipping from the "on the ground" view to the "30,000 foot view," which means I can usually see the forest and the trees.
Isabo Kelly Hugging and kissing my boys. If I do nothing else right as a parent, at least my boys will know I love them. Oh also I'm really good at lying. I think all writers are good liars. (But I wouldn't ever lie about how much I love my boys! Just so you know those two things aren't connected.)
Lynne Marshall I like to think I'm quick witted, but that's totally my opinion – oh, and I'm darned good at giving my opinion, too. 🙂
Aaron Speca I think I'm a really good listener. I try to hear everything and figure out what someone's really saying behind what they are saying. I've used this skill many times in resolving conflicts at work, trying to hear what the real issue is on both sides, because often times everyone will talk about symptoms and not the real cause of the problem.
Pamela Turner Not to shabby when it comes to drawing. I have to work at it,but I've always loved to draw, even wanted to be an artist. I still draw and paint, and even dabble in photography. I think being able to create in another medium benefits me as a writer. While I won't make any money from my artwork, it's something I enjoy and is a nice break from writing.
Shirley Martin At the risk of bragging, I'd say I'm pretty good at thinking of plots for romance novels.
I'm good at walking over a mile a day, good for an old lady like me.
Amy Corwin: Cooking. Some might say computers since I worked on them for 36 years, but mostly cooking. And baking. I love making French bread. And pickles.
Okay, I have to stop now.
THIS IS THE RAFFLECOPTER FOR TUESDAY. DON'T FORGET TO CHECK BACK TOMORROW FOR A NEW RAFFLECOPTER WITH BRAND-NEW PRIZES.  THERE'S ALSO A DIFFERENT RAFFLECOPTER ON MONDAY'S ANNIVERSARY POSTS. 
a Rafflecopter giveaway