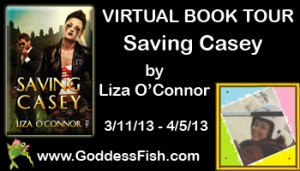 This post is part of a virtual book tour organized by Goddess Fish Promotions. Liza will award a $25 Amazon GC to a randomly drawn commenter during the tour. Other random commenters at blog stops will receive: $5 Amazon GCs, tattoos like Casey's, or offer to place tattoos like Casey's on a jpg picture supplied by winner (the author will individually select the daily prize disbursement, and it will be indicated on her completed interview or blog post. For review only/promo only stops, the daily prize will be the offer to place tattoos like Casey's on a jpg picture supplied by winner). Please click on the tour banner to see the other stops on the tour.
Eighty-year-old Cass wakes up in the body of a troubled seventeen-year-old girl named Casey, which all believe has survived a suicide attempt. Cass intends to turn the girl's life around, only it's harder than she expects. All Casey's troubles have now become Cass's and someone wants her dead.
READ AN EXCERPT
"Any chance you'd be willing to go to a different doctor to get another treatment on your face?"

"I really like Dr. Grey."

"I know, but we can't take the chance. You'd visit a doctor in Montana after office hours."

"Does he have the equivalent experience and skills as Dr. Grey? Because I already have nightmares where I'm blind and irreparably scarred."

"He won't touch your eyes. He'll just work on the cheeks."

"And if I'm scarred, causing little children to scream at the sight of me, will you still love me?" She expected him to flounder with his response because it required him to actually admit he loved her, something he'd refused to do. To her shock, he replied at once.

"Absolutely."

"No hesitation?"

"Nope."

"So explain why you'll love me without hesitation if I'm hideously scarred, but won't even kiss me when I'm just ghoulishly tattooed?"

"Simple. Dan wouldn't mind if I'm the only man in the world who still thinks you're beautiful. But as long as millions of better alternatives exist, Dan would never forgive me for stealing your future."

She hated it when he nailed the truth. If she were really seventeen, she would agree a hundred percent. Sighing heavily, she muttered, "I'll see the doctor."

"He's not going to leave you scarred, Cass."

"I hope not, but if he does, I'm holding you to your word."

"You have it."

She smiled at the turn of this conversation. "So you think I'm beautiful?"

"Inside and out," he replied. "We need to change the conversation now."

"Why? I like this conversation."
About the Author: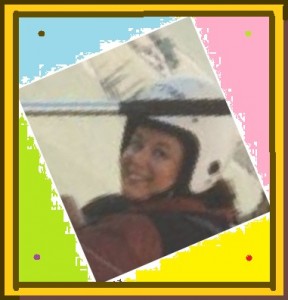 I live in Denville, NJ with my dog, Jess. We hike in fabulous woods every day, rain or shine, sleet or snow. Having an adventurous nature, I learned to fly small cessnas in NJ, hang-glide in New Zealand, kayak in Pennsylvania, ski in New York, scuba dive with great white sharks in Australia, dig up dinosaur bones in Montana, sky dive in Indiana, and raft a class four river in Tasmania. I'm an avid gardener, amateur photographer, and dabbler in watercolors and graphic arts. Yet through my entire life, my first love has and always will be writing novels. I love to create interesting characters, set them loose, and scribe what happens.
SABlog and Website: http://www.LizaOConnor.com
Facebook Profile: http://www.facebook.com/liza.oconnor.90
Twitter: https://twitter.com/Liza0Connor