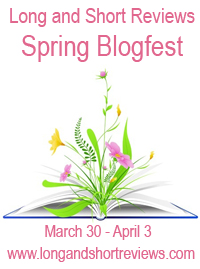 Win either a pdf copy of Andrea & the Five Day Challenge (YA novel) or Snow Kissed (short story Romance) by commenting on this post (wnner's choice). Also click on the banner to enter the rafflecopter to win a $25 Amazon/BN GC, one of four book packs, or one of four swag packs (US only on book and swag packs).
"Spring is When Life's Alive in Everything"
This quote comes from a line of poetry by Christina Rossetti. It isn't a faithful quotation of the author's poem, but the sentiment still rings true. We come to this time of year so ready for the coming of spring. I love spring and the whole idea of something being fresh and new. It's a time to slough off the old and to begin again. It's freeing. It's exhilarating. It's refreshing.
We can become so buried and frustrated and constrained in whatever is taking over our lives. Wouldn't it be wonderful to put all the negativity away and start fresh? I know I spend a lot of time indoors in the winter living on the East Coast. I begin to feel stagnant and confined. When springtime comes, I take advantage of the time to hit the out of doors. See the birds in flight, the trees in regrowth, the flowers in bloom. It's rejuvenating.
As an author I am most productive in the fall and in the spring. Both times of year is when the weather turns temperate and my brain seems to be able to work more efficiently. As I type away at my keyboard, I think of that poem by Rossetti—the poem in its entirety:
There is no time like Spring
When life's alive in everything
Before new nestlings sing
Before cleft swallows speed their back
Along the trackless track
It makes me want to walk outdoors right this second into the woods behind my house and spend an hour pondering the spring and experiencing the new life springing up around me and hope I might lose just an ounce of the stress pushing my sanity to the edge.
Take a moment today to breathe. Actually stop and smell the roses. Observe the spring and maybe put the rest of your day into perspective.
Wouldn't you know it, just as soon as I decide to attempt the 5-Day Bible Study Challenge, my parents start heaping on loads of pressure to get me into Julliard. My friend Amy isn't any better, urging me to ask Luke Ryan to homecoming. As if the cute, transfer jock would actually go out with me. I mean, we're kinda friends, and I've enjoyed our Geometry study sessions, but in case Amy hasn't noticed, I'm the invisible one at Aubrey Christian Academy, and I like it that way. On top of that, I have a feeling Luke's concealing something behind those chocolate-brown eyes of his. I know I can be self-centered and a bit melodramatic, but I really do want to seek Your will for my life. Then maybe I'll even figure out which direction points up.

Sincerely, Andrea Jamison
High School Junior
Change-o-phobic & complete neurotic
About the Author: Cindy K. Green has worked as a middle school history & English teacher, a frozen yogurt server and a golf magazine employee. Today she's a multi-published, award-winning author of Inspirational & Sweet fiction, a mother, a wife, and a homeschooler too. This native Californian now resides in North Carolina with her husband, two boys, and two cats named Chloe & Kassey.
Website | Blog | Facebook | Twitter
Buy the book at Amazon.