Leave a comment or ask the author a question for a chance to win a copy of Boys Like You
(US/Canada only).

1. I hate peas.
2. I once had orange hair because I decided to dye it myself. BIG FAIL
3. I've picked tomatoes, cucumbers and strawberries to make extra money.
4. My eyes are green.
5. I stood beside Jon Bon Jovi once and nearly started a stampede at a club in Toronto when I went all fan girl.
6. I've been mistaken for Alannah Myles and wasn't happy about it. Hey it was the 80's so I'm assuming the big hair was a factor.
7. A club my band was to play in, in Quebec City was raided by the police minutes before we were to take the stage. Scariest night of my life. It was called Café Jacob.
8. My son's name is Jacob.
9. One of my kids has been featured on Canada's Got Talent.
10. I've never had a broken bone or had surgery. (knock on wood my friends)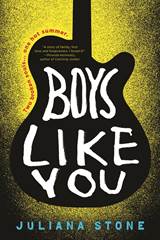 One mistake. And everything changes.
For Monroe Blackwell, one small mistake has torn her family apart –leaving her empty and broken. There's a hole in her heart that nothing can fill –that  no one can fill. And a summer in Louisiana with her Grandma isn't going to change that…
Nathan Everets knows heartache first-hand when a car accident leaves his best friend in a coma. And it's his fault. He should be the one lying in the hospital. The one who will never play guitar again. He doesn't deserve forgiveness, and a court-appointed job at the Blackwell B&B isn't going to change that…
Captivating and hopeful, this achingly poignant novel brings together two lost souls struggling with grief and guilt – looking for acceptance, so they can find forgiveness.
ABOUT Juliana Stone: USA Today Bestselling author,Juliana Stone's love of the written word and '80s rock have inspired her in more ways than one. She writes dark paranormal romance and contemporary romance and spends her days navigating a busy life that includes a husband, kids, and rock 'n' roll! Boys Like You is her debut YA novel. You can find more info at www.julianastone.com