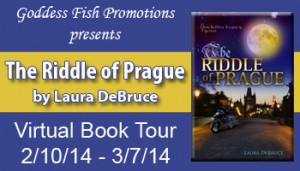 This post is part of a virtual book tour organized by
Goddess Fish Promotions
. One randomly drawn commenter will receive a $50 Amazon or Barnes and Noble gift card. Click on the tour banner to see the other stops on the tour.
Welcome, Laura, to LASR. What is your least favorite word?
Get. I try to avoid it, especially in writing, but it sometimes difficult to avoid.
Where do you get your best ideas?
My best ideas come from unexpected places. The last time I was in Paris, a little person, a man, passed by me in one of the city's covered passageways. I suddenly realized that a certain character has to be in The Temple of Paris, and for the rest of the day I incorporated him into the story. On that same trip, I was looking out the window of our hotel room and thought how easy it would be – albeit dangerous – to climb out the window and work my way around the interior courtyard. That's also going to be incorporated into a scene in that book.
Many of the characters in The Riddle of Prague are based on real life people. In the book, Hana Silna finds a letter written by a poet, Elizabeth Weston, who lived during the reign of Emperor Rudolf the II. This was a grand and glorious time in Prague when the leading alchemists and philosophers and astrologers flocked there to be a part of the court. During my research I kept finding these fascinating characters: the evil bastard son of the emperor who ruled his town with bloody hands and an evil heart who forced the daughter of a barber to be his paramour; the sister of famous astronomer Tycho Brahe who was an astrologer and healer in her own right; the alchemist who convinced everyone, maybe even himself, that he could speak with angels and even persuaded one of the leading thinkers of the day that the angels instructed them to swap wives. All of these characters play a role in The Riddle.
What do you do to relax?
To relax, I like to read a book, take a long walk with my dog, or watch a movie or one of our shows with my husband and son.
What is your favorite Joke?
I think I'm funny but I'm not a jokester.
About the Author:
Laura DeBruce is a documentary filmmaker and writer. She grew up traveling all over the world thanks to her father's work with the U.S. Embassy. She and her husband spent twelve years living in Europe including Prague, Paris, Amsterdam and London where she found inspiration to write The Quicksilver Legacy Series. In Prague she worked as a lawyer for the first private nationwide television station in the former Communist bloc. It was there that she fell in love with the ancient city of Prague and its legends.
She lives in the Washington, DC area with her husband and son and an unruly Golden Retriever.
Website with blog and trailer: http://theriddleofprague.com/
Facebook: https://www.facebook.com/TheRiddleofPrague
Twitter: https://twitter.com/LauraDeBruce
When 18-year-old Hana Silna travels to Prague to reclaim her family's home, she discovers a riddle that may lead to a long-last flask.

The contents of that flask could change the fate of the world. When a ruthless enemy kidnaps her family Hana has to find the flask to rescue them. On her quest she meets a mysterious man with a penchant for poetry, a Gypsy girl with a haunting past, and Alex, an all-American boy who's trying to save his sister from a crippling disease. It's hard to trust anyone when the stakes are this high — especially when surrounded by experts in deception.

There's only one flask, and Hana desperately needs to find it.
Buy the book at Amazon.