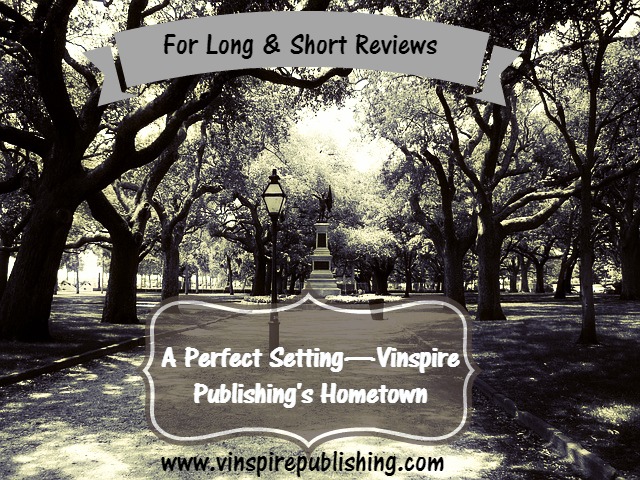 Long and Short Reviews welcomes Dawn Carrington of Vinspire Publishing, who is visiting with us today.
Leave a comment or ask Dawn a question for a chance to win 5 YA books of their choice as well as a $5 Amazon gift card.
A Perfect Setting—Vinspire Publishing's Hometown
By Dawn Carrington, Editor-in-Chief of Vinspire Publishing
Here at Vinspire Publishing, we're fortunate to live in Charleston, South Carolina. Known as the Holy City, the Lowcountry, and Chucktown, it's been voted as America's Most Friendly City, and it's the oldest city in South Carolina.
I set a lot of my own books here in the Lowcountry because of familiarity, but beyond that, there are so many unexplored parts to Charleston that would make excellent settings for books. Though it's popular with visitors, it doesn't get as much attention in books as cities like Chicago, New York, and San Francisco.
Though I've lived here well over twenty years, I've never taken one of the popular Ghost Walks or carriage rides. The Wentworth Mansion ranked #2 on U.S. News and World Report's list of Top 10 Hotels, but I've never stepped foot inside it. And I'm almost ashamed to say I've never visited Fort Sumter. See what I mean about the possibilities?
Beyond the sites I haven't seen, there are a whole host that I have, and those places will come up in future novels. The Battery, the Old Exchange Building and Provost Dungeon, Magnolia Plantation, and Charles Towne Landing are all truly unique places that invite characters. The names alone lend themselves to book settings, don't they?
Now take a moment and imagine what kind of stories could be written in those settings. Historical fiction, of course, but what about a young adult paranormal story for the Old Provost Dungeon? A pirate romance for Charles Towne Landing, maybe? And though the Battery was a place for artillery during the Civil War, it overlooks the Atlantic Ocean and always makes me think of mermaids and underwater civilizations.
What story ideas did those names give you? Visit www.charlestononly.com for an insider's look at this beautiful place we call home. Perhaps you'll find the setting for your next book.
Vinspire Publishing website:  http://www.vinspirepublishing.com/
On Twitter: https://twitter.com/vinspire2004
On Facebook: https://www.facebook.com/VinspirePublishing/
Giveaway
Everyone who comments is will be entered into a drawing for five YA books of their choice and a $5.00 Amazon Gift Card.