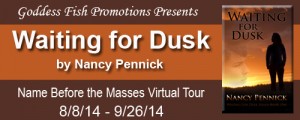 This post is part of a virtual book tour organized by
Goddess Fish Promotions
. Nancy will be awarding a $10 Amazon Gift Card and a PDF or mobi copy of Waiting for Dusk to a randomly drawn winner via rafflecopter during the tour. Click on the tour banner to see the other stops on the tour.
What Kind of Writer am I?
Since I don't drink coffee or smoke cigarettes I can't paint you a picture of my desk filled with those things. No coffee rings or a collection of half-filled mugs surround me. A cup of tea is more my style. Picture me sitting at a computer desk with clutter around me…necessary clutter that is.
I write during the day at my computer in a room off my kitchen. I love writing in the mornings but life gets in the way. Sometimes I have to break away and finish up in the late afternoon. I have no set goals. I write what's stored in my head for the day–if that makes sense. I'm not happy until I get it on the printed page.
So that leads to the question what kind of writer am I? I guess it starts all in my mind. Waiting for Dusk literally happened overnight. I'd just returned from a vacation at the Grand Canyon. I was watching a PBS series on National Parks that contained a lot of history. I thought it would be fun to have a girl move between the past and present. The story stuck in my head. The next day I began to write.
I map out my main characters, their names and relationships first. That is usually kept in a folder I call "Notes". Most research is done on-line and I keep those things in a folder with the book's title. I know my major plot points, how the story will end, but I plan out each section as I write. Sometimes things change for the better. A secondary character may take on a life of his/her own as in Waiting for Dusk. Erin was just a means to an end when I created her. Suddenly she was whispering in my ear that she wanted a bigger part. Tyson wanted to be darker, not the nice kid next door. That's the fun of writing.
I don't write the whole first draft from beginning to end without stopping. Some authors do. I have to reread my story as I go along to make sure I didn't miss any plot points that need to be explained later in the book.
I had a high school student ask me how I keep track of all my characters. I told her they were all in my head and she gave me a look of shock. I explained we're all different and everyone should use what works best for them.
So far my young adult novels are the only ones that are published. I have a few Middle Grade or Preteen in the works and would like to write some New Adult. The fun of writing is that you can let your mind go anywhere you wish. You can stay in reality, time travel in science fiction, have elves battle trolls in fantasy…the world is yours for the taking. I enjoy writing what I'd like to call fantasy or magical realism. I hope the reader can picture themselves in the every day world I create and then all of the sudden…a fantasy life happens.
Waiting for Dusk is the first of my three part series. My character starts off as a young sixteen year old girl who grows up over the course of the series and learns what is important in life. Family, friendship and love. Those are important ingredients in my stories. And maybe the best answer to why I write and what kind of writer I am.
Read a book.

Fall asleep.

Meet a boy.

Is it real or just a dream?

Katie's everyday life suddenly turns exciting when she travels back in time and meets the boy of her dreams. Thinking of nothing else, willing to leave the real world behind, she's determined to find out if it's all a dream or not. Returning again and again, Katie almost has her answers until one day her precious book goes missing.
Enjoy an excerpt:
At that moment, there was a tap at the window. The girls grew quiet and all turned toward the window. It was nearing dusk and hard to see.
"Probably some creature," Ruthie said casually.
Then there was a tap, tap, tapping sound again.
"Unless it knows how to make a rhythmic tapping sound, I don't think it's an animal. I'm going out there to see," said Katie.
"Not a good idea!" Lucinda shouted after her.
By then Katie was down the hall and out the door. The warm night air hit her face. It felt good to get out of Lucinda's room. It was closing in on her, especially after the strange attack on Anna.
Katie was deep in thought, when she heard a sound. A footstep? She spun around to see Drew standing there. "Oh, I didn't mean to startle you, Miss Kathryn. You did say you were staying at the boardinghouse and I thought I'd come to see if you are comfortable. If you have everything you need."
That's a good line, Katie thought. He was so handsome in the moonlight she could have stayed in that spot forever. Drew walked over to her. "I have never seen anyone as beautiful as you."
"Lights out!" Mrs. Johansson called in the distance.
Katie couldn't help it. It was her dream after all. She fell into Drew's arms and kissed him. He kissed her back. They seemed to melt into each other as one. Right then and there Katie wished that it was not a dream and that it would never end.
About the Author: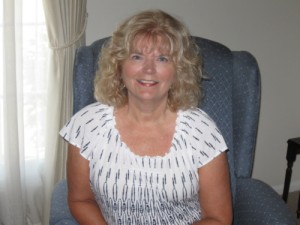 Born and raised in Northeast Ohio, Nancy currently resides in Mentor, Ohio with her husband and their college-age son, plus a delightfully entertaining lovebird. Her writing is influenced by all the years of working with young people as a teacher and raising her own son. When not writing, Nancy loves to travel with her husband and enjoys a good cup of tea. Waiting for Dusk is the first in her three book series. Call of the Canyon and Stealing Time continue the story of Kate and Drew.
@npennick ~ Facebook ~ Blog ~ Amazon Author Page
Buy the book at Amazon, Barnes and Noble, Publisher, Smashwords, or Kobo.