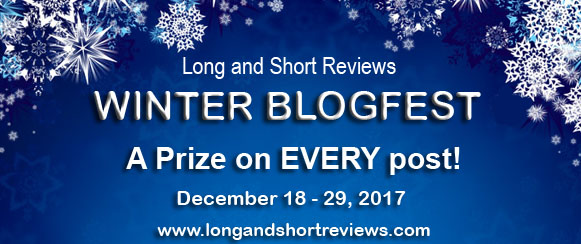 This post is part of Long and Short Reviews' Winter Blogfest. Leave a comment for a chance to win one eBook of Double Negative and a bonus Christmas short story ( also eBook).
 Christmas 2017
It's that time of year. Countdown to Christmas. We're about to tuck another year away in the archives. This holiday always sends me scurrying to find my favorite stories—the classics that everyone knows, the timeless tales that teach us important life lessons. I have several favorite stories, but there are three that I never fail to pull off the shelf in December.
All I need to read are the opening lines of O'Henry's The Gift of the Magi, and I enter the world of selfless love that belongs to Della and Jim. Or I read Marley's name, and Scrooge's ghosts rise up and make me take account of my deeds, good and bad. Bring on the story of redemption. Hans Christian Andersen's, The Little Fir Tree helps me set aside my grumbling discontent. Live for the moment the story tells us. Enjoy what you have.
Here are the beginnings of my favorite Christmas stories. Each one is so different and each one bears the signature style of the author and the time they set down the words.
Do you have others you return to when this holiday comes each year?
The Gift of the Magi
ONE DOLLAR AND EIGHTY-SEVEN CENTS. That was all. She had put it aside, one cent and then another and then another, in her careful buying of meat and other food. Della counted it three times. One dollar and eighty-seven cents. And the next day would be Christmas.
A Christmas Carol
Marley was dead: to begin with. There is no doubt whatever about that. The register of his burial was signed by the clergyman, the clerk, the undertaker, and the chief mourner. Scrooge signed it: and Scrooge's name was good upon 'Change, for anything he chose to put his hand to. Old Marley was as dead as a door-nail.
The Fir Tree
FAR down in the forest, where the warm sun and the fresh air made a sweet resting-place, grew a pretty little fir-tree; and yet it was not happy, it wished so much to be tall like its companions— the pines and firs which grew around it. The sun shone, and the soft air fluttered its leaves, and the little peasant children passed by, prattling merrily, but the fir-tree heeded them not. Sometimes the children would bring a large basket of raspberries or strawberries, wreathed on a straw, and seat themselves near the fir-tree, and say, "Is it not a pretty little tree?" which made it feel more unhappy than before.
Sixteen. On the path to prison. One last chance.
Will Hutch McQueen take it?
Touching but gritty, this young adult story will grab your heart and hold you in its clutches.
About the Author: C. Lee McKenzie has a background in Linguistics and Inter-Cultural Communication, but these days her greatest passion is writing for young readers. Some Very Messy Medieval Magick is the third book in the time-travel adventures of Pete and Weasel, with Alligators Overhead and The Great Timelock Disaster being the first two. Sign of the Green Dragon, another book for young readers, jumps into ancient Chinese dragon myths and a quest for treasure. She has published four young adult novels: Sliding on the Edge, The Princess of Las Pulgas, Double Negative, and Sudden Secrets. When she's not writing she's hiking or traveling or practicing yoga or asking a lot questions about things she still doesn't understand.
Buy the book at Evernight Teen.