New Year's Eve, Fort Lauderdale, 1
987
.
Girls with snake eyes and crocodile 
stilettos
 teeter across the boardwalk like acrobats, their laughter high and frantic since we are only one hour away from midnight. Strobe lights from clubs wash our faces with green and red lights, and someone in an alley is already throwing up. 
Josh, t
he boy I love
,
 is walking six feet ahead of me with another girl, Claudia, who
m
 he just met at the hotel pool. Claudia looks like Julie Christie from a Russian movie I saw on the plane, but if possible, she is even more beautiful. I am devastated. The boy in front of me, an ordinary boy wearing a Miami Dolphins sweatshirt, jeans and red high top sneakers, suddenly sways and falls onto the boardwalk. Something shiny and hard falls out of his pocket and suddenly the crowd on their way to celebrate just stops. Freezes. No one says a word as the boy's revolver lies 
next to an abandoned carton of popcorn. A gun. I've never seen a real gun before.  For a moment I think it's a toy until a girl starts screaming and everyone
, including Josh and Claudia, 
run like hell. I stand there, unable to move, curious and strangely not scared. Perhaps it's because my heart is broken. The boy on the ground rubs his head, stretches his arm and takes hold of his weapon. He slips the 
it
 back in his jacket
 as comfortably as if it were a wallet
, stands up, dusts off his pants, and continues to walk into a pinball arcade. The moon is as silver as his gun. My life should be changed, but it's the same.
Leave a comment for a chance to win an "I Love NY" T-shirt.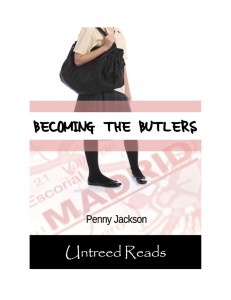 Websites: www.pennybrandtjackson.com