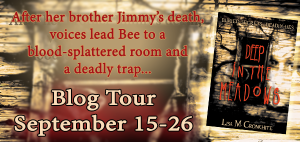 This post is part of a virtual book tour promoting
Lisa M. Cronkhite
's
Deep in the Meadow
. Enter to win a $10 Barnes and Noble gift card, an ebook of
Deep in the Meadow
, and signed swag.
Writing as a Coping Skill
Confession. I only write to cope with my real life issues. Sure I love to write, but I mainly do it to live a healthy lifestyle. With so much crap in the world today, all you want to do is retreat in your mind and think of nicer, calmer things. Anything to get your mind off of what's bothering you most, or that you're bored and restless and want to escape just to pass the time. I think everyone can relate to that, at least. Writing can do that for you.
My first Bipolar episode started with a "do not enter" sign in my mind. Yet I was always ready to go through the EXIT ONLY doors. I still want to escape through those doors sometimes. We all have doors/walls we put up to defend ourselves from getting hurt.
But what if you keep hurting yourself over and over again just to NOT inflict pain on others? What if you were so picked on, hurt, called names that you didn't like, chased down all the way home and had to fight no matter what? I got into a lot of fist fights when I was young. I had to, I was always being confronted.
I kept running though. I keep running from "her," but in a different way. I write her down and chase after her like a dog with a bone, growling in her face, there! I'd give her a name like Katrina. I'd talk like her too, pretending I was someone else. I would really get into character!
Anyway, I was pushed and pulled into a million different directions in life. Writing is where I can twist the truth and change all the voices in my head and put all of them to good use. Writing a story can be amazingly fun if you put your mind to it. Write those feelings out into a story or poem or whatever you form it to be.
And you know what the coolest part is? You can go back and revise, add and subtract all you want, keep building it, make it go to the darkest alleys of New York, or the highest towers of whatever city you make it. It's an underworld city? Oooohhh, now there's a book to write!
Can you write about the facts and twist them into something it's not? Sure! That's what fiction is all about. Ideas are everywhere. Turn those ideas into something else, a story…or poem…or journal down one girl's journey. I assure you, it will be worth it.
Bianca "Bee" Thompson's brother, Jimmy has been dead for ten months, yet she still feels his presence lingering. And one question haunts her: Was Jimmy's death an accident?

Probing into the events on the night of Jimmy's death, Bee hears strange voices. The voices lead her to a blood-splattered room, a terrifying threat, and a deadly trap. Is Bee on the trail of her brother's murderer, or is she entangled in a totally different and much more diabolical plot?
About the Author: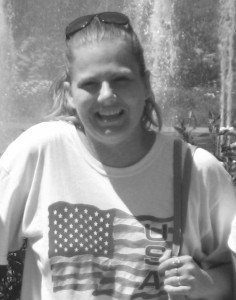 Midwest Author Lisa M. Cronkhite's love for writing started when she was a teen, journaling of her torrid romance with her first boyfriend then and now husband of over two decades. She picked up writing again after her first bipolar episode and psychotic break when her doctor recommended it as a coping skill. Once again, with pencil in hand, Lisa dove herself into crafting poetry. Through the years, Lisa has published her poems in print and online magazines such as Poetry Repairs, Grey Sparrow Press, Sacramento Poetry Center, Poetry Salzburg Review and many more. Lisa also has short stories in magazines like Suspense Magazine and YA Fiction magazine Suddenly Lost in Words.
Her novels include Dreaming a Reality, Demon Girl and Deep in the Meadows. Disconnected is her fourth novel. Lisa is currently working on her next novel, Purple Haze.
Blog ~ Facebook ~ Twitter ~ Goodreads
Buy the book at Amazon or Leap Books.