Long and Short Reviews welcomes Jill Elaine Hughes, author of Zombie, Incorporated, a YA/New Adult dystopian fantasy that was recently released. Jill will be giving away two prizes: a $25 gift card (international) and a Kindle 6″ (US only because of shipping restrictions). See the Rafflecopters at the end of this post.
Jill assured me that it's not a typical zombie novel–it's more psychological, tapping into how young people who are just stepping out into the adult world find that it's nothing like they've been led to expect.
"It also ties in with how soulless the working world has become—and how it can turn even the most enthusiastic, bubby people into zombie-like automatons. (Or maybe even real zombies!)" she said.
Jill told me that she was a child of the 80s when "free writing" was a big trend, so she had a lot of elementary school teachers who made creative writing part of their lesson plans–between the third and seventh grade, she spent almost half the school day writing stories and plays.
"I feel strongly that having so much support and encouragement for creative writing when I was in school helped me become the full-time professional writer I am today," she said. "I've been writing professionally, i.e. for money, ever since college, which would make it about 20 years now."
She's still very well-connected to the person she was as a teen and young adult and that connection heavily influences her writing.
"They were very hard years for me for a lot of reasons," she explained, "and as a result they shaped the person I eventually became. I also had a very unconventional upbringing, which I think drove me to eventually become a writer—if it had been more 'normal,' per se, I'd have probably ended up selling insurance or something. My own parents also made a lot of poor choices that impacted me and my siblings very negatively at the time. Though I don't blame my parents for what they did way back when, as a parent now it makes me very mindful of the choices I'm making, and how they impact my kids. So that mindfulness also keeps me very connected to my teenage/young adult self."
Jill was an early reader (she could read by the time she was 3) and gravitated to adult books by the time she was 9 or 10 because she was very mature for her age. She was very choosy about young adult literature, but she did like Judy Blume and Jane Yolen.
"They couldn't be more different from each other. Blume writes kitchen-sink realism, while Yolen focuses more on creating fantasy worlds," she said.  "But both authors get at some universal coming-of-age truths, which I think is essential for anyone writing for this audience.  In ZOMBIE, INCORPORATED I was aiming for a very harsh, realistic take on what it's like to be a working-class kid in the decaying Rust Belt—but with a dystopian/fantasy twist. You're seeing both Blume's and Yolen's influence there. I also was a fan of writers like Stephen King, Henry Miller, Lurlene McDaniel, Madeleine L'engle, and Jack Kerouac as a teen."
If she had to pick only one favorite author, however, it would be Jane Austen.
"I really think that nobody has ever surpassed her in terms of writing about young love and establishing yourself as an independent adult," she said. "You could argue that she single-handedly created both the romance genre and the young-adult genre. There's a reason she's still so popular almost 250 years after she died!"
Pretty much all of her writing, either directly or indirectly, comes from her own experiences growing up.
"While I'm not always recreating actual events from my life (though there certainly are some cases where I do that), I am always mindful of how I thought, felt and acted between the ages of say, 14 and 25. I usually write in the first person, which requires me to get inside my characters' heads—-and thinking back to the person I was at that age helps a lot with that," she told me.
"What challenges do you think teens face today that you did not?" I asked.
"I think cyberbullying is really awful. Time was you only had to deal with bullying when you were at school. But now it's 24/7, and the kind of stuff that happens online is way worse than anything that happened to me way back when. (And I was a major target of bullies when I was a kid, too). I even get cyberbullied on social media now—as an adult— from time to time.  The constant online media environment puts so much pressure on kids to be 'on' and 'cool' at all times—you never have a chance just to unplug and be yourself."
About the Author: JILL ELAINE HUGHES is a professional journalist, playwright, memoirist, and fiction author. She has written for the Chicago Tribune, Chicago Reader, Washington Post, Cat Fancy magazine, New Art Examiner, and numerous other media outlets. Her plays have been widely published and produced by theaters in New York City, Chicago, Los Angeles, Seattle, Boston, Atlanta, San Francisco, the United Kingdom, and Australia. She is also the author of several New Adult fiction books. Ms. Hughes also writes erotic fiction under two pen names: Jamaica Layne and Jay E. Hughes.
twitter.com/jillehughes
https://www.facebook.com/pages/Jill-Elaine-Hughes/143011855875936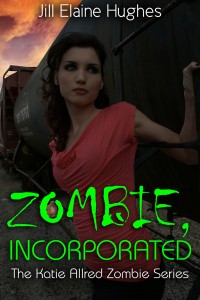 ZOMBIE, INCORPORATED
Twilight. With zombies.
Eighteen-year-old Katie Allred is socially awkward and unpopular at school. Katie's new after-school job at the Zimble Box Corporation draws her into the complex social strata of high school cliques and backstabbing friends in ways she never imagined. Katie soon discovers there's something very strange about the "in" crowd at school—and about her employer, too. Shortly after starting her new job, the Contagion breaks out, plunging her town and the entire nation into chaos as zombie shadow forces come out into the open, ravaging the streets. Katie goes into hiding and her parents disappear, along with almost everyone else she knows.
But Katie soon discovers she has special powers that help her survive. She's a Beacon, someone with the innate ability to help zombies produce children. It's a power her employer — and what little remains of the U.S. government — both want to exploit for their own ends. Not only that, it runs in her family—which has a secret past Katie never knew about until now.
Enter Agent Morehouse of the FBI Special Zombie Control Unit. A reformed zombie working undercover, he suppresses his urge to eat human flesh in order to serve and save humanity. But Agent Morehouse is attracted to Katie, and she to him. Even as they fight zombies the world over, they must fight their intense attraction to each other, hoping to keep Katie from suffering Agent Morehouse's terrible zombie fate.
Barnes and Noble                      Amazon                          Smashwords                        Sony                        Kobo                          Omnilit
a Rafflecopter giveaway

a Rafflecopter giveaway