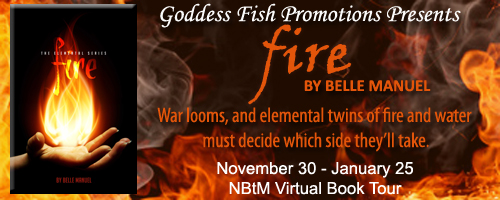 This post is part of a virtual book tour organized by
Goddess Fish Promotions
. Belle will be awarding $50 Amazon or B/N GC to a randomly drawn winner via rafflecopter during the tour. Click on the tour banner to see the other stops on the tour.
As an Author, What Scares Me the Most is…
There are multiple things that terrify me as a writer: more rejection letters from publishers, my readers hating what they've purchased, my publisher not wanting my second book in this series, the list goes on. But of those, the biggest revolves around feedback about my book.
No matter how many times I tell myself that someone will hate my writing, it still bothers me to think about it. I handle the criticism well, I can take it positively, but not personally, and yet I still get a twinge of fear when someone buys a copy. What if they hate it? What if they hate these characters that I worked so hard on for so long, the people that came to my mind and told me their stories so that I could write them down? It seems shallow, I'm sure, but it's a true fear. I will get super confident about something I've written, and then get terrified about whether it's really worth letting someone read it. It's crippling to say the least, because I don't trust anyone to read the things I've written, hiding on my computer within secret files of files.
I actually got my first negative review of my book not too long ago, and I wasn't as hurt as I'd thought I'd be. It bothered me, because maybe because of their review, no one will purchase my book. Even though I have 10 other positive ones that I've read, that one negative one sticks with me. I believe that will go away with time, though, or maybe it'll become a way that I make sure to keep my mistakes to a minimum while writing my future stories. Maybe the fear of having my writing be disliked will motivate me to evolve my style of writing as I age, instead of being stagnant like some writers.
This fear is actually what makes me want to be so in touch with my readers. I have an Instagram, FaceBook and a Goodreads blog that I moderate myself, and respond to any and all feedback and questions there. I feel that will help me lose that fear, because no matter what I do, someone will dislike my writing. I mean, if there are people out there who don't like Harry Potter, then there are bound to be many people who don't like my stories.
Though, my parting advice is this: don't let your fear of anything stop you from trying your goals and dreams. Without dreams, we have nothing to try for, even if it's something minor in the grand scheme. Never give up, and never give in.
Chelsea and Chad are twin fire and water elementals, humans born with the ability to control the elements. Chelsea struggles to control her flames, while Chad finds himself under the control of dangerous people. War draws near, and brother and sister must choose a side, even if it's against each other.
Enjoy an excerpt:
I watched as West sized me up, and I tried to do the same. Maybe his bulk could be his weakness, I told myself. With as much muscle as he had, there was no way he could run as fast as I could. I kept that in the back of my mind as I lit myself light up entirely. West laughed and lit up, too, but he burned hot, bright blue-white flames while I stood in cooler yellows and oranges. I didn't let it shake me.
He charged, ready to tackle me. I looked quickly and saw an opening for me to run past him. I did, and as I passed him, our flames brushed together, and I pushed my fire through his. He groaned loudly and growled, pushing his flames out further. This time, I charged at him, taking advantage of his anger. He tried to grab at me, but I was too quick as I slipped through his opened arms. I had to leap up and back, fitting right up through the gap of his closing arms and beyond. As I was in the air, flying away from West, a knife thin tendril of fire lashed at my side. I hit the ground hard, but immediately shot a continuous stream of fire up at him. His flames may have been hotter, but mine were easier to control.
I didn't let up as he ran at me and finally a breach in his flames appeared. I rolled over and kicked him with a fireball to increase the chances of doing damage. A cracking sound echoed as my foot met his rib cage and then West let out a horrible yell. He fell to his knees on the ground in front of me, his pained eyes shooting over to Blaze. I pushed myself away from him, worried that he was somehow faking the pain.
Blaze whistled loudly, signaling the end of the first round.
About the Author:
Born in Louisiana, Belle Manuel spent her early years learning to be a good Cajun girl before moving to Texas. She visits Louisiana often, enjoying the quiet break from the active Texas life. When not writing, Belle enjoys crochet and crossword puzzles. Her debut novel, Fire, was released July 1st of this year.
Belle first began writing in middle school, where her first writing job was getting paid by other students to write stories for them. She enjoyed turning their random requests into interesting stories, and the money she made helped fund her reading habit.
Fire began with an idea, but quickly took on a life of its own and changed as Belle wrote it. With all the adjustments and improvements, it eventually evolved into The Elemental Series.
Facebook | Goodreads | Author Amazon Page | Publisher
Buy the book at Amazon, Barnes and Noble, Kobo, or Amberjack Publishing.