This post is part of Long and Short Review's 9th Anniversary Celebration. Enter the Rafflecopter at the end of the post for a chance to win a $100 gift card or other prizes.
Dear LAS Readers,
Here are three poems celebrating (or at least inspired by) the month of August.
Enjoy,
-Philip Hoy
Author of The Dream Diaries: Evelyn Hernandez, Book 2
Here in August
by Philip Hoy
Here in August,
The air
Pasta hot,
Palm sweating
As it nears the pot.
Here in August,
Pulled
Naked and creased,
Sun brown skin
From clinging sheets.
Here in August,
Slow train
At the crossing,
Wheezing,
Never stops.
Summer Sketch
by Philip Hoy
"So much depends upon…"
A girl in a red 'kerchief
Crouched on a sunlit path
Amid the surefooted trunks of trees,
Clothed, draped, smothered in green,
And the soft tap of acorns
Falling on leaves
With a brush of bark
And a silent scuttering
Of felt-tipped feet.
Walking Home from a Night Swim
by Philip Hoy
Without contacts
This lensless haze
Like eyes open under water
Rainbow round the streetlights
And the pool on you
Like bleached whites
No softener
Sun dried
On the line
And there's Mom with an armful
Not afraid in the warm dark
With Hansel about
His ears up as we cross the lawn
Then dinner on the coffee table
Try to watch TV
Rub our eyes
And we
Cry and cry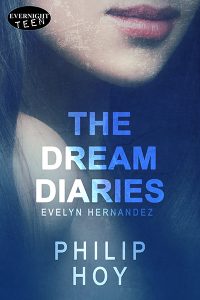 The rumor at school is that after the varsity quarterback broke her heart, Evelyn Hernandez broke his hand. Then she demolished his car, beat up his girlfriend, and smashed all the windows in his house—or so the story goes. Some say that under the long hair and blunt cut bangs, beneath the cute dresses and colorful tights, and behind the pretty face and big brown eyes … hides a black-hearted, spell-casting, evil witch.
Only Evelyn doesn't care what people at school say, or think. She couldn't be happier. Her bullies have been brought to justice, her parents trust her, and she has a boyfriend who adores her. She's even returned to drawing in her journal … but that's when the nightmares begin.
Evelyn believes her violent dreams are messages from the future. Something terrible is going to happen at her school and only she can stop it—but how, and at what price?
About the Author: Philip Hoy is a high school English teacher by day and a short-story author, novelist, and poet by night. When he is not creating lesson plans or grading essays, he is writing. He lives in Southern California with his wife Magdalena, also a teacher.
Website | Blog | Facebook | Twitter
Buy the book at
Amazon
.