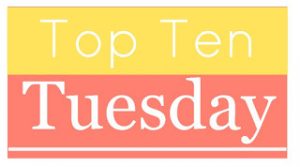 Hosted by the Broke and the Bookish
Other than science fiction and fantasy, mystery is my favorite type of young adult and middle grade book. It's fascinating to follow a kid or teen around as they try to solve a crime or figure out why a certain part of their life doesn't make sense.
There many incredible YA and middle grade mysteries. Today I wanted to highlight a few of them that I think are the cream of the crop. If you've never tried one, this is a wonderful place to start. If you have read something awesome that isn't on this list, I'd love to know the title and author!
The first five books were written for middle grade readers, and the last five are for teenagers.
1. The Eleventh Hour: A Curious Mystery by Graeme Base.
I have three words for you: elephant birthday party. Thinking about animals having and attending birthday parties was nearly as much fun as trying to help Horace the Elephant figure out who ate all of the food before his party even started.
2. Space Case by Stuart Gibbs.
Imagine growing up on a moon colony and never being allowed to go outside! When one of the lead scientists was murdered, Dashiell tried to figure out what happened. I love this character's voice and how persistent he was in the beginning when the adults in his life thought that their colleague's death had been an accident.
3. Timmy Failure: Mistakes Were Made by Stephan Pastis.
Not all amateur detectives are necessarily good ones. It was funny to watch Timmy try so hard to solve his case while missing many important clues. I also enjoyed his character development. The author trusted his audience to notice how Timmy changes from one mystery to the next, and that made this a great read.
4. The Tail of Emily Windsnap: Book 1 by Liz Kessler. 
Emily's family wasn't like most other families. Before she could go on any adventures of her own, she had to figure out why her parents had never taught her how to swim and why her body did such odd things when she finally did get into the water.
5. Eight Grade Bites #1: The Chronicles of Vladimir Todd by Zac Brewer.
I'm a sucker for a good vampire story, pun intended. So I was curious to see what life would be like for a fourteen-year-old half-vampire who was desperately trying to conceal his identity and avoid the vampire hunter who wanted to find him.
What surprised me the most about Vlad was how funny he was. I'd expect a lot of things from a vampire, but a great sense of humor isn't one of them.
6. Thirteen Reasons Why by Jay Asher.
The Netflix retelling of this story was all the rage earlier this year. While I didn't end up watching it, seeing the advertisements for it did make me curious about reading the original.
I had mixed feelings about Hannah's decision to make the tapes in the first place since some of the people she left messages for were responsible for such minor errors.
With that being said, she was a complex character whose flaws made her incredibly interesting. I also liked the message the storyline gave about how our actions can affect others far more than we might have originally guessed.
7. Monster by Walter Dean Myers.
A sixteen-year-old has been put on trial for murder. While he waited for the justice system to decide his fate, he sorted through all of the events in his life that lead him to this moment.
The mystery of what really happened that night kept me guessing. I have strong opinions about who killed the victim, but every reader has chance to make up their own mind about the events of that night and whether the main character is guilty or innocent.
8. The Cellar by Natasha Preston. 
I normally shy away from books about people being abused, but this one grabbed my attention as soon as I saw the cover.
Fair warning: this is a scary tale about a teen girl being kidnapped and locked away in a cellar with several other young women. Her reaction to those events kept me up at night. I couldn't look away until I'd figured out why she was kidnapped and if she'd ever see her family again.
9. The Everafter by Amy Huntley. 
Imagine trying to solve your own murder after you've died and gone to the afterlife. This was such a unique premise that I couldn't stop thinking about it.
I especially enjoyed the plot twists. Obviously I can't say anything about them without giving away spoilers, but Madison's new home wasn't quite as simple as it sounded. It was amusing to figure it all out and try to piece together her final moments before she did.
10. All American Boys by Jason Reynolds and Brendan Kiely.
There were two main characters in this tale. One of them was brutally beaten by the cops. The other witnessed that attack and so knew immediately that the official story that the local police department later released about what happened was false. Their responses to that night not only changed their lives but the lives of everyone in their community as well.
I loved the tension of it all. It didn't let up for one single second, so I changed my mind so many times about what the characters were going to do next and whether the truth would ever come out.