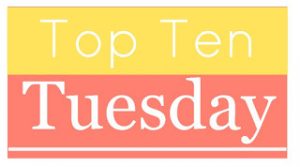 Hosted  by the Broke and the Bookish
I didn't realize how many young adult, middle grade, and childrens' books I read in 2017 until I typed up this post. Wow, there were a lot!
Five of the books on this week's list were stories I reviewed for Long and Short Reviews YA over the past year. Click on their titles below to learn more about why I loved them each one of them so much. The other half were tales I read for the sheer fun of it, so I'll go into a little more detail about why I enjoyed them in today's post.
1.  Bats at the Library by Brian Lies.
Not only were the illustrations utterly gorgeous, I loved the idea of the library being such an appealing place to visit that a whole family of bats would sneak in to visit it after hours.
2. "The Hate U Give" by Angie Thomas.
I know I've talked about this book in at least one previous TTT post, but it was a wonderful read. It had so many worthwhile but also difficult things to say about racism, justice, and how some parts of society respond when young black kids are killed.  I've been recommending it to everyone I know since I finished reading it.
3. High Summons by Eli Celata.
I was mesmerized by the idea of someone spending the first eighteen years of their life with no idea that they had magical powers. This was the first of many surprises for Jon.
4. "The Hired Girl" by Laura Amy Schlitz.
Confession: Joan was one of those characters that's honestly hard to love at times. She had very strong opinions about how life was supposed to work, and she didn't always share them in diplomatic ways.
There was still something appealing about her, though, especially when she decided to take charge of her life after she realized her family wasn't going to be at all supportive of her dream to attend high school.
5. Princess Rosalinda and the Color Pink by Marcel Szenessy.
This is something I wish had been around when I was a kid. The message in it was as funny as it was important.
6. "A Monster Calls" by Patrick Ness.
I should warn you in advance that I cried my way through the second half of this book. The plot was about a young boy whose mother has been diagnosed with a disease that was now killing her. After meeting a monster, he decided to do anything the beast said if it would spare his mother's life.
7. Elphie and Dad Go on an Epic Adventure by Hagit R. Oron and Or Oron.
Everything about this picture book was fun. It's also something I wouldn't mind reading aloud over and over again, and that's always a bonus for this genre.
8. "Allegedly" by Tiffany D. Jackson.
The premise of this story was very loosely based on a real murder case about a baby who died after being left alone with an older child. The plot began when Mary was a teenager living in a group home many years after the baby's death. After discovering she was pregnant, she only has a few months to prove she didn't murder that baby when she was alone with it. If she can't prove her innocence, her own baby will be taken away from her as soon as it is born.
This was one of the most suspenseful things I've read in a long time. While I'm still not entirely sure what I think of the ending, I loved reading it and coming up with my own theories about how it would end.
9. A Colorless Blue by M.W. Muse.
To be honest, this was another tear-jerker. No sooner did I figure out how I thought it was going to end, though, than the narrator completely surprised me.
10. "The Nest" by Kenneth Oppel.
This was the best middle grade story I read in 2017. The main character had a sick baby brother, and he made a strange deal with a talking wasp who promised to heal the baby.
The plot only became odder after that point. I can't say much about it without giving away spoilers, but I did enjoy seeing how that promise played out and what happened when the boy agreed to a deal that he didn't understand.
What were your favorite young adult books of 2017?