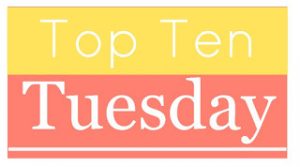 Hosted by the Broke and the Bookish
A few weeks ago, I wrote a Top Ten Tuesday post about some of my favorite moms in young adult fiction. Now that Father's Day is just around the corner, I'd like to talk about my favorite dads and father figures in this genre.
1. Jack from Eowyn Ivey's The Snow Child.
Jack and his wife had been childless for decades before this tale began. After they built a child out of snow on a whim one day, their lives began to change in ways they never could have imagined. I enjoyed the fantasy elements of the plot as much as I did the more serious and sad parts of it.
2. Mr. Fox from Roald Dahl's Fantastic Mr. Fox. 
Every time I reread this book, I remember how hard Mr. Fox worked to take care of his family. He always made sure they had something to eat, even if he had to sneak into several different farms to find their dinner.
3. The father from Ann Taylor's Baby Dance.
This was such a joyful picture book. It makes me grin every time I reread it because of how much the father in it loved dancing with his little girl while her mom slept.
4. Fred and Clark from David-Matthew Barnes' Wonderland.
After Destiny's mother died of cancer, uncle Fred and his husband took her in. What surprised me the most about these father figures is how they made the transformation from two people who didn't necessarily seem all that interested in becoming parents to two people who really loved their new daughter.
5. The father in Thanhhà Lai's Listen, Slowly.
Mai, the main character, went through a selfish stage in this story. As much as I liked her father in the beginning, I only grew to appreciate him more as I saw how he guided his daughter to see the world from other people's perspectives. That isn't always an easy thing to do with kids her age, but he did it wonderfully.
6. Bobby from Angela Johnson's The First Part Last.
Bobby was both the main character of this book as well as a single, teen dad. When his girlfriend experienced severe complications from the pregnancy, he had to figure out how to raise their daughter alone and plan a good future for both of them.
7. Dad and Papa from Jessica Verdi's My Life After Now. 
Lucy's dads were so loving and supportive. I was especially interested in how they approached conversations with her about her adoption and her diagnosis later on in the plot. There was no doubt in my mind that they were going to face her future together as a family.
8. Robert Quimby from Beverly Cleary's Ramona and Her Father.
Robert was always patient and affectionate with his kids. It was also amusing to see how he reacted to some of Ramona's creative hijinks in this book. Based on his reactions, she clearly got her sense of humor from her dad!
9. Ed Boone from Mark Haddon's The Curious Incident of the Dog in the Night-Time.
Not only was Ed a single parent, his son Christopher had been diagnosed with autism. Ed figured out all kinds of creative ways to help his son become independent and cope with the most challenging parts of his life. I also really liked seeing how this father and son stuck together when they went through hard times. They really cared about each other, and it showed.
10. Arthur Weasley from J.K. Rowling's Harry Potter series.
Just like his wife Molly, Arthur was an excellent parent and parent figure in this series. He genuinely loved all of the kids in his life, and he would have done anything necessary to protect them. I also really loved seeing how he interacted with his kids in general. He was a little embarrassing at times for them, but he always had good intentions.
How about you? Who are some of your favorite fictional dads?