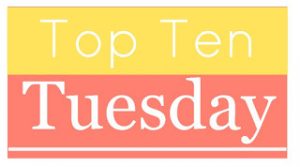 Hosted by the Broke and the Bookish
In honor of Mother's Day, I wanted to talk about my favorite moms and mother figures in young adult books. There are a lot of wonderful fictional moms out there, so it was tough to narrow this list down!
1. The mother from Kwame Alexander's Booked.
As far as I can recall, the name of Nick's mom is never mentioned in this book. She's very involved in her children's lives, though, and wants nothing more than to see them succeed in life. I loved seeing their relationships grow over the course of the plot.
2.  Maura Sargent from Maggie Stiefvater's The Raven Boys.
What I liked most about Maura was how much freedom she gave her daughter, Blue, to make her own choices even if they weren't always what Maura would have done herself. She respected her child's right to grow up and become an independent person. In this case, that was the best possible thing she could have done.
3. Kat Hall from Gayle Forman's If I Stay. 
We don't get to see as much her in this book as I would have liked, but I adored the close and loving relationship she had with her kids almost as much as I did the fact that Kat was a punk rocker when she was young.
4. Mama from JaNay Brown-Wood's Imani's Moon
Once again, this was another story where the mother's name wasn't mentioned from what I can recall. It was such a sweet story, though. I loved the fact that Mama was so supportive of Imani's desire to jump up high enough to touch the moon. The ending was beautiful as well.
5.  Frannie Lancaster from John Green's The Fault in Our Stars.
There are a million different reasons why I keep recommending this book to everyone over and over again, but Frannie is by far one of the biggest ones. I can't imagine how difficult it would be to hear that your child has an incurable form of cancer, but Frannie was so brave and strong. She couldn't have been a better mom to Hazel.
6. Marilla Cuthbert from L.M. Montgomery's Anne of Green Gables.
Marilla's transformation into Anne's mother-figure in this series was beautiful. The first time I read it, I never would have guessed that these characters would become a family or that they would have such a positive effect on each other. It makes me tear up every time I reread this tale and see how it all fell in place.
7. Mrs. Frisby from Robert C. O'Brien's Mrs. Frisby and the Rats of Nimh.
This is something I'd recommend to kids and adults alike. Mrs. Frisby is such an attentive mother. I especially loved the scenes that described how she found food for her little family. Not only were they unbelievably cute, they were full of examples of how far she would go to feed her babies.
8. Mimi and Carol from Dana Alison Levy's This Would Make a Good Story Someday.
The cross-country train trip in this tale is hilarious. I also love the way the main character's moms talk to their kids. They're embarrassing sometimes like every parent can be, but they're also really loving and interested in what's happening in their children's lives.
9. Betty from Gabrielle Zevin's Elsewhere.
The afterlife in this universe is one where you age backwards after you die. Once you become a newborn again, you are sent back to earth to live out another lifetime.
Liz, the main character, died in an accident at the age of 15. It's up to her grandmother, Betty, to help her adjust to her death and enjoy the afterlife until she's ready to be sent out again. Betty was everything a mother figure should be: loving, firm, understanding, and always ready to give her granddaughter another chance. I absolutely adored their relationship, and I didn't want their tale to end.
10. Molly Weasley from J.K. Rowling's Harry Potter series. 
 Not only was she warm and nurturing to all seven of her biological kids, she took Harry under her wing and looked after him like he was her long-lost eight child from the very first time they met at Platform 9 and 3/4. She was by far my favorite adult character in this series because of how kind she was to Harry.  If only she could have raised him from the beginning!
 Who are some of your favorite moms in the young adult genre?