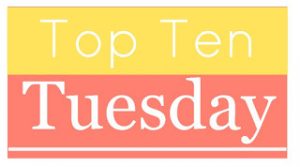 Hosted by the Broke and the Bookish
My extended family includes several households who were or still are foster parents. As a result of this, I have multiple relatives who were foster kids when they first joined our family.
Today I wanted to highlight some of my favorite fictional books that take a look at how this kind of experience affects someone's childhood. (The non-fiction books about foster care I like could easily fill up their own Top Ten Tuesday post! Maybe someday I will get the opportunity to do that.)
There definitely aren't nearly enough stories out there on this subject, but I enjoy the ones that have been written. Here's hoping there will be many more of them in the future.
1. Kinda Like Brothers by Coe Booth.
The entire family has to adjust every time a new foster kid is added, especially when he's much older than the kids who have joined that family in the past. I've been a huge fan of Coe Booth's books for several years now, and I can't say enough good things about them. Honestly, all of them are worth reading.
2. Blood Family by Anne Fine.
Trauma doesn't disappear just because a certain amount of time has passed or a kid has been adopted. What I found most interesting about Edward's tale was how much loyalty he felt towards his biological family and how much he worried that sharing DNA with his birth father meant he was destined to act like him, too.
3. Maybe Days by Jennifer Wilgocki and Marcia Kahn Wright.
Picture books aren't always only for small children. I'd recommend this to older readers, too, if they're interested. Many foster children are eventually reunited with their parents or other relatives, but this process can take years in some cases. It's nice to see the period of time when no one knows what will ultimately happen to foster kids being acknowledged so honestly.
4. Where I'd Like to Be by Frances O'Roark Dowell.
Twelve is a tough age for many people, but for Maddie it was even more difficult because of how many different foster homes she had lived in since she was very young. I loved the optimism and playfulness in this tale. It wasn't something I was expecting to find, but it was the perfect addition to the plot.
5. The Language of Flowers by Vanessa Diffenbaugh.
Sadly, not every foster child is adopted or otherwise finds a permanent family before they turn eighteen. This story explored what happened to a girl named Victoria after she aged out of foster care and had to navigate the world on her own. Her obsession with flowers and what messages they were used to send in the past only made me like her more than I already did.
6. The Sorta Sisters by Adrian Fogelin.
One of the characters in this book, Anna, was being fostered by her biology teacher. Many foster kids are cared for by relatives or people who have known them for years, and I thought it was interesting to see how this kind of placement was discussed in the plot. It can be extremely helpful to maintain those kinds of connections for kids who need to be removed from their birth homes.
7. Peas and Carrots by Tania S. David.
Foster families come in all shapes, sizes, and colors. In this case, Dess was a white teen whose foster family was black. What I enjoyed the most about this tale was how little Dess had in common with her new foster sister, Hope, when they first met because of how loved and sheltered Hope had always been. It was thought-provoking to see how Dess reacted to finally living in a safe home and how Hope reacted to some of Dess' stories about her past.
8. Murphy's Three Homes: a Story for Children in Foster Care  by 
This story was so cute! I also appreciated how nurturing Murphy's final home was when he worried that he was a bad dog or that they weren't going to keep him. Those scenes were beautifully written.
9. Fostered by Vanessa Marie.
While some foster kids find love and acceptance in their first placement, Dante wasn't that lucky. I totally understood why he didn't think the McKinleys would keep him longterm, but I also  hoped he'd eventually realize how much they cared about him.
10. Everything on a Waffle by Polly Horvath.
The type of foster care in this tale is an old-fashioned one. I enjoyed getting a peek at how communities used to look after children who needed safe homes before Child Protective Services agencies were streamlined and well-known. Primrose herself was an imaginative girl, and I really hoped she'd finally get her happy ending by the final scene.
Have you ever read a book about a character who spent part or all of their childhood in foster care? If so, I'd love to hear about it!