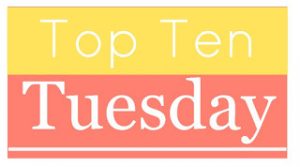 Hosted by the Broke and the Bookish
This list is a mixture of everything from middle-grade fiction to one story I'd only recommend for older teens. I never thought I'd be talking about some of these books in the same Top Ten Tuesday Post, but that's the beauty of asking for unique suggestions!
1. A Monster Calls by Patrick Ness. Yes, there's a monster creeping around in this book. No, this isn't a scary story. In fact, it probably won't be anything like you expect it to be at all. That's why I like it so much.
2. Catching Jordan by Miranda Kenneally. There aren't many teenage girls out there playing high school football. This part of the plot alone was enough to catch my eye.
3. Annie Gomez and the Gigantic Foot of Doom by Jay Cutts. Not only is the title a lot of fun, the idea of the main character using a secret weapon but still failing to stop the bad guys is almost unheard of!
4. Stolen: A Letter to my Captor by Lucy Christopher. Gemma is kidnapped and taken to Australia by a young, handsome man who has clearly been planning this crime for a long time. The idea of a kidnapper being kind and gentle really weirds me out. I still don't know what I think of this story, but it definitely is unique.
5. El Deafo by Cece Bell. This was such a fun spin on superhero stories. There have definitely been times when I've wished I could hear quiet conversations on the other side of a building!
6. Paradox Love by Dorothy Gravelle. Sometimes happily ever after ends when you're 17. Romances don't generally start with one of the main characters dying, so I couldn't wait to see what happened after that.
7. Counting by 7s by Holly Goldberg Sloan. Being unique isn't a bad thing. The main character in this book is exactly the kind of person I would have wanted to be friends with in middle school!
8. Push by Sapphire. Imagine being 16 years old, illiterate, and pregnant with your second child. Precious has everything stacked against her, but she's determined to find a way to make a better life for her and her baby. This should only be read by high schoolers due to its mature content.
9. The Graveyard Book by Neil Gaiman. I loved graveyards when I was a kid. Growing up in one, though, would have been an entirely different story.
10. The Dangerous Lives of Altar Boys by Chris Fuhrman. First of all, the cover for this book is amazing. I also love the fact that the main character makes fun of everything and everyone…even himself!