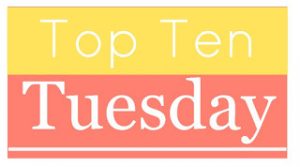 Hosted by the Broke and the Bookish
Can you believe that spring is right around the corner? One of my favorite things to do on a warm spring day is to spend an afternoon at the park. After I've played frisbee or gone on a bike ride, it's nice to sit underneath a tree and read a good novel.
These are the ten young adult books I'm most looking forward to reading over the next few months as the weather warms up.
1. The Library of Souls by Ransom Riggs.  I adored the first and second tales in this trilogy, so I can't wait to find out what the fates of all of the character will be. This is such a whimsical and original series that I can't begin to imagine how it will end.
2. Kill the Boy Band by Goldy Moldavsky.The title alone immediately makes me want to read it. Imagine kidnapping your favorite celebrity and then not being sure what to do with him once you've captured him! I couldn't stop giggling at this mental image.
3. The Family Romanov: Murder, Rebellion, and the Fall of Imperial Russia by Candace Fleming. I have been fascinated by the lives of the Romanov family for many years. It will be interesting to see if this author has dug up any new information about this case.
4. The Rest of Us Just Live Here by Patrick Ness. What do supporting characters do while the chosen one is off fighting battles? I have never heard of anything like this before. It's such a creative idea.
5. Me and Earl and the Dying Girl by Jesse Andrews. I've never read anything from this author before, but this was another time when a fantastic title caught my attention right away. It will be fun to see if the storyline is as fascinating as I think it's going to be.
6. The Crossover by Kwame Alexander. A friend of mine spent a lot time worrying about her father's life-threatening illness when we were in high school. It was an extremely difficult situation for their entire family, and so I'm curious to see how that same kind of situation will be handled by these two teenage brothers.
7. My Heart and Other Black Holes by Jasmine Warga. Depression is a terrible mental illness. The suicide pact that the main character makes when she's at her lowest point sounds so sad. I'm intrigued by the hints of a possible romance in it, though, and would like to see how that all pans out.
8. Half Bad by Sally Green. Most witches are either white or black ones. The fact that Nathan is half black witch and half white witch was intriguing. I'd like to know more about how this works and if he has any special powers as a result of his unique heritage.
9. Shadowshaper by Daniel José Older. The only thing cooler than street art is street art that starts weeping real tears when bad things happen in the neighborhood. As soon as I read that part of the blurb, I knew this had to be added to my to-read list.  
10. The Haunting of Sunshine Girl by Paige McKenzie and Alyssa B. Sheinmel. I love scary ghost stories. This one sounds like it will be full of plenty of spine-tingling moments.
What are you looking forward to reading this spring?