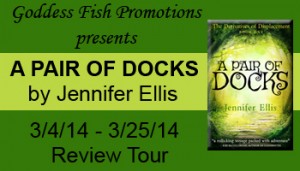 This post is part of a virtual book tour organized by
Goddess Fish Promotions
. Jennifer will be awarding a Print copy of A Pair of Docks to a randomly drawn commenter during the tour (US ONLY), and a Mobi or epub version of A Pair of Docks will be awarded to a randomly drawn commenter at each stop. Click on the tour banner to see the other stops on the tour.
Fourteen-year-old Abbey Sinclair likes to spend her afternoons in the physics lab learning about momentum and gravitational pull. But her practical scientific mind is put to the test when her older brother, Simon, discovers a mysterious path of stones that allows them, along with Abbey's twin, Caleb, to travel back and forth between their world and what appears to be…the future.

Unfortunately, they're not the only ones who know about the stones, and they soon realize their lives are in danger from a man known only as Mantis. Abbey, Caleb, and Simon must follow a twisting trail of clues that will lead them from their autistic neighbor, Mark, to a strange professor who claims to know the rules of the stones, and to multiple futures—some of whose inhabitants don't want to stay put.

It will take all of Abbey's analytical skills to unravel the secrets of the stones, uncover the threads that tie the futures together, thwart Mantis's plan, and, most importantly, keep her family alive—now and in the future.

/A Pair of Docks/ explores Einstein's Theory of Relativity, the meaning of time, the potential for parallel universes, and the boundary between science and witchcraft.
Enjoy an excerpt:
Abbey wanted to shake him. She expected this from Caleb, but not from Simon. "Oh yeah, let's get on board the ship of someone who might be trying to deal with Sinclair." She slashed quotation marks in the air around 'deal with'. "Did you miss the lecture from Mom about not accepting rides from strangers? This is like the ultimate stranger danger. Has your adrenaline replaced your brains? You've spent too much time playing World of Warcraft. What about the fact that we have no idea how to fix his computer?" Even while she said all of this, a small part of her was feeling like she would hate herself forever if she bolted back to the stones and forced her brothers to come with her. A small part of her wanted to go on board. It was actually a rather large part of her, she decided, but her rational mind had it in a firm and unassailable stranglehold. Of course they'd all watched and read The Chronicles of Narnia, Harry Potter, The Hobbit, and The Lord of the Rings, although she rather suspected that Caleb hadn't made it through The Return of the King. Of course they'd all imagined being in one of those books, or at least she expected her brothers had, and judging from the twitchy animation of their faces, she was correct. But actually committing to the absolute, and likely unsafe, unknown—which she suspected wasn't populated with elves as handsome as Orlando Bloom—when they had a clear and easy path to their safe, and not unpleasant, home was another thing altogether.
About the Author: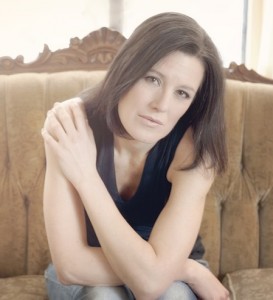 Jennifer Ellis is the author of A Pair of Docks, and In the Shadows of the Mosquito Constellation (forthcoming). She writes contemporary action-adventure fiction with a dystopic edge for both adults and children. She lives in a small ski town in Canada with her husband and two boys where she skis, does ballet, cooks, joins too many book clubs and works as environmental researcher. She blogs randomly but regularly at www.jenniferellis.ca and can be found on Twitter at @jenniferlellis. A Pair of Docks can be purchased on Amazon.com.