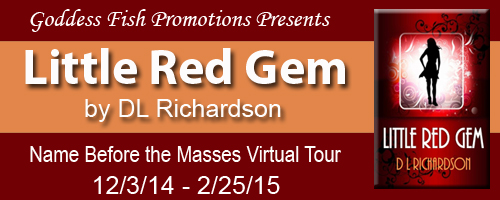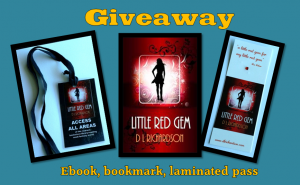 This post is part of a virtual book tour organized by
Goddess Fish Promotions
. The author will award to one commenter at every stop a prize consisting of one ebook, a bookmark and a laminated pass (the passes relate to the storyline)–be sure and leave your email address so we can let you know if you are the winner! Click on the tour banner to see the other stops on the tour.
Background of Little Red Gem by D L Richardson
Hello and thanks for having me. Sometimes novel writing is instantaneous. An idea sparks and you go off to write the book and emerge triumphant. Sometimes an idea sparks and then sits on a shelf for years until you pull it down, dust it off, and take that original idea and reshape it. That's the background to Little Red Gem. It had started out as a story about two characters named Audrey and Ruby. Audrey threw herself off a bridge and Ruby was in a car accident and somehow their souls swapped and Audrey lived as Ruby and Ruby died as Audrey. There was a love interest who was confused by the change he saw in his girlfriend, not realizing that she was someone else entirely.
The concept behind Little Red Gem has always lived like a seed in my mind. It was almost ten years later that I let it germinate. I still wanted many of the elements of swapping lives, but some parts of the story ended up very differently. And some stayed the same.
Firstly, the names stayed. I have always been in love with those two names – Ruby and Audrey. Ruby is a little red gem to her boyfriend Leo, a rock he can't live without, hence the title of the book.
Next, I really wanted to have a musical theme, so I gave Ruby and Leo the wonderful talents of singing and playing in a band. Yes, the part of me that used to sing and play in a band was bursting to have a starring role once again. And with the popularity of shows like Idol and X-Factor I knew readers would connect with this theme. And what's a musical theme without songs. So I featured a song I had written years ago, and a poem that I had crafted for the first draft of another novel of mine, Feedback. Plus I wrote a fresh song exclusively for this book which features on the book trailer. It's a song I still play on the piano and I get great satisfaction from it. But I digress.
The other element of the original idea I kept was the magic. In the original concept there was a clairvoyant who pointed out to the character that she was really dead. In Little Red Gem it is Ruby's father's ex-wife who is cast as the clairvoyant. And Ruby swaps bodies with her former step-sister Audrey. I then added in a magical curse that keeps Ruby trapped in limbo, and I added in two ghosts Anne and William to help guide Ruby through the afterlife. Some readers think these two ghosts steal the show, and I'd agree that they could have a book of their own.
The love interest from the original idea also ended up in the final book. But in Little Red Gem I gave Leo a dark mood and a dark secret, which only adds to Ruby's frustration as she seeks to find out how much he truly loves her, if at all. This need to find out the depths of his love is the driving force behind the story, so of course I had to steep him in a dark mood and secrets to make the readers ask why. But his character is still very much in line with a lot of musicians I've met over the years which is why readers are interested to find out why she's going through all this trouble. Plus the dark broody type is a typical trait in romance novels and the underpinning concept of Little Red Gem is a romance novel of sorts.
Once I'd let the original idea germinate from a seed pod into a giant oak tree and had the story written, the next issue was the ending. How do I end this book in a way that conveys everything Ruby learned, if she learned anything at all. Once more it was my background and love of music that inspired the ending. I was wracking my brain to end the book, and then Katy Perry's song "Roar" came on the radio. That was it. I had my ending. Because if this was a good old-fashioned romance, Ruby would not be the swooning princess, she would be the swashbuckling hero. So that's what I made her – a young woman who picks up a sword and a shield, not to fight monsters, but to protect her heart from being broken. Something we can all relate to.
I truly hope you enjoy reading about Ruby's mis-adventures in her quest to discover if the boy she loves, does indeed love her back.
Love can make you do crazy things as Ruby Parker discovers when she dies and returns from the grave to unearth how much Leo Culver loved her. With the aid of bad advice from a ghost who is trapped by a curse, a little bit of magic courtesy of her unsuspecting half-sister, and a televised music talent show coming to town to hold auditions, Ruby Parker makes more of a mess in death than she ever did in life. Can she fix everything before it's too late? Or will she spend eternity as a ghost, haunted by the unknown depths of love? Either way, one thing Ruby learns is that while love can make you do crazy things, it can make you do amazing things too. But at what cost?
Enjoy an excerpt:
…"I'd know if I was dead."
While I watched my two best friends walk with arms around each other for emotional support, I wrestled with accepting Audrey's version of the story. To do so meant I was dead. And dead meant I would never again speak with Leo. And there were so many words left unsaid, so much business left unfinished.
The final nail in my coffin came when a customer walked out and Audrey pushed me directly in front of the customer's path. Instead of bumping into him, I fell through him, landing on my hands and knees. My skin tingled with pins and needles from where the body had passed through me. A loud noise filled my ears, similar to water flowing from a dam. For a split second my vision blurred. Then I watched in absolute horror as my hands and legs split into millions of tiny fragments.
Audrey might have been capable of delving into her mother's magic bag to produce this neat trick, but I wasn't.
I crawled into the gutter because it seemed the most suitable place for a reluctant spirit to bawl her eyes out. Audrey was kind enough to sit beside me with her hand resting on my shoulder; although we were both apparitions the contact still registered. I forgot about being angry with her and welcomed her company.
"Okay, I'll admit this has been a rather extraordinary morning so you may be right." I sniffed back the tears and turned to face her. "How did I die?"
"Your car slid down an embankment. You weren't wearing a seat belt. Leo dragged you out of the car but it was too late."
I jumped up. "Leo!"
About the Author: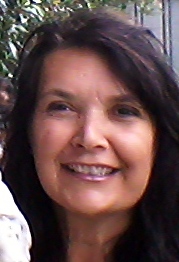 Music first captured the creative interest of young adult author D L Richardson. From choir, to her first acoustic guitar at age ten, to singing with the school band and performing in school musicals. When she left school she helped form her own rock band where she sang lead vocals, played bass guitar, and wrote all the lyrics. At age 26 she sold her equipment and focused on writing instead. She now has three novels and one short story anthology published.
Little Red Gem is a tribute to her former life as a musician and contains some of the author's actual experiences, though she has never entered a national singing competition to capture the attention of the boy she loves. It is also a tribute to those brave young women who charge forward in pursuit of their dreams.
She lives in Australia on the NSW South Coast with her husband and dog. When she's not writing or reading she can be found playing her piano or guitars, renovating the house, or walking her dog.
Blog ~ Website ~ Facebook ~ Twitter
Buy the book at
Amazon
,
Smashwords
,
Barnes and Noble
,
Powells
,
CreateSpace
, or
Book Depository