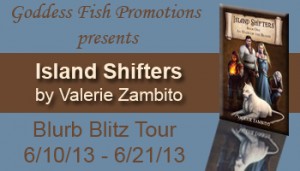 This post is part of a Virtual Book Tour organized by Goddess Fish Promotions. Valerie will be awarding several print copies of her book to randomly drawn commenters during the tour (US only) and a grand prize of a $25 Amazon GC to a randomly drawn commenter during the tour. Click on the tour banner to see the other stops on the tour.
When your family, your home, and the very land you stand on are destroyed, what do you do? If you are a shifter of Massa, you turn around and fight. You fight, because the blood oath will have it no other way.

The idyllic lives of four elemental shifters living in the exiled land of Pyraan are shattered when a tour of legion duty gives witness to a brutal enemy invasion. Despite the heroic efforts of the shifters, the land falls to the invaders. As the only survivors, the four friends are forced to flee south into the lands from which they were banished to warn of the invasion. Heartbroken and weary, the shifters soon learn that the safe haven they hoped to find is cloaked in danger. Throughout a journey fraught with prophesy, betrayal and peril, an enduring friendship prevails, love blossoms, and a riveting saga unravels.
EXCERPT:
The three Dwarves pushed their way back into the pitch-blackness of the palace.
"Dillon, where is the torch?" asked Janin, and Rogan could hear her fumbling around.
Dillon sounded panicked. "I left one right here and it is gone!"
Now that his eyes were adjusting to the gloom, Rogan could see the outline of the two Dwarves feeling around in the dark for the torch. He called forth a flame of light. "Does this help?"
They both looked up at him with a gasp, a mixture of both surprise and anger on their faces. "Do not do that!" snarled Janin.
Shaking his head in confusion, Rogan said, "We need light, do we not? This is light."
"It is light created from magic which, in case you have not heard, is outlawed on this island," retorted Dillon.
"Yes, well, the world has changed, Dillon. The Magical Kingdom of Pyraan has been destroyed, we are under threat of slavery at best and annihilation at worse by a rogue Mage, and we are running for our lives from a King who wants to murder me. Against that, you are worried about a flame to light our way?"
"Good point," murmured Dillon with a shrug.
Rogan turned away from them in frustration. "I do not understand this fear of magic. Please tell me so I understand!"
Dillon shuffled his feet, at a loss as to how to answer his question. Janin had no such qualms. "Have you forgotten that you were exiled in Pyraan for a reason, shifter? Did they not teach you anything about the legacy of magic use?"
"As a matter of fact, yes, and the legacy of magic before three evil Mages decided to destroy the world was inspiring. Magic was used to heal the dying, to create cures for the sick, to defend the weak. Does having magic automatically make you an evil person? If a Dwarf kills another, does it make all Dwarves murderers? If a dog bites a child, does it mean all dogs bite people?" He shook his head in frustration. "You cannot confine the legacy of magic to the Mage War, you just cannot."
Janin gazed at him with a look he could not identify. "No, and I will admit that there are valuable uses to magic. But, there is also the ability to cause great harm on a very large scale. If one Dwarf kills another, it is one person. If a dog bites a child, it is one child. If an evil Mage decides to use magic for sinister purpose, he can destroy the world. That, my friend, is why we are afraid."
AUTHOR Bio and Links:

Fantasy author, Valerie Zambito, lives in York, New York with her husband and three sons.  After having been involved in a busy sales career for twenty years, a passionate love for great storytelling, world building, character creation, and all things magic have led to the release of her epic fantasy series, Island Shifters, and young adult, paranormal romance series, Angels of the Knights.

Books:

Book One:  Island Shifters – An Oath of the Blood

Book Two:  Island Shifters – An Oath of the Mage

Book Three:  Island Shifters – An Oath of the Children

Book Four:  Island Shifters – An Oath of the Kings

Angels of the Knights – Fallon

Angels of the Knights – Blane

Classroom Heroes

Website:  http://www.valeriezambito.com/

Buy Links:

Amazon:  http://www.amazon.com/Island-Shifters-Fantasy-Series-ebook/dp/B0063EONHS

Barnes & Noble: http://www.barnesandnoble.com/w/island-shifters-an-oath-of-the-blood-valerie-zambito/1107956340

iTunes:  https://itunes.apple.com/us/book/island-shifters-oath-blood/id489783195?mt=11

Smashwords: http://www.smashwords.com/books/view/107230