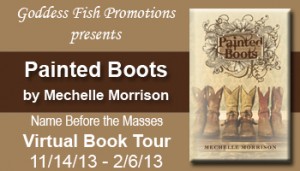 This post is part of a virtual book tour organized by
Goddess Fish Promotions
. Mechelle will be awarding a $25 Amazon GC to a randomly drawn commenter during the tour and a unique, hand-crafted bookmark to one randomly drawn commenter at each stop. Click on the tour banner to see the other stops on the tour.<
How do I handle negative criticism?
There are people who love my writing and rave over Painted Boots; there are people who might actually hate the story … and there are all kinds of opinions in between. The opinions I receive aren't unusual. The same love/hate stuff follows everyone who put themselves in the public eye: actors, singers, writers, reporters, reality TV stars, bloggers—you name it. The best advice I have to offer is the approach that works for me: ignore criticism publicly, learn from it privately, and know the difference between a genuine critique and a person who can only feel better about themselves by tearing other people down.
Sometimes I'm a disgruntled movie-goer. Sometimes I'm appalled by what a singer might do for attention. There are many times when I simply have to turn the TV off. And sometimes, though I know I chose to read a given book, I don't agree with what I've read. Maybe I despise the ending. Maybe I vehemently believe the author cheated her/his characters. I'll shut the book and wonder why everyone raves over a heroine I see as weak and stereotyped. I've been known to cheer on a character the majority hates.
So when people express negative opinions about my characters or my story in general, I respect their right to say it. I read what they post, think about why they feel the way they do, and move on. The result is always good – I learn a new perspective, I see my own work in a new way and I become a stronger writer.
But … when people post negative or rude comments under the guise of 'anonymous' I discount what they say completely. Anonymous, negative statements (and yes, I've received one or two) tend to be cruel or completely obnoxious. These types of posts aren't criticism – they are a personal attack – and say more about the poster than they do me (or whoever).
A few months ago I read an anonymous post on a friend's Goodreads page that was so mean I felt sorry for the people said-anonymous-poster lives with. My friend took the high road and ignored it, but admitted privately that when he first read it, the words stung.
When I choose to post criticism on others' work (which I will only do on WIPs, not published books) I offer my thoughts as kindly as I can; I'm hoping to help the author clarify their intent. But when commenting publicly on a finished product I always follow the rule my mother taught me: If you can't say something in a nice way, don't say anything at all.
About the Author: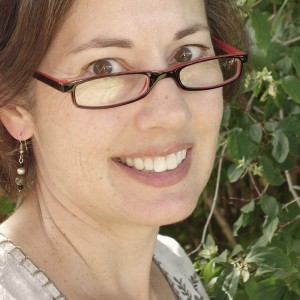 As a child, Mechelle filled her journals with someday-my-prince-will-come fantasies. Then one day her prince arrived, driving a silver Tundra, and they adopted a fine daughter. Life got busy—work, family, daily cooking—but she still spends her evenings giving voice to the stories inside her head. Only now, instead of locking them away, she publishes them.
Goodreads ~ Facebook ~ Website
Enjoy the book trailer:
When her father drags her to a new life in Wyoming, Aspen Brand doesn't expect to fall for a cowboy named Kyle Thacker—but she does. Aspen and Kyle share unexpected ground: guitar, running, physics. And guilt. Aspen blames herself for her mother's car accident, while Kyle can't find a way past his brother's suicide.

On their first date they open up to each other, forging an unbreakable bond between them. But Kyle has spent two years living with a vicious secret—one his ex-girlfriend will do anything to protect—and sharing his truth with Aspen makes her a target. Now if Kyle is to be her love story, Aspen must first win the fight of her life.
Buy the book at Amazon.com, Barnes and Noble, or Kobo.