Enter the Rafflecopter below for your chance to win a $100 Amazon/BN GC and more!
Leave a comment on THIS POST for a chance to win an additional prize -a digital copy of Letting Go
Writing vacation
I've always found summertime inspirational. The sun and warm weather make everyone open up to the world, express their emotions more freely, behave more uninhibited. This is especially the case among young adults with most of them being on vacation, the only time of the year they don't have pressing school projects or the threat of exams hanging over their heads. Since I write young adult novels, summertime is my ideal playground.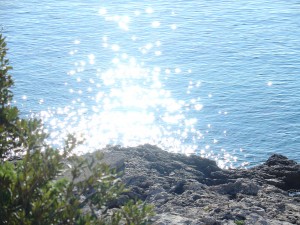 While most people relax on their vacations and do nothing at all, I like to write. In the early mornings, with a breeze from the sea toying with the curtains, or after lunch when the rest of the world is enjoying their siesta. The song of the cicadas revives me and wakes up my imagination. I will start writing a scene and realize two hours later I've written two or three thousand words without even realizing it. That's the best sort of writing. The best summer vacation.
Is it any wonder that my next young adult novel that will come out in August from Evernight Teen takes place over the course of one summer? Or that the heroine enjoys the sweltering heat of southern Georgia? I suppose not. I suppose it's no wonder that the events of my newest work in progress take place during summertime, either. I took my characters to Paris this time, though, on a summer course in fashion design. Perhaps Paris is best visited in spring, but the summer romance my heroine experiences in July is sweet, nonetheless.
My plan was to start writing a story about grief once A Pretty Big Love was published. But things never go according to plan, do they? While on a coffee break a week ago, I suddenly saw an image of a girl discovering a whole new world away from home. What better place for a girl to meet new friends and lovers than Paris? I put the other story on the backburner and started on the new one right away and I'm already very fond of my characters. I plan on taking them on vacation with me.
Since it's been a couple of years since I was last in Paris, I'm now enjoying my summer travelling on Google maps, reacquainting myself with the streets and sights of Paris. I miss the macarons and bistros, but homemade madeleines are pretty good too. Add a pot of good coffee and I'm all set.
Isabelle is left stranded at the airport, and her only chance of getting home is with her boyfriend's older brother, Harper. When this good girl and bad boy set off towards home, it turns out that maybe she's not such a good girl after all. And even bad boys have reasons for their bad behavior.

The road trip is full of shocking revelations and unexpected emotions, bringing the two of them closer than Isabelle ever thought possible. Maybe too close.
About the Author: Bridie Hall sold her first story at fourteen. Since then, she has written dozens more, translated books, studied writing, and started writing novels. Her days revolve around stories and words, her sleepless nights involve plotting and inventing fascinating new characters. The only activity that takes up more of her time than writing, is reading.
Website ~ Blog ~ Facebook ~ Twitter
Buy the book at
Amazon
.