Enter the Rafflecopter below for your chance to win a $100 Amazon/BN GC and more!
Leave a comment on THIS POST for a chance to win an additional prize – A digital copy of Moon of the Goddess
I love a soft summer rain. (Hint: because it gets me out of work!)
Don't get me wrong. I love to soak in the hot sun of summer. On a sultry day, it is wonderful to cool off in the lake. When sun sparkles on warm water, there is nothing better than kayaking among water lilies. Brilliant red sunsets seen from the back of our farm are not to be missed.
But because I live on a farm, summer sun means work. We "make hay while the sun shines," so a day with blue sky is also a day with the haybine roaring or the baler running hard. It's a day when after the bales have been rolled into the barn, I spend an hour weeding the garden, or picking peas and freezing them.
When it rains, all that is put on hold. When rain falls warm and soft, I can curl up on the couch with a good book. To be sure, a wind-driven rain brings worry. I run out to chase the sheep in and get the barn door lashed closed. But if gentle drops run down the window, I can pick up my laptop and write another 1000 words on the story that is itching to get out of my head. I can read twitter posts and wander people's fascinating websites without feeling like I should be outside working.
When it rains, I can make the long delayed trip into town, have a leisurely coffee with a friend. I can stock up on groceries and take my time trying on clothes at the new shop on main street. I can browse the book store, pick up something new for that evening when it is still too damp to get out into the garden.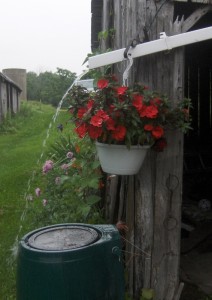 And when I do get outside, the world is refreshed. The world that had been drained of colour by the baking sun, is sparkling and bright. Flowers burst red and yellow, and plants are green and strong.
I love the summer sun because it bakes the cold of winter from my bones. But a gentle soft rain restores life.
Thalassai, pampered princess of ancient Tiryns, wakes from a dream and discovers she has been kidnapped. Fear grows to terror when she realizes her kidnappers will use her as a pawn to gain Poseidon's aid for their valley. The mother goddess who in the past sustained the valley calls a bloodred harvest moon into the spring sky. She will challenge Poseidon for the allegiance of her people and assist the princess.

Thalassai's brother Melanion rides north to rescue her, and he finds allies among the servants of the goddess. Slowed by bandits, Melanion is forced to take a tunnel under the mountains even though earthquakes have rendered it hazardous. He skirts the edge of Hades' kingdom as he races to reach his sister in time. Caught between the mother goddess and the rising power of Olympus, will Thalassai break under the strain or find the strength she needs to stand up to her captors?

Set in the days of Helen of Troy and the great heroes of Greece, this story takes the reader on a fast paced journey across the sun-drenched landscape of Homer and deep into darkness.
About the Author:Cathy Hird is a minister and a mother, a weaver and a shepherd living in rural Ontario. She is a story teller who weaves ancient threads into tales that touch modern questions.
Website ~ Facebook ~ Twitter
Buy the book at Torquere Books.