Enjoy these answers from a host of authors — then enter the Rafflecopter below for a chance to win a $100 Amazon or BN GC and more!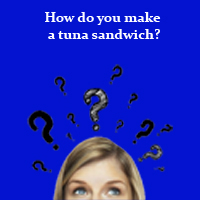 Tasarla Romaney Ohhhh the many ways – my favorite is served on toast. Flaked wood grilled tuna, add onions, dill, lemon juice and a small amount of Greek yogurt
Ash Krafton With MAYO. I'm not insane. Oh, and no crunchy bits, either. Celery=ack!
Linda Palmer I stir together tuna, boiled egg, dill pickles, sweet pickles, and Miracle Whip. Then I spread that on toasted bread and add lettuce.
Debra St. John My favorite is a hot tuna rollup. I prepare the tuna by draining the water (I never use oil based tuna.) and adding a bit of mayo. I spoon the tuna into 8 uncooked crescent rolls. For my hubby's portion, I add cheese: sometimes Swiss, sometimes American, sometimes a combo. I roll up the dough with the tuna in it and place them on a baking sheet. Bake for 12 minutes at 375 degrees. Yummo!
Judith B. Glad 1. Set a trap for the tuna (preferably in territory they are known to inhabit).
2. Spread mayo on two really BIG slices of bread.
3. Check the trap. If it's empty, go to…
3. Pile pickle relish on one slice of bread.
4. Check trap again. If still empty, go to…
5. Slice 7 tomatoes and lay on unpickled slice of bread
8. Check trap. If still empty, give up, because the tuna aren't biting on Pnut butter today
9. Substitute canned sardines for tuna on sandwich. They taste better anyhow..
Kaylie Newell First, choose a nice, fresh loaf of white bread. Then, retrieve the light mayo from the fridge. Next, open the can of tuna and give it to the cat. (I'm a vegetarian. Although, I wouldn't normally have a mayo sandwich. Probably should keep that takeout number handy.)
Judy Alter Tuna, lots of lemon,, sliced scallions, a bit of anchovy paste, and just enough mayo to bind. Put it on seedless Jewish rye.
J.A. Garland Light on the Mayo, of course!
Linda Rettstatt Mix tuna with a little mayo and chopped celery. Spread it on thin whole wheat sandwich rounds. (Some folks add onion. I'm not a big fan of raw onions.) This is best served on white bread, but it's not on my diet any more.
Maeve Greyson Since I'm not particularly fond of tuna, I would get Hubby to make one his uber-awesome bacon-lettuce-tomato creations on homemade bread. I would then point at it and say, "You are a tuna sandwich. I forbid you to exude the calories of a BLT."
Laura Strickland Ask the tuna if he would prefer kelp or krill on his sandwich, and then serve it with a side of seaweed.
Niecey Roy I don't.
Tess Morrison FIrst I put on loud music. Probably classic rock. Begin to gyrate around the kitchen. Pour myself a glass of vino. Chop up some onion, celery and green peppers. Begin to sing very badly. Drink more wine. Open the can, plop it into the bowl with the veggies, and mix in Miracle Whip. Continue to dance, drink and sing. Put it on toasted bread with lettuce. Enjoy!
Jana Richards  With tuna. And bread. Is this a trick question?
Tina Pollick For myself: Tuna, mayo, hard boiled eggs and dill pickles. For my family: Tuna and mayo. <- They're boring. LOL
Debra Doggett With the works. I put cheese (feta if I've got it), onion, mayo, mustard, sometimes nuts and eggs. But not usually pickles. I like them on the side.
Nia Simone Very carefully. Seriously, I let my husband do it. He's brilliant with cooking. Tuna he does magic to. He adds a squeeze of this great wasabe paste you can buy in a tube. And mayo. Other stuff, I don't know what. But I eat whatever he makes and if he does something to doctor up something we're eating, I do exactly what he does without even taste testing. He's always right. About food, anyway. ;–)
Zoe Forward I go to my favorite deli and buy it. Okay, I can make tuna, but I know it won't taste as good as if I have a professional chef make it.
Virginia Crane Half and Half. Half tuna, half hard boiled eggs. Add a chopped pickled okra, preferably Wickles Pickles brand. Mix with Miracle Whip and horseradish. Terrific on rye bread.
Graeme Brown I don't! Ham, cheddar, tomato, lettuce and mayonnaise for me, please.
Nancy Fraser I start with albacore tuna, chopped onions and celery, Hellman's mayo and chopped pecans on lightly toasted sourdough bread. I'd serve it with crisp dill pickles, a chunk or two of good cheese (preferably gouda or havarti) and a cold glass of Dr. Pepper or sweet tea.
Robyn Bachar With a healthy amount of mayo, shredded asiago cheese mixed in, on wheat toast. Bonus points if I can survive making the sandwich without tripping over my cats. I swear they have tuna radar.
Jeanette Baker Without mayonnaise. I use the best tuna in olive oil, mix it with whole grain mustard, minced green onions, chopped pepperoncinis, (sp?) smoked almonds, lemon juice and raisins. It's delicious and healthy, too.
Kim Hornsby I don't eat tuna often because I worry about the dolphins that get caught in the net and I don't like to encourage the industry. But when I have made tuna for me and my kids, I use mayo, sweet relish and loads of crunchy celery. The tuna must be white, not light, packed in water, with all the water drained off. Then I spread it on buttery whole grain bread and dig in. hmmm, where's the tuna in this kitchen…
Juliet Waldron In this house we make tuna sandwiches with a little mayo, an equal amount of plain yogurt, salt, pepper, diced hard-boiled eggs and a small amount of finely chopped celery and apple. We lightly toast bread to go with it, and then the sandwich is topped with sliced tomato.
Mary Jo Burke Rinse the tuna and flake it with a fork. Chop up an onion and a celery stalk, very finely. Mix with the tuna. Add a dollop of mayonnaise. Slather on a slice of toasted sourdough bread. Top with a few tomato slices, a piece of American cheese, and the second slice of bread. Potato chips optional, but highly recommended.
Willa Blair Tuna, mayo, sweet pickle relish, moist, but not runny. On crackers, not bread.
Lynda J Cox I don't. Too many times as a kid, I had to eat creamed tuna casserole. To this day, I can't stand the smell or taste of tuna.
Elaine Violette My Danish ancestors made the best tuna sandwich. White Albacore Tuna, sweet gherkins pickles, onion, celery, and chopped hard boiled egg, and mayonnaise, of course! My Portuguese grandfather always said to add a little salt to fish, so I sprinkle some salt and pepper too. Toast that bread to add crispness, gobs of the tuna mixture, fresh lettuce and you've got the best tuna fish sandwich ever!
Lynda Coker I start with albacore tuna, add diced green onions, grated cheese, chopped boiled eggs, a little sweet pickle, and sliced ripe olives, and then stir all those together with mayo and a touch of Dijon mustard. Toast two slices of bread, add a thin slice of jellied cranberry sauce to one side and lettuce on the other. I spread the tuna mixture on the lettuce side and then put the two sides together. Most people are put-off by the jellied cranberry at first, but try it once and you'll be hooked.
Susan Fox Pretty much the way my mom did. This is traditional, definitely not fancy gourmet fare. I use my favorite tinned tuna (water packed), mayo or Miracle Whip, lemon juice, chopped celery or chopped green pepper, salt, and ground black pepper. For bread, I like either a rustic Italian white loaf or a nice moist multi-grain.
Meg Benjamin I mix the tuna with a hard-boiled egg, some chopped celery, green onions, baby peppers, maybe a little tomato. Then dress it with a bit of mayonnaise. If I were eating normally, I'd put it on bread. These days, I'd toss it in with a lot of lettuce and some vinaigrette. Okay, it's not really a "sandwich" but it's definitely tuna salad.
Mary Hughes Albacore tuna, mixed with mayonnaise, chopped green onion, chopped egg, a bit of mustard powder, salt (and pepper if you like). Scoop onto thick toasted whole wheat bread. Cover with sliced American, cheddar, provolone or Swiss cheese (or all of them!) Top with another thick slice of bread. Then broil or toast in a skillet until the cheese is gooey and the bread is perfect golden brown.
Shannyn Schroeder I'm not a huge fan of tuna, so I'll only eat it the way I grew up eating it as a kid – being Catholic meant no meat on Fridays during Lent, so that's when I ate tuna. I drain the tuna from the can, chop up a couple of small pickles and mix it in the tuna. Then I add mayonnaise. The bread for the sandwich has to be toasted. When the toast is ready, I spread on the tuna and cut the sandwich in half. I NEVER deviate from this (right down to cutting it in half).
Denise Golinowski Hmm, pretty basic really. Open a can of tuna (in water) and drain thoroughly. Dump into a bowl. Add Mayo until it reaches the correct consistency. Cover and refrigerate. Can eat immediately, but I like it best the next day. Take out of the fridge, spread a thick layer on bread, salt & pepper to taste. Cut in halves. Place on a nice plate, add extra crunchy potato chips and enjoy!
Lynn Crandall Tuna sandwiches are at the top of my list of favorite sandwiches. I'm pretty easy to please there, and typically mix tuna with mayonnaise, put it on toast with lettuce and enjoy. But my favorite way to make a tuna sandwich is to order it from the bread store/deli, where the tuna salad sandwich is amazing.
Sheila Claydon I mix it with mayonnaise, sliced spring onion, pepper and salt and then spread it THICKLY on wholemeal bread – no butter or spread as I want to taste the tuna. I might add some cucumber too and serve it with lettuce and tomato on the side.
Carol Henry I make a tuna sandwich with chuck light Bumblebee tuna, mayo (not miracle whip and nothing diet or light), add my homemade diced sweet pickles, a bit of salt and pepper, and slather it on bread with just a touch of butter on one side. Sometimes I toast the bread first. Always serve with kettle chips, and most often a ginger ale.
Robin Renee Ray I like mine with fresh garden onions, sharp cheddar cheese, and a wee bit of salt…and I have mine with crackers.
Joya Fields Haha. This sounds like a setup for a joke, but I'll give you my recipe anyway. One can of tuna mixed with chopped celery, some mayonnaise and (since I'm from Maryland) some Old Bay seasoning!
Genie Gabriel Mash up an avocado, add one can of tuna and Ranch dressing to suit your own taste. Have a bagel with melted cheese on the side. Yum! Think I'll have one now.
Pamela S Thibodeaux Only 1? I love tuna and can usually eat the better part of a can in one sitting. It all begins with the best white tuna (packed in water not oil), eggs, mayo, seasoning and a dab of mustard. Boil, chop, sprinkle and mix then spread thickly on two slices of fresh bread (wheat or white doesn't matter!)
Elysa Hendricks I can't say I've ever made a tuna sandwich. While I enjoy tuna, I can't stand mayonnaise, which seems to be one of the main ingredients in making a tuna salad. But if I did try and make a tuna sandwich – for someone else to eat – I'd use those little packets of prepared tuna you can buy.
Allie Boniface I don't. I like tuna in very small amounts, but only on crackers, or something that doesn't get soggy like regular bread. Speaking of which, if anyone has a great recipe for non-soggy tuna sandwiches, I'd love to hear it!
Jennifer Shirk Not to brag…but my kiddo loves my tuna sandwiches. She will eat her sandwich then finish off the rest that is in the bowl with a fork!!
I take 2 cans of tuna, very little mayo (like 1/4 cup or so), then I eyeball the seasoning: a little paprika, a little salt, a little celery seed, a little onion powder, a little garlic powder, a little fresh pepper. And you HAVE to have good soft bread or toast it.
Liana Laverentz Tuna, real mayo, a spoonful of relish. On toasted bread. Or I buy it from Whole Foods Co-op. They make it with walnuts, celery, onions and cranberries. Yum!
Ryshia Kennie It's strange that you should ask that as I usually don't have tuna sandwiches but I just had one yesterday. I made it with olive oil instead of mayonnaise, salt and pepper and chopped up a green onion. I toasted rye bread and voila – it was pretty good.
Troy Lambert That's a big fish. I don't know how you make a tuna do anything at all.
Jane Toombs I happen to hate tuna and so I never have made one.
Jaleta Clegg Open face on a whole wheat bagel and then toasted under a broiler until slightly crusty and warm. The tuna mix is canned tuna in water, a splash of lemon juice, some dried dill weed, several chopped dill pickles, shredded cheddar cheese, and just enough mayo to hold it together. I have to beat off the cat and the dogs when I make these.
Beth Trissel Miracle whip, honey mustard, relish, hard-boiled eggs, tomato, salt, pepper, and gluten free bread because I'm violently intolerant.
Heather Haven I make a quick run out to Subway and say this: I'll take mine with tomatoes, lettuce and onions. But the onions only if I'm not talking to anyone else for an hour.
Gail Pallotta My favorite tuna sandwich starts with a fresh yellow fin tuna with a bit of lime juice poured over it baked on 350 degrees until it's done.. After it's cooled, flake it then add mayonnaise, pickle relish, a chopped boiled egg and salt and pepper. How much mayonnaise? ): I'm not sure. Enough for the dish to get a smooth consistency. Pickle relish. About a tablespoon full, but more for those who like more of a sweet flavor. Salt and pepper to taste.
Helena Fairfax I don't ever make tuna sandwiches any more 🙁 I love tuna, but my daughter is vegetarian, and works in wildlife conservation. She has told me so many times about how the tuna is an endangered species, that now I just can't bear to eat it any more.
Kelly Whitley I don't. Tuna is yucky. Don't like the smell or the taste. I'd be more likely to make a sandwich FOR a tuna.
Sandwiches are not big for me. Grilled Havarti on Sourdough with tomatoes in the middle, or Subway with lots of veggies.
Laurel O'Donnell I like tuna salad, so I would mix the tuna with a little mayo. Then, to pretend like I was eating healthy, I would put it on wheat bread and eat it!
Paty Jager You can't make a tuna sandwich without adding either sweet pickle relish to the tuna and Miracle Whip or by placing slabs of sweet pickle on top of the tuna and miracle whip. When I'm tired and we need a quick dinner, I mix tuna, Miracle Whip, and relish, spread it on the bread, then top it with grated cheddar cheese and broil. Makes great Tuna melts!
Linda McMaken Take two large, flaky croissants, smoother them with mayo, add some dill pickles, freshly sliced tomato, lettuce, spinach, a sprinkle of ground parsley, a dash of oregano, and a slice of cucumber. Push can of tuna off to the side. Put top on croissant and eat.
Penny Estelle tuna, celery, onion, hard boiled eggs, cucumber, light on the mayo, on toast with lettuce….YUM
Keena Kincaid I go to the deli.
Isabo Kelly Lots of mayo mixed with tuna, toasted bread and sweet pickle relish on top of tuna/mayo. Sometimes I cut in a hard-boiled egg.
Lynne Marshall celery, white albacore, light on the mayo tuna mix. Slice of cheddar cheese and avocado – brown on both sides of (preferably sour dough) bread until cheese melts and bread is nice and toasty and serve!
Melissa McClone I don't make tuna sandwiches. I have cats. Lots and lots of cats. If I open a can of tuna, I'm instantly attacked. Think Sharknado 2. It wouldn't be pretty, and yes, there would be blood. Needless to say I skip the tuna sandwiches.
Aaron Speca I don't. I can't stand canned tuna. Now tuna STEAK … that's a totally different story. Tuna steak is AMAZING!
Pamela Turner Open can of tuna and try to pull lid free without splashing tuna water on my fingers. Ignore cat meowing and reaching up with forepaws. Pry off lid and thank whatever deity I didn't cut myself. Ignore caterwauling cat. Realize I forgot the bread on the other side of the counter. Go get bread. Come back. Pick up cat off counter and put on floor. Forget that cats have little springs in their paw pads. Put cat on floor again. Go get Miracle Whip. Repeat counter-floor move with cat. Shake MW bottle and squirt it. Watch MW go everywhere except on the bread. Look at cat, who's giving me the evil eye because I dare ruin her idea of the perfect meal. Manage to get MW on bread. Then remember I planned to have a melted tuna sandwich…
Shirley Martin First, I'd go to the ocean and catch a tuna. Then I'd bring it home and cut it up. (Just kidding. I don't like seafood.)
Amy Corwin: With tuna? LOL – here is my basic recipe:
Tuna Fish
Miracle Whip
Finely chopped onions
Finely chopped celery
Finely chopped red bell peppers
Dash of celery salt
Mix that together, put a few spoonfuls on a nice, thin slice of homemade French bread. Put a thin slice of Gouda cheese on that and broil for a few seconds to melt the cheese. Then another thin slice of homemade bread on top. Yum.
THIS IS THE RAFFLECOPTER FOR MONDAY. DON'T FORGET TO CHECK BACK TOMORROW FOR A NEW RAFFLECOPTER WITH BRAND-NEW PRIZES.   
a Rafflecopter giveaway