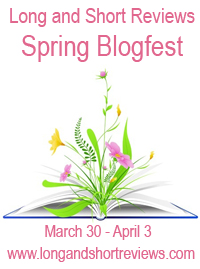 Win a signed copy of
Into a Million Pieces
. Click on the banner to enter the Spring Blogfest Rafflecopter to win a $25 Amazon/BN GC, one of four book packs, or one of four swag packs (US only on book and swag packs).
Spring: The Season That Forces Writers Outdoors
Spring Fever is a real thing, especially if you live in an area of the country where winters are brutal and seem to last longer than the other three seasons put together. This is the case in Michigan. On that first, fifty-plus degree day—which usually hits us around the end of March or beginning of April—car windows will be rolled down and radios will be turned up. Tired of down-feather coats and ugly snow boots, Michiganders will sport hoodies and flip-flops, even though they know not to put the coats and boots away quite yet.
Everyone loves spring. Not liking spring would be like hating puppies or white, fluffy bunnies. It's unnatural, right? How can you not enjoy finally being able to open the windows in your house or take the dog for a walk without getting a severe case of windburn? Spring is great and wonderful and full of the-hills-are-alive-with-the-sound-of-music type feels. But, there's a certain level of expectation that comes with the season and warmer temperatures. As a writer, I can no longer spend my weekends hunkered down in my bedroom with my laptop; I have to "get out and enjoy the weather" (which is just code for "yard work"). I can no longer encase myself in a self-made cocoon of blankets and read until I fall asleep from an overdose of comfort. I also can't let the frigid outdoor temperatures be my excuse for letting the kids spend hours inside, in front of a screen, while I type away on my work-in-progress. I have to encourage them to go outside and play, which inevitably leads to them fighting and me getting zero work done.
And then there's that other thing about spring: youth soccer. I've been a soccer mom (a term I despise, by the way, but that's a whole other guest post) for almost nine years, and I can tell you that sitting through early-morning games during the spring season is a special kind of hell. The temps are still usually in the low forties, which means I get to spend two hours freezing my rump off, only to go home and spend the rest of the morning trying to unthaw (before returning to the great outdoors to tackle spring cleaning, of course).
So, yes, spring is lovely. The grass turns greener, tulips arise from their winter slumber, and birds return from their stay in the south. True, I get less writing done during the warmer months, but I've come to realize that isn't necessarily a bad thing. I need to get out and experience, not only the beauty of the season, but life in general! Whether it's planting flowers or playing a game of tag with the kids, it's important for me to remember that while I might be a creator of worlds, I'm also a part of one, and it's a world more amazing than I could ever write.
Allison McKready is a succubus. So is her twin sister. But while Allison spends her summer break hiding in the library behind her Goth makeup, Jade fools around as often as she can. Allison can't believe Jade would ignore their mother's fatal example so recklessly, but concealing a cursed bloodline and its dangerous effects is far from Allison's only problem. Mean girl Julie's snob mob is determined to ruin her summer, and Aunt Sarah's Bible thumping is getting louder. Only her new friend, Ren Fisher, offers safe haven from the chaos of her life.

When one of Jade's risky dates leads to humiliation and sudden tragedy, Allison reels, and Ren catches her. But as her feelings for him grow, so does her fear that she'll hurt him—or worse—in an unguarded moment. The choice is coming—love him or save him—but Allison might not live to make it. One way or another, the curse will have its due.
About the Author: Angela V. Cook lives a very unexciting, but never boring, life with her husband and two children just outside of Detroit. Like most writers, she's been making up stories for as long as she can remember and can't imagine a life that doesn't involve creating worlds.
Angela loves to write novels for teens because it's the best outlet for her sarcastic personality, immature sense of humor, and love of romantic firsts.
Website
Buy the book at Amazon.