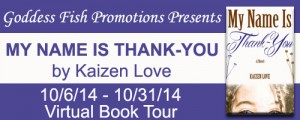 This post is part of a virtual book tour organized by
Goddess Fish Promotions
. Kaizen Love will be awarding a $15 BN/Amazon GC to a randomly drawn winner via rafflecopter during the tour. Click on the tour banner to see the other stops on your tour.
10 things most people don't know about Kaizen Love
1. Well, for starters I have a phobia of clowns and large crowds, or large clowns and crowds. That sentence really works either way. It all began in my early childhood; my dad had the job most kids would have loved. He worked for a local flea market on weekends as a handy man of sorts, that flea market had a circus! Of course, my dad was great, and he thought he was doing me a favor by leaving me at the circus every weekend for a couple of hours. Needless to say, my phobia worsened.
2. I have 6 older brothers and many people assume that automatically they treated me as if I were princess. They definitely did not. They treated me like I was a cross between a crash test dummy and a lab rat. It was a fun childhood nonetheless, but I still have bruises.
3. I love cold-ish weather. I live in Florida, so that means anything below 73 and above 65!
4. I love the numbers 3 and 7. I'm always grateful when I see them pop up.
5. I wish I were taller (and thinner…).
6. I have pigeon toes. For some odd reason my feet turn inward. It made it really difficult playing sports in high school. There are no penalties in basketball for tripping yourself.
7. I love the smell of old books.
8. I used to have a really bad stuttering problem when I was a kid. Now that I'm older it's a lot better, but when I get really nervous it happens unexpectedly.
9. I don't like spaghetti sauce from the jar or green peas. I love just about anything else you put in front of me.
10. My greatest desire is to write books that have the ability to change lives, or at least perspectives.
My Name Is Thank-You allows us into the worlds of two very different thirteen-year-old girls. Each girl's voice carries its own unique tone, as the girls beckon us to follow magically into their lives. One is a joyous story of hope against all odds, the search for acceptance, and the longing for unconditional love; the other a sad tale of unspeakable abuse, constant rejection, and an overwhelming sense of loneliness. Thank-You and Josephine create around us a world rich with emotion, one that will leave you inspired, breathless, and yearning for more words.
Enjoy an excerpt:
"They say that a child's imagination is one of the most powerful forces on this planet. As children we are able to tap into the mystery that exists outside of the walls of our minds. We are free from the cage of reasoning and ignorance. We are able to look beyond what is directly in front of us and see the path that lies ahead. As we grow, we begin to lose sight of these things. The mystery becomes overshadowed by the wall that grows bigger with each human experience. Eventually, we forget the magic and wonder that we once found in the belief that anything was possible, and the word impossible becomes the box that we use to shove God into."
About the Author: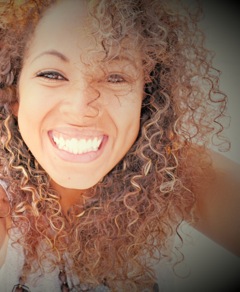 Kaizen Love is an up and coming writer, spinning words into a beautiful web that should enrich the lives of all who read them. She has a positive and fresh take on life, and has mastered the art of storytelling. She grew up reading books by authors from every style, race, nationality, culture, and religious perspective; drawing inspiration from each one. Her greatest mission is to share love.
Amazon ~ Website ~ Facebook ~ Twitter ~ Goodreads