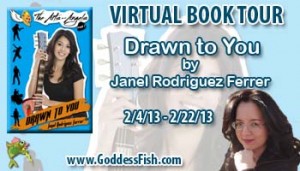 This post is part of a virtual book tour organized by Goddess Fish Promotions. Janel will be awarding Winner's Choice of a $25 gift card to iTunes (music) or, Capezio (dance), or Utrecht (art supplies) to a randomly drawn commenter during the tour. Click on the tour banner to see the other stops on the tour.
ART AS MAGIC, MUSIC AS MYTH
"If you want to sell books," people tell me all of the time, "Write fantasy! Write about magic! Write about the Greek gods like in the Percy Jackson series, or wizards like in the Harry Potter series!"
"But I do write about magic and myth," I tell them. "I write about music and art."
It can be difficult to write about rock music–especially since it's an art form that is better heard than read about. However, the history of rock and roll is great fodder for myth. If a reader knows any rock history at all, she's going to recognize elements from the stories of Ritchie Valens, The Beatles, and Led Zepplin in the back story of the bands in my book–Mid-Flight, Bitterbean, Uncouth Youth, and of course, the Arts-Angels. And the story of (main character) Gina's guitar hero, Angel Dominguez, borrows from the stories of real guitar heroes of the past and present: Jimi Hendrix, Carlos Santana, and Eric Clapton. And let's not forget what rock stars and legends are often called: rock "gods"! And they are often every bit as interesting—and flawed—as the gods of Greek myth.
Oh, I admit that trying to describe on paper what the "sound" of a band is supposed to be like can be a hurdle for any writer to try to clear. Especially when it's music the reader has never heard before. Then there's the challenge of writing the lyrics to songs that have never been sung! The fear is that they will just sit on a page, stagnant, without the beat or melody to give them life. One thing I do to try to meet this challenge is to keep the lyrics simple, but give the words rhythm and life through the use of rhyme and even word placement on the page.
I also count on the creative abilities of my readers. You see, my books are not just about creative young people. They are read by creative young people. And their own imaginations will be able to conjure up tunes to the songs they read about. (They will be making music just by reading!) I encourage my readers to make up melodies to the songs in the books and record them and share them with other readers. I'd love to hear what they came up with, and would gladly post them on my website.
And I didn't use the word "conjure" accidently. That's what art is. Making something, creating something out of nothing more than an idea, an intent from your mind. Who needs a magic wand when you have a paintbrush or a musical instrument in your hand? Who needs to fly when you can dance? Who needs a spell when you can sing and actually hold people under the spell of your voice?
Don't get me wrong. I love fantasy books and stories. I'm just pointing out that there's real-life magic in music and art.
Why not make some magic today?
Rock Your Destiny!

Gina Santiago is a thirteen-year-old "Nuyorican" with rock star dreams, so when she's accepted into the prestigious New York Academy of Arts and Talents for art instead of music, she's crushed. To make matters worse, the student body at the Upper East Side school is divided into "schollies" (students on scholarship, like her) and "dollies" (rich kids with "dollars"). But Gina discovers that there is one thing that brings schollies and dollies-and dancers, singers, actors, artists, and musicians-together: music! Maybe she can make her dreams come true after all….
READ AN EXCERPT
"You know what's weird?" I asked, turning to Michiko. "That girl with the short hair reminds me of a girl I used to be friends with back in the third grade."

Michiko shuddered. "I'm sorry to hear that."

I snorted a laugh. "But it couldn't be—"

"I sure hope you don't mean—" Michiko said.

And together we ended, "—Willa Burch."

Michiko gasped in horror. "No way! You were friends with—with Willa?"

"We were just little kids…. It was the third grade. She was an artist, too."

Michiko didn't change her expression. She still looked like was standing upwind of a garbage truck.

"Maybe I should go over and say 'hi,'" I told Michiko. "See if she remembers me."

Michiko actually put out her arm to stop me from going back down the stairs. "I wouldn't do that if I were you. I doubt she'd give you the time of day. People call her 'Willa the Witch' these days. Let's just continue with the tour."

"Are you serious? She can't be that bad."

But just as I asked the question, I caught Willa's reflection in the mirror.

She seemed to be looking straight at me. Did she…recognize me? I smiled at her.

Willa didn't smile back. Instead, her face darkened and her eyes narrowed into slits. She tilted her head as if to get a better look at me.

"Come on. I'll show you where your locker is." Michiko was already halfway up the stairs. "You can catch up with Willa later. She might be in some of your classes. She's an art major, too, you know."

"All right," I said. But as I followed Michiko, I couldn't help but think that Willa had seen me—recognized me, even. And, the part I didn't get? She hadn't seemed happy about it.
About the Author: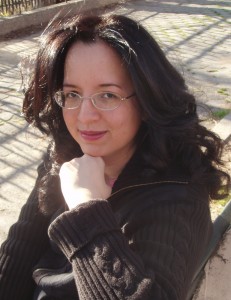 Like her main character, Gina Santiago, Janel is a Nuyorican who attended a Manhattan high school of the arts as an art major.
Unlike Gina, she isn't very good at guitar and doesn't have a rock band to call her own.
Truth be told, she never dreamed of becoming a guitarist. Instead, from the time she was a tween she dreamed of becoming a published author of a book series. And since you're reading this, you can see that her dream has come true!
Her first hint of an idea for the Arts-Angels series began way back when she received a pendant of St. Michael the Archangel for her sixteenth birthday.
She lives with her twin sister, Jennifer (who got a pendant of St. Joan of Arc that same birthday but hasn't written any books about it), in New York City.
Website: www.theartsangels.com
Blog: http://janelrodriguezferrer.wordpress.com
Facebook: http://www.facebook.com/JanelRodriguezFerrer
E-mail: janelrodriguezferrer (at) theartsangels (dot) com.