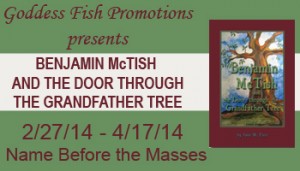 This post is part of a virtual book tour organized by
Goddess Fish Promotions
. June will be awarding an ebook copy of Benjamin McTish to two (2) randomly drawn commenters during the tour and one (1) randomly drawn commenter will receive an autographed print copy of the book (international) during the tour. Click on the tour banner to see the other stops on the tour.
What drives you to write books for kids and teenagers?
This is a great question because I am very passionate about the work that I do and I truly wish for it to reach young adults and teens in a deeper more personal way than simply entertainment.
Kids, young people, have always been drawn to me, as I them. I've always treated them like they understood things, so I speak to them as a peer in a way, not mincing words I mean. My sister used to call me all the time when her kids were coming into that pre-teen area of life. She would say, hey I need your help, so and so has an issue with..insert issue, because she knew they would confide in me. So I would come in and sit down with them and ask the important questions, no matter how shocking, or personal, or to the point, and I always got the answers because they totally trusted me and my motives, which were always about helping them to achieve their highest good and to be happy people. I was able to help them see a deeper insight or meaning, I always told them the truth, and this set them free.
I remember one time I was goofing around with my nephew and we were at my parents' house, and we were crawling around on the floor on all fours, just making a huge ruckus. Finally my mother couldn't take the racket anymore and she yelled from her chair, "Would you kids knock it off already!" and she looked over and I was sitting under the dinning room table with my little nephew…and she looked at me and just laughed her head off…we both did. I was thirty something. So yeah, I have a special place in my heart for kids. I've always had a rough time of it when I see a child mistreated or crying, they just break my little heart.
This story that I've written is intended to show kids that the things they think, the feelings they have about who they are, are not so different from others. Or maybe they are different, but it's okay, that they still have a voice in the world. This story is about finding the courage to be yourself no matter what. It's about loyalty and friendship and accountability, and its all wrapped up in the world of fantasy and magic…it's entertaining and fun, thought provoking, not preaching. I believe strongly in accepting the consequences to your actions, and to do so with conviction. Walk your talk is my motto.
When you're an outsider, or you don't fit in with the "norm" it sets you up for a load of insecurities, self esteem and worthiness issues. This story shows that someone as unusual as Benjamin, who is imbued with a powerful sixth sense, and some tough family issues is still important in the world. They are still worthy of love and respect. In the end you find out that you're maybe not so alone after all…that there are others like you, and that you can behave with confidence and stand up tall..you get to live your truth. Living your Truth…that's a big one.
I hope I've written a series that allows the reader, young and old, to feel a bit more free, to understand a bit more about the world around them and to take a bit of the magic into their daily lives.
About the Author: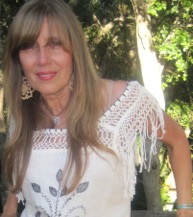 June lives with her husband and best friend Ray, her step-son and their two dogs, five chickens and two ducks, in Santa Cruz Ca. Her two older step-kids live respectively in LA and San Francisco.
June spends her days writing and sometimes painting her well known series of Rock n Roll icons. June and Ray own Madrona Rust, a line of unique, hand-made rustic furniture.
This series of work, the McTish characters, are a part of June in every sense of the word. "This work brings a deep sense of joy and passion for me in a very profound way, like nothing else that I do."
Blog
The McTish Series is an explosive adventure through a dimensional Gateway into another world, a world of beauty and magic, Coranim…a land of insight, thought and possibilities, that sits beneath the enchanted Gilley Forest.

There is local legend in the small town of Grandlochcheshire that has been passed down for a 100 years about the mysterious disappearance of the Chickering family, that trails on the coat tails of the equally shocking abduction of the Skeffington Union Rails heirs. The circumstances that follow this notorious tale enter into the modern world of Benjamin and his two best mates.

One day Benjamin watches as a mysterious little woman steps out of a taxi and in one synchronistic moment their eyes lock and a series of visual snippets of unfamiliar events unfold in his mind's vision. His razor sharp sixth sense allows him the freedom to explore the extrasensory messages coming at him like a derailed freight train. And when Benjamin finds a peculiar relic of a key in his grandmother's garden shed, he could never know his world was about to change forever.

Annabel and Mathilda, two sisters who have come from America, have become more than mere friends to Benjamin, they have all become the three Muskydeers (Mathilda's mispronounced version of Musketeers, which was a huge laugh and of course it stuck), as they are plunged head first into this curious journey.

In the Gilley Forest they discover that the path they have chosen is inundated with many obstacles as well as intrigue. Alliances are made with the Forest clan of Gnomes and with the aid of the Vila sisters, Sethina and Morel, as well as some surprising and unexpected allegiances, the three friends take on the test that is the Grandfather Tree. They must stay on the pre ordained Path of Prophecy, whose ancestry comes from the home of the oldest living beings on the planet, the Elves of the Darmon. However, this is no easy task for the Muskydeers as they have the foulest of sorcery hunting their every move, the powerful dark beauty, Tar Vigorn.

This ruthless Queen is not without humor however and loves a good game of cat and mouse, as long as she's the cat. With her biting sense of sarcasm and calculated taunting, she knows just how to unnerve Benjamin. Her phantom army, the Blunt, are searching for a way into the Grand Tree and will stop at nothing to infiltrate the pristine world beneath his giant roots.

Once in Coranim the children make the acquaintance of the greatest Medicine Elder alive, Esmerelda Fet. A most powerful Light Sorceress with a brazen in your face attitude, who guides the trio on their Path of destiny. However, a Path can change in the blink of an eye…what could alter the overpowering trajectory Benjamin has followed to Coranim? How will it change his life?

Find out as our three heroes delve into the mystic, as well as their own inner character, as you watch from the edge of your seat.

Book Two, Benjamin Mctish and the Wizards of Coranim, coming beginning of 2014.
Buy the book at Amazon or a href="https://www.smashwords.com/books/view/359349″>Smashwords.